The search for Australia's 'Next Big Thing' has proved fruitful for one Queensland town.
Chinchilla's Big Melon pipped finalists the Big Peanut in Kingaroy, the Big Kilt of Glen Innes and Mittagong's the Big Tulip to be named the nation's next oversized roadside attraction.
Thousands of Aussies submitted their 'Next Big Thing' ideas, and after a tight two-week voting process, the two foodstuffs, flower and item of Scots attire were announced as finalists.
Organisers said the unique flair of the Big Kilt and blooming beauty of the Big Tulip received strong support but were no match for Queensland's oversized edibles, with the state's Big Peanut and Big Melon in a close race to the finish. 
The Big Melon joins the Big Pineapple and the Big Mango to ensure Queensland, with a third of all Australia's large-scale offerings, continues to dominate when it comes to giant fruit.
Wotif managing director Daniel Finch said: "We kicked off the search for Australia's 'Next Big Thing' to celebrate Wotif's 18th birthday in early September and since then, we've had widespread involvement from Aussies far and wide.
"While there can be only one winner, we'd like to thank each and every person who nominated, voted and supported the search.
"In fact, we received such an overwhelming response at the final shortlisting stage, that the total number of votes equates to 70 percent of the population in our four finalist towns.
"It goes to show the significance of 'Big Things' in Australia and how sentimental Aussies are about them."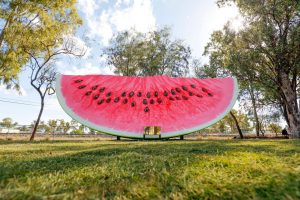 Australia's newest 'Big Thing' celebrates the region's signature produce and taps into Chinchilla's MelonFest, where more than 15,000 travellers make the trip to get sticky at the world's biggest melon festival every two years.
A shoo-in for the town's biannual melon weigh-in, The Big Melon stands at almost nine metres wide and over three metres tall, weighing four tonnes.
Located at the Chinchilla Visitor Centre, the town hopes their Big Melon will give Aussies another reason to savour the region's landscape and country hospitality.
Mayor Paul McVeigh said: "I could not think of a better way to capture the fun and excitement of visiting our region, especially after the Chinchilla Melon Festival, than by having your photo taken with our newest tourist attraction."
While international visitors might have expected the town to sport a statue of its namesake rodent, it turns out Chinchilla is famous for its vegetation – 'jinchilla' is the Aboriginal word for the cypress pines growing plentifully across the western Downs region.