Tanning butler? Tea sommelier? Perfume concierge?
Ritzy experiences offered by hotels from Miami to Mayfair may ooze opulence, but they feel a little over-the-top for Down Under.
Which isn't to say Aussies don't like to be spoiled on check in. As a nation admired around the world for the quality of our fresh produce, the beauty of our landscapes and the freedom of our lifestyle, we are attuned to quality.
But a 2017 report commissioned by HotelsCombined found in-room pampering to be among the main ingredients Aussies rate as important for a perfect getaway.
"It seems that traditional offerings of a comfortable room, a bit of luxury and the opportunity to relax and recharge will always be core to the guest experience," the research by Pureprofile states.
Australians may not be particularly turned on by Jeeves proffering sun tan lotion poolside or a masterclass in lapsang souchong, but we do appreciate the finer things in life – which means the ultimate guest experience must make us feel a little bit special.
Towels, robes and slippers
One of the great joys of a hotel stay is 'me time'.  Lying around in a cloud-soft bathrobe or padding gently to the ice bucket in comfortable slippers is enough to make guests feel they are truly cared for.
But beware, robes so starchy that stand by themselves and slippers that mimic the undesirables in a Kmart specials bin are capable of ruining long-dreamt-of moments.
Stepping out of a spa bath into a vast fluffy towel is another one of life's great holiday joys – just as exfoliating with a threadbare quasi-flannel leaves us feeling as fiery as our flailed skin.
As one industry insider puts it: "When guests step into their hotel rooms for the first time, the overall aura they're immersed in usually sets the mood for their entire stay.
"A room's atmosphere is made up of several elements – and those that ooze comfort are the ones that have guests affiliating a pleasurable experience with the hotel brand.
"Luxury towels are among those amenities that'll leave a memorable impression on any guest by assuring ultimate satisfaction."
Towel weight is measured in GSM (grams per square metre). While some accommodation houses provide speedier-drying and lighter towels of 400-600 GSM, no ultimate guest experience is complete without towelling products in the 600-900 GSM. Although they may take longer to dry, they are super-absorbent, kind to the skin and decadently soft across the entire range of robes, face washers, hand and bath towels.
Weight is only important, though, if the cotton is of a premium quality and this has to do with the length of the fibre, or staple (the average length of a group of fibres of any composition).
Premium 100 percent cotton and thick pile ensure a soft, strong and hard-wearing towel that can efficiently absorb water and maintain softness over numerous washes.
Bedding
The key to luxe bedding is going au naturel. Earth tones and all-natural fibres combine in soft, breathable sheets, down-filled comforters and plush blankets to make guests feel soothed.
When Westin tested its trademark Heavenly Bed, it discovered an all-white bedding ensemble created a serene "halo effect''.
Almost every luxe accommodation bed now features three high-quality white cotton sheets (long fibres and high thread count combine to produce softness) which are breathable and help guests stay cool.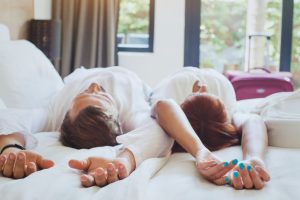 A fluffy mattress topper is also part of the seduction, providing maximum comfort without compromising mattress support, so guests can indulge in cloud-like softness that promotes deep, restorative sleep.
Whether down-filled or feather-free, mattress toppers help in taking the pressure off joints, improving guests' blood flow.
While most hotel pillows are generally polyester rather than down-filled these days, the upside is that they boast odour & allergy-free fill beneath their 100 percent cotton covers. Good pillows must be supportive, yet soft enough to cosy into, with the best including a double gusset design allowing for optimal 'spread' of their filling.
Mattresses
Westin was the first hotel group to craft a signature sleep experience, after consumer research conducted in 1999 revealed a good night's sleep was the service rated most important by guests.
Many major brands followed, with W Hotels developing the Do-Not-Disturb Bed, Rydges the Dream Bed and Four Points by Sheraton the Comfort Bed.
These days, a comfortable bed is the starting point for any accommodation provider and should be the number one focus for hoteliers and moteliers when it comes to room design.
One of the keys to a good mattress is the number of coils it contains.  A typical mattress might contain 250 to 1,000 coils; a top-quality one will contain between 1200 and 4,900. 
As opposed to inferior mattresses, the ultimate guest room bed will boast pocketed coils with each coil contained in its own fabric 'envelope', ensuring it can move independently, instead of being tugged up and down by its neighbour.  That means if your partner tosses and turns, it's not going to keep you awake.
A top-quality spring system offers superior support through 200mm-high springs and stronger coil wire, with individual manufacturers patenting coil structures which cover more surface area and provide greater support across the entire mattress.
A good mattress should support the hip region and help to maintain optimal spinal alignment.
Heat management fabric, designed to react to changes in your body temperature, is another feature of a quality mattress. It helps to keep sleepers at the optimum temperature, working independently across the bed reacting to the different body temperatures of each individual to ensure a more comfortable sleep.
Multiple layers of components made from high loft fibre with super-fine foam structure offer maximum breathability, durability and comfort, enhancing the mattress' pressure-relieving properties as it contours to the body.
The ultimate result?
There are many elements that make up a memorable stay. But one thing's for sure – the perfume concierge won't smell as sweet to anyone who wakes up with backache.
Nailing the key elements of a guest room is vital to creating customer loyalty. If a guest is cocooned in comfort and made to feel like a VIP, they're more likely to spend like one and splash some cash on a return stay.