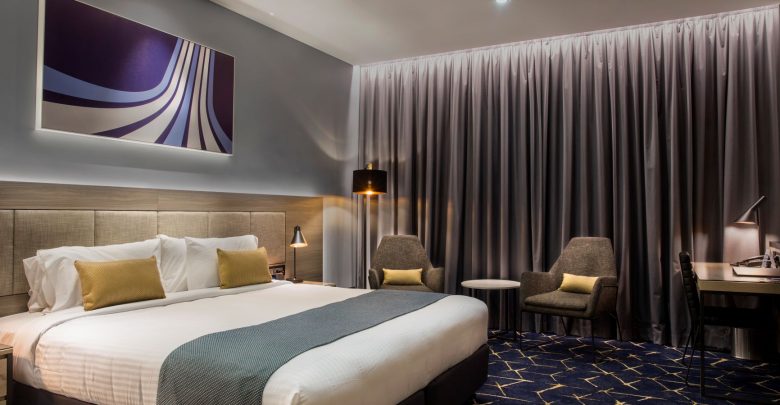 The Mercure Sydney Liverpool is part-way through a three-year refurbishment project and AccomNews caught up with hotel general manager Chris Donovan for an update.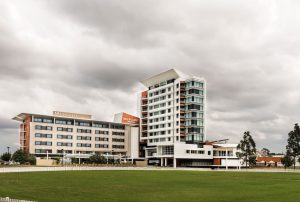 The property first opened in late 2009 as a new build, one of only a handful of hotels in Liverpool, a vibrant hub for business and industry in the heart of south west Sydney.
This expansive hotel is perfect for the modern traveller, featuring 104 contemporary and spacious rooms with luxuriously soft beds, LCD televisions, complete wifi connectivity and media hubs, plus unbeatable facilities including a gym, ice rink and mini golf course.
Adjoining the Liverpool Catholic Club, it is an ideal destination for all kinds of events, also boasting conferencing facilities for up to 1200 guests along with a range of bars and dining options.
Chris told us: "We discovered this buoyant local corporate market, and the first few years have produced results far better than we anticipated. Subsequently the decision was made to invest and extend the hotel.
"A new 88 room, ten-storey tower was completed at the end of 2017. At this stage the original wing was still in very good condition but when we compared it to the rooms in the new tower, they had begun to look somewhat worn and dated.
"This was the point at which we decided it was time to undertake a refurbishment of the original hotel wing, which was now over eight years old."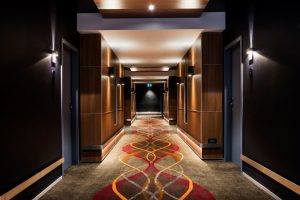 The project was a full refurbishment of the hotel's original 104 guest rooms (excluding bathrooms) as well as the corridors and lift lobbies. According to Chris, in the interests of cash flow and impact on inventory the project has been staggered over a three-year duration, with the first floor completed last year. Levels two and three are underway and are due for completion in September, with the final two floors to be refurbished from April to September 2020.
Chris said: "We decided early on that the refurbishments did not need to mirror the design of the rooms in the new tower. The architects were given broad creative scope, with a brief that the design needed to demonstrate longevity, durability, usability as well as some 'wow factor'.
"The design is grounded in a neutral-dark colour palette of earthy-grey tones contrasted with blues and yellows for impact. Finishes are designed to be as durable as possible with granite, glass and laminates used extensively for the joinery and loose furniture.
"The refurbished wing ties in with the new tower visually by using the same corridor carpet, recoloured to match the new theme."
Trusted industry manufacturer and supplier for all hospitality furniture, Hotel Interiors, supplied the fit out for Mercure Sydney Liverpool including: desks, chairs, occasional chairs, coffee tables, bedside tables, lamps, cushions, bed runners and artwork.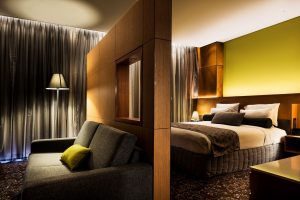 Chris stated: "They suggested collections of items to match the architects' design and then incorporated custom changes that we requested along the way. For example, we requested that all furniture have powder coated steel legs, both for consistency of design and durability against wear and tear. We insisted all lamps have switches on the lamps themselves rather than on cords.
"These changes required Hotel Interiors to go back to the drawing board and redesign items for us. This was a surprisingly easy process. As a manufacturer, Hotel Interiors was able to take our change requests and have a new prototype roughed out at their factory within days."
Census Advisory were the project managers and superintendents and the designs were produced by Altis Architecture, with Hotel Interiors also suppling loose furniture.
How did the project go?
"Refurbishment is never as straightforward as planned. We discovered after pulling down walls and ceilings in corridors that there were several non-compliant items from the original build that needed to be rectified before we could proceed. This added delays and additional expense to the project that was not in the original budget or timeline" admitted Chris.
However, the results of the renovation project have been well worth all the efforts, with Chris reporting on "overwhelmingly positive feedback" from both staff and guests on the updated rooms.
He said: "Our guests love the design and spacious feel of the rooms, and our housekeepers appreciate the ease of cleaning which is a result of some considered design decisions.
"It's hard for me to choose a favourite feature or piece – each element contributes to what I feel is an outstanding result that meets the design brief perfectly and is more than the sum of its parts. For me the carpet design and the artwork really make a bold statement."
Finally, Chris recommends the engagement of Hotel Interiors skills. He said: "This is the first time we have used Hotel Interiors and I was genuinely surprised by the quality of the finished product and how easy they were to work with. I have no hesitation in recommending them based on our experience."