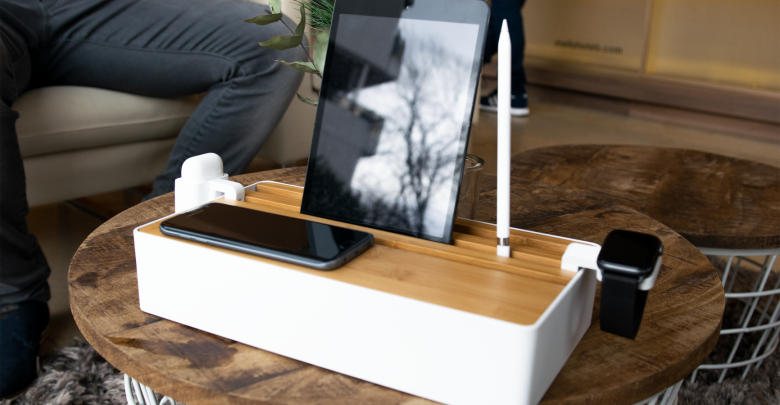 Universal chargers, like free wifi, are becoming a guest expectation.
Only if you accom is a remote fishing cabin or an SAS training camp can you get away without providing easy connectivity.
Otherwise, you should be eyeing the latest device chargers as a way to make an ever-techier clientele feel at home in your establishment.
The average Aussie travels with three devices; that's an ipad, smartphone and laptop all in need of charging points.
The biggest industry players understand this and cater to market demand for ever more charging opportunities – InterContinental Hotels Group's patented WorkLife Room, for example, puts placement of charging stations and warp-speed internet at the heart of its design.
Charging options must be plentiful, reliable and universal (capable of charging a range of devices across different brands and specs).
It also helps, in this millennial-driven era of 'less is more as long as its bespoke', if the design is sleek and visually appealing.
Providing a designated public charging area within your accom encourages people to come in and sit down. A captive audience, your guests are highly likely to spend money as they linger to recharge.
Wireless
Wireless charging is achieved by embedding wireless power transmitters beneath surfaces or inside furniture and connecting those transmitters to the property's mains power. If a user places a wireless charging-enabled device such as a smartphone above the transmitter, it will draw power from the transmitter and recharge.
Almost any horizontal surface can be turned into a mobile device charging point and the wireless charging system is compatible with any Qi enabled smartphone, tablet or portable device including Apple, Google and Android latest models.
Wireless chargers can sit under benchtops, desks, bars and even couches with only an understated icon in view, making the unit either practically invisible or a statement of modern minimalism.
They can be fitted or retro-fitted in solid surfaces such as timber, plywood, MDF and particle board.
Speed is a main requirement when it comes to connectivity and the latest wireless charging solutions are just as, or more, efficient than wired charging.
Inductive charging automatically stops when the device is fully charged, a technique that isn't available in 99 percent of the currently available adaptors.
An elegant solution to connectivity, wireless charging negates the need for a proliferation of ugly power cords and chunky, expensive wired sockets.
Industry view: Adam Heelis, managing director of LuxeTech Commercial, explains how to tackle the charging needs of millennial guests.
The world's consumer tech manufacturers continue to innovate the functionality of their devices. Whether as a tool of communication, navigation or capturing images, the portable device charging demands of guests has never been greater.
If you eliminate "flat battery and lost cable anxiety", you will have happier guests.
Things to consider:
Access touch points
Whether for business and conference rooms, lobbies, front counters or in-room access, each location will require a different solution. Common areas are most suited to larger based units with several charging tips, while a single room could require a more personalised solution.
Décor integration
Your tech should complement and enhance the space. You invest significantly in fixtures and fittings to create comfortable relaxing accommodation environment. Keep away from cheap plastic solutions. Look for high quality ABS plastics and even fusion of natural timbers. Charging solutions that are subtle and can be either retro-built into existing furniture or planned into builds are also an opportunity.
LuxeTech Commercial, for example, have developed a charging channel system which supports conventional cable charging for all guest devices. Wireless charging integration is an emerging technology. Although conceptually an amazing convenience, in practice when applied to broader surfaces it has its challenges. Induction charging creates excessive heat. It's efficiently is poor (75 percent) and currently power output of 1A limits its charging to only phones and wearables.
Tech compatibility
Make available to guests multiple cable types, power outputs and wireless. Sick of providing universal travel adapters?  Search for the most flexible charging solution. Quality charging products can be beautiful in design and offer amazing flexibility. You should provide USB ports / wireless charging and universal power adaptors for all plug regions.
Portability
Powerbanks for off-site day use could be a game changer. Would your guests appreciate the convenience of backup portable power while exploring a city?
Powerbank hardware is relatively inexpensive and there are a number of different activations. LuxeTech Commercial have designed a wireless powerbank integration to all its charging station solutions. Another option to explore is powerbank vending machines.
Security
Solutions which minimise the visibility of cables decrease the temptation for theft. Desk top stations should always be surface secured. Employee line of sight for station placement is encouraged.