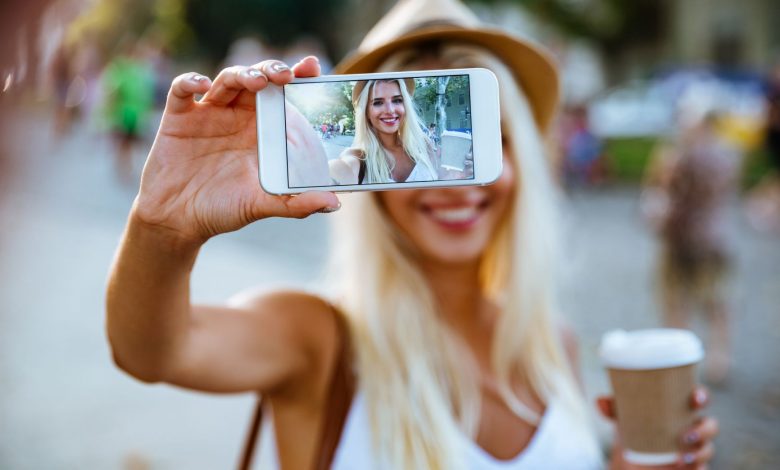 According to a recent report by Business Insider Intelligence, brands are set to spend up to $15 billion on influencer marketing by 2022.
So last week, I had an interesting conversation with a friend of mine who manages her own small agency specialising in influencer campaigns in Canada. She was just coming out of a contract involving a demanding client and less-than-more collaborating micro-influencers. I thought our conversation would make for an interesting article here, but first, let's get some definitions right.
The different types of influencers
There are many ways to define influencers, but sadly we tend to revert to the simplest variable accessible out there: reach.Or said differently, how many followers a person has across its social media presence.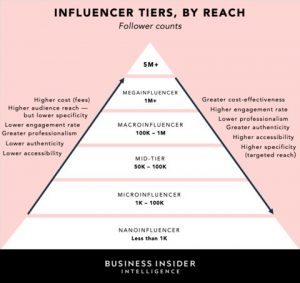 I like to think you can essentially put influencers in one of the four following categories:
Celebrity: Anyone with 1M followers or more
Macro Influencer: Someone with 100k – 1M followers
Micro Influencer: Someone with 10k – 100k followers
Nano Influencer: Someone with less than 10k followers
You will notice these categories are slightly different than the tiers defined by Business Insider Intelligence, above. Truth be told, these thresholds are not set in stone and how an influencer can be categorised will vary depending on the type of campaign. For example, a foodie or travel lifestyle blogger with 65,000 followers could be considered a micro influencer on a nation-wide campaign, but perhaps as a macro influencer in her native town where that level of following is less common.
Nevertheless, take a good look at the arrows to the left and the right of the pyramid in the chart above. That pretty much sums it up when it comes to the pros and cons of working with smaller or bigger types of influencers.
Because beyond follower counts, the more important variables at play are engagement rates, perception of authenticity, niche specificity and levels of professionalism.
Which brings me back to that conversation, mentioned earlier.
Why micro influencers are so popular
There is a simple reason why micro influencers are all the rage nowadays, I believe. Simply put, it is because small and medium-sized companies are becoming more active with influencer marketing campaigns and feel they can set up campaigns by themselves. And since celebrities and macro influencers are usually represented by agencies, which obviously tends to increase costs of campaigns, this paves the way for the uncharted waters of micro influencers (and, to a lesser extent, nano influencers) without any form of middle-man in between.
And this is when things get ugly.
"Frederic, I think my client was not that happy with the campaign. In order to get to the final 4-5 influencers selected, we had pre-selected nano and micro influencers according to their requirements. Yet they refused more than 14 of them for a variety of reasons: didn't like the tone or style, not enough followers, and so on. That's fine, but we have to manage expectations", said my friend Caroline.
To clarify, this was not a huge campaign. Total budget was AU$4,500
I asked her how much time was put into managing this campaign. "Oh, you may not believe me, but we estimated about eight hours of back and forth with the client at the beginning of the process.
"But the kicker was then dealing with the influencers: we estimated more than 32 hours, and have over 300 emails to prove it!"
So let's get something clear, here. The above quotes come are from my friend Caroline, who runs an influencer marketing agency that also owns a repertoire of Canadian influencers. Her agency already has ongoing relationships with many influencers, have contracts in place, know how to negotiate and what to measure. Yet, it still took more than 40 hours to get the campaign running, and over 300 emails to act on or respond.
How much time and efforts do you think it would take a hotel, restaurant or attraction that doesn't have in-house know-how for this kind of marketing tactic?
And what are the costs associated with working with the wrong kind of influencers when you don't know which one will deliver, and which one won't?
The need for professionalism
Of course, smaller brands can conduct influencer marketing by themselves and far from me the intention of having you think all campaigns require dealing with an agency. We just need to be cautious about the potential pitfalls when dealing with influencers, specially nano and micro influencers with whom smaller brands will most likely work directly.
So why was it so hard to work on this campaign, I asked Caroline. "The biggest problem I am seeing", she said "is that some of the micro-influencers don't understand the business requirements or are overwhelmed by their recent influencer status.
"We've had to chase one mommy blogger over 8 times before we eventually received a simple answer. She was supposed to write up two articles, but we're still waiting on the second one which was due over two months ago!
"There is a need to professionalise and there are still big discrepancies in the professionalism levels of micro-influencers'
"I wasn't seeing these kinds of problems a year or two ago. But now it seems like many of these influencers are interested in the monetisation aspect, without understanding the business requirements that come with it. In other words, there is a need to professionalise and there are still big discrepancies in the professionalism levels of micro-influencers", she concluded.
Thus, there is still tremendous potential in working with micro-influencers, but travel brands ought to be conscious of the pros and cons of doing so directly versus dealing with a third-party that may not guarantee a perfect campaign but may take off a lot of the burden associated with the process while improving results and overall return on investment.