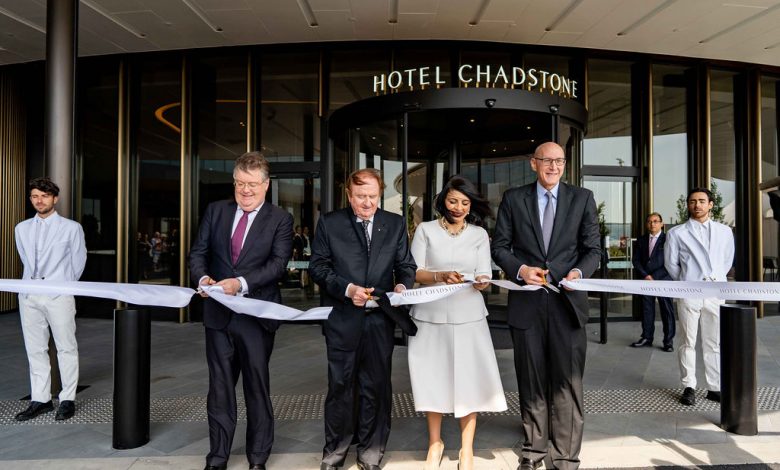 New faces, beginnings and milestone achievements are being celebrated in accom this week.
Crystalbrook Collection's five-star Cairns hotel, Bailey, has opened its doors in the far north Queensland tourism town.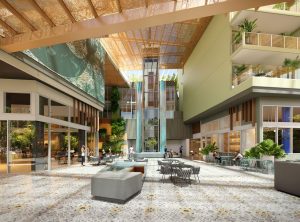 Located close to the Esplanade boardwalk and lagoon, the hotel showcases Australian artwork across 255 guest rooms and residences, three restaurants and bars and meeting spaces for up to 150 people.
It also boasts a rooftop mezzanine plunge pool and a fitness centre.
Bailey is one of a three-hotel Cairns development plan for Crystalbrook, described by the boutique hotel group as an arty and creative sibling to Riley, which opened in 2018, and Flynn, due to open in early 2020.
It will feature a changing rotation of artists across 12 guest floors and will also host quarterly exhibitions, evening classes, poetry recitals, dance performances and live graffiti sessions. 
The hotel's food offerings include CC's Bar and Grill, a traditional steakhouse that draws inspiration from nearby Crystalbrook Station property which supplies beef to all the collection's hotels, and the Milk Bar, serving up milkshakes and sundaes with a dose of nostalgia.
MGallery opening
Victoria's latest luxury destination, the Hotel Chadstone Melbourne, has also welcomed its first guests.
The five-star, $130 million MGallery by Sofitel property encompasses 250 rooms and suites, two penthouses, a rooftop pool and outdoor conservatory bar, wellness retreat and yoga studio.
It is home to Scott Pickett's latest restaurant, Pastore, an Italian-inspired all-day restaurant with a focus on woodfire-fuelled cooking and handmade pasta.
Fiona Mackenzie, Chadstone Director, said: "With the country's largest luxury retail precinct, Chadstone is synonymous with excellence and premium experiences and we're thrilled to extend this offering with Hotel Chadstone setting a new benchmark for luxury accommodation as the first five-star hotel outside Melbourne's CBD."
Puttin' on the Ritz
After an absence of nearly two decades, international hotel brand The Ritz-Carlton is poised to return to Australia with the opening in Perth of its 100th international hotel.
The luxury property, comprising a 205-room property at Elizabeth Quay, opens on November 15.
Marriott International's vice-president of luxury brands and marketing for Asia Pacific, Bruce Ryde, said: "Marriott's first luxury hotel in Australia was the W, which opened in Brisbane more than one year ago, and the second is the Ritz-Carlton in Perth, and we have an incredibly strong pipeline.
"For a long time there has not been a lot of luxury development in Australia. The story around luxury product in Australia is starting to play a bigger part."
A second 240-room Ritz-Carlton in Melbourne's Swanston Street is also under construction.
Kensington Pride
A 70 to 80-room boutique hotel is set to open in Kensington, south east Sydney, in 2022.
The 8Hotels development, to be developed by hotelier Paul Fischmann in a joint venture with Jonathan Hasson, will be built on the site of a block of units at 229 Anzac Parade acquired by Fischmann for some 7.5 million.
Mr Fischmann said the site, close to the new University of NSW light rail route into Circular Quay, could accommodate a 2000sqm, nine-level building.
What a QT
A QT hotel may replace the 80-room Rydges in St Kilda under a plan by the Erdi to bring Event's quirky boutique brand to the vibrant Melbourne suburb.
Erdi Group CEO Ricky Jeffs told The Australian Financial Review that the hotel, due to open in early 2021, "should be one of the best destinations in Melbourne", with "an amazing rooftop bar".
Airbnb checks in new team
Former Google executive Susan Wheeldon has joined Airbnb as its new Australia and New Zealand manager ahead of next year's public float.
Ms Wheeldon served in a number of roles during four years at Google, including head of government and head of agency, and replaces Sam McDonagh following his departure to New York sponsorship marketplace company WeAre8.
"As an avid traveller and longtime admirer of Airbnb, I'm delighted to be joining a company whose mission of belonging anywhere has clearly been embraced by Aussies and Kiwis in a way not seen anywhere else in the world,'' she said.
In a further changing of the guard, Derek Nolan has been announced Airbnb's head of public policy for Australia and New Zealand, replacing Brent Thomas, who is now the home share giant's regional policy director for Asia Pacific.
Formerly at hospitality workers' trade union United Voice and an MP in the Irish parliament, Nolan will be responsible for Airbnb's relationship with governments and ''crafting partnerships that deliver clear, fair and progressive rules for home sharing''.
Lakes holes out again
Cypress Lakes Resort by Oaks has been crowned Australia's Best Golf Hotel 2019 in the sixth annual World Golf Awards.
This is the third consecutive year the resort has been awarded the title, which is voted on by golf tourism professionals worldwide and golf 'consumers' in more than 100 countries.
Indigenous inspiration
Crown Resorts' Indigenous Employment Program (IEP) is celebrating its tenth anniversary, the program facilitating some 850 Indigenous employment opportunities across its Melbourne and Perth properties since 2009.
The multi-awarded strategy is based on the principles of broadened workforce diversity and inclusion, sustainable employment, increased cultural competence among employees and enhanced community and network relationships.
"We're ten years old and in that time we have created almost a thousand jobs – which we're very proud of – but we've more to do," said Crown's executive general manager for human resources, Alicia Gleeson.
"After a solid decade of operation in both Melbourne and Perth, Crown Sydney is now our next opportunity for the program."