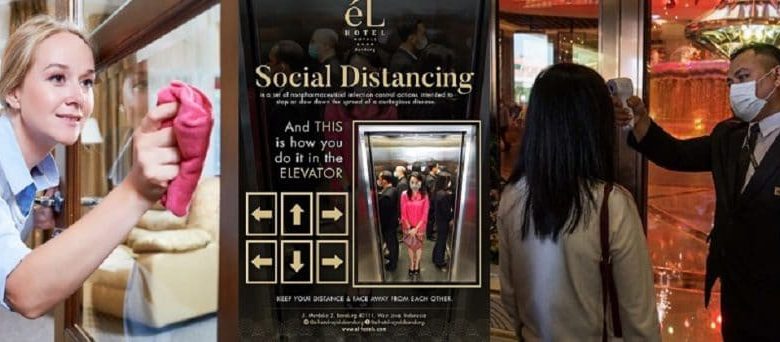 Industry
Op-Ed: Changes every hotel should be making in a post COVID-19 world
The world is currently taking a collective break from travel, but it won't last forever. And when the tourism industry starts moving again, Covid-19 will still be in the forefront of most people's minds.
Here we're taking a look at the visible changes needed across the hospitality industry to ensure that the duty of care towards the health and well-being of both guests and staff can be met.
Getting Ready for Permanent Transformation
Skift recently reported that hotels will need to start looking to cleanliness rather than "location, location, location" for their competitive edge. 
Health and safety procedures in a post Covid-19 world are all about showing and telling. Guests will get reassurance from visible signs that you have the highest standards of cleanliness in place. So you won't just be emailing them to let them know you're disinfecting surfaces four times more a day – you'll be sending out your cleaning team when the lobby is busiest.
This concept is summed up neatly by Arne Sorenson, President and Chief Executive Officer of Marriott Internationals. The leading hotel chain has already set a new standard by launching a Global Cleanliness Council to help combat the spread of the virus. Sorenson said: "We want our guests to understand what we are doing today and planning for in the near future in the areas of cleanliness, hygiene and social distancing so that when they walk through the doors of one of our hotels, they know our commitment to their health and safety is our priority. It's equally important to us that our associates know the changes we are making to help safeguard their health as they serve our guests."
What Will the New Cleaning Regime Look Like?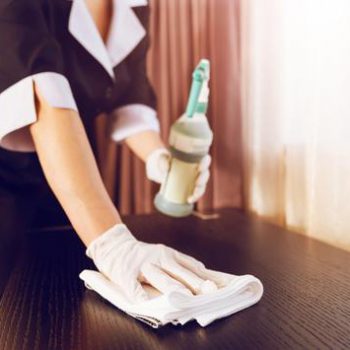 At the very least, hotels will need to audit their cleaning processes, ensuring they meet international standards, such as those provided by the World Health Organization.
We don't know how long viruses can survive on a surface – it could be from a few hours up to several days, unless they are cleaned. With this in mind, all common areas (including lobbies, food and beverage areas, meeting rooms and gyms, as well as all public touchpoints including elevator buttons, handrails, and key cards) will need cleaning more often.
The criteria for Singapore's new "SG Clean" stamp says common areas should be disinfected hourly, rather than the four hour schedule many hotels currently stick to.
More tips for showing off your new hygiene standards to guests:
Make the checklist showing that toilets and common spaces have been cleaned clearly visible to guests
Install extra hand sanitiser units in public areas and refill them when guests are around to see it
Consider bringing back white gloves for any staff members in 'high touch' areas – e.g. the front desk concierge and restaurant staff
Think about bringing back the toilet sash or introducing a bed sash. Guests will need as much proof as possible that you are 110% committed to their health and safety
Cleaning Guest Rooms
The process of cleaning guest rooms will look very different post Covid-19. Changes worth making include:
Cleaning all soft surfaces: carpets, rugs, drapes, bed runners and decorative pillows, after each checkout. You could use UVC Ultra-violet technology which kills micro-organisms including viruses, bacteria and mould spores. Alternatively Electrostatic spraying technology – which uses a special applicator which gives an electric charge to a disinfectant, making sure it fully covers the target surface. Electrostatic spraying is also very quick and effective. The average guest room can be disinfected is a couple of minutes with a cordless Electrostatic sprayer.
Making room amenities "low-touch" or even contactless, especially if they are difficult to clean or replace after every guest, e.g. pens, notepads and coffee cups. Replace things like robes and slippers after every guest, even if they appear to be unused. Alternatively, you could move to providing amenities on-demand, and/or have guests select the amenities they want prior to check-in, so they can be delivered to the room fresh and sanitized
Regularly disinfecting high-touch areas such as door handles, light switches, in-room tablets, safes, coffee machines, minibar refrigerators
Sanitizing TV remotes or protecting them with disposable covers which can be changed at check-out
Offering hand sanitiser and disinfectant wipes as part of your in-room amenities
Letting guests know they can opt-out of daily housekeeping. They may not want staff coming into their room.
Tech Solutions for Cleaner Guest Rooms
Technology can add an extra boost to the hygiene levels in your guest rooms, whilst also offering the visibility you're looking for:
Portable, environmentally friendly, UVC ultraviolet air sanitisers can be used between guests to disinfect a room. These devices kills airborne micro-organisms including viruses, bacteria and mould spores. They are also safe to use in occupied rooms and some guests may appreciate the sense of security and comfort they provide.
Printed menus and guest compendiums can be replaced with a wipe clean in-room tablet. Or make it easy to access menus and the guest compendium on the guest's own device, which they know and trust. This can be done with a simple QR code, easily provided in a safe and hygienic way.
Guests are unlikely to request printed magazines, or newspapers (either communal in the lobby or delivered directly to the room), thanks to the risk of cross contamination. Hotels can look at a digital alternative which gives guests free access to a wide range of magazine and newspapers on their own device such as PressReader.
Changes to Hotel Dining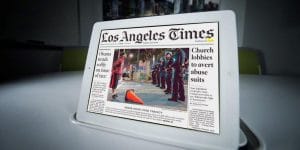 If social distancing is the new normal, guests may choose to dine in their room instead of the hotel or public restaurants. Hotels which don't already offer room service will need to consider it, and guests should be given the option for contactless room service delivery, where dishes are left outside the door.
Widening your range of dishes might be worthwhile too – you don't want guests getting bored of your standard offering too quickly. You could partner with local restaurants on an ordering service which guests can access on their own device via a QR code. So if they've had your burger a couple of times already, they can branch out to Thai, Italian and Chinese from local restaurants.
All of this can be charged to the guest account and delivered to the room by your staff with a service fee. It's a win/win/win: your guest gets an amazing choice, you beat Uber Eats to a share of revenue for the food, plus 100% of the alcohol (which is high margin), and the local restaurant gets incremental revenue.
Our final word on the dining front is around mini-bars. Covid-19 could be the end of them, since it's not practical to clean small bottles of wine and opened snacks. You could look at replacing them with vending machines or a 'grab and go' outlet. Grab and go outlets can also be a much needed alternative to breakfast buffets, which may no longer be a viable dining option. A grab and go offering can also supplement your Room Service offering by providing guests with quick meals and snacks that can be ordered and taken back to the their room to eat.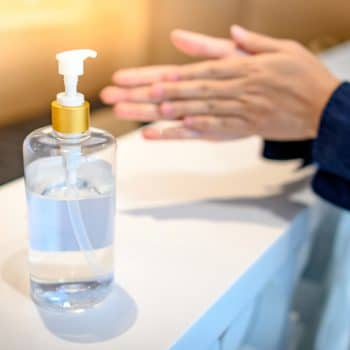 There are many ways you can help your staff feel safer at work. These include:
Installing hand sanitizer stations at the employee entrance, the staff room and outside the service/staff lift on each floor
Providing your staff with protective gear, including gloves and a facemask. This particularly applies to your housekeeping staff who are cleaning both occupied and check-out rooms
Using UVC ultraviolet air sanitiser units in staff rooms and offices. They destroy airborne viruses, improve air quality and enhance the health and wellness of your staff
Temperature checks. Some countries are recommending these for all employees, so those who are unwell can be sent home. This measure can help protect both staff and guests, but you must have clearly documented procedures if someone is found to have a high temperature.
Getting Communication Right
Internal communication will change in many ways post COVID-19, but its importance to running a happy, successful team will remain. We may need to rethink the morning briefing that most hotel teams such as housekeeping have and look at how technology can be used to convey the important daily updates. At the same time, it's important that the technology allows the team to feel connected and an important part of the hotel as a whole. We all still feel that basic human need to belong.
Noticeboard bulletins, or passing on information at team meetings is no longer suitable. You'll need to use tools which easily transmit communications to each team member, and track which team members have acknowledged they have read it and will comply.
Clear communication will also be crucial to putting any post-Covid-19 Standard Operating Procedures in place. Staff will need to understand all procedures for documenting and recording preventive measures, and how to manage suspected or confirmed Covid-19 cases. Governments are likely to mandate these procedures, and alongside any legal implications, non-adherence could jeopardize your hotel's reputation.
Social Distancing
Until a vaccine for this strain of coronavirus is made readily available, health measures such as social distancing are likely to be the norm around the world.
Depending on the country, hotels may need to follow specific regulations for public health. To give your guests added reassurance, you could also consider the following:
Provide contactless hand sanitizer dispensers throughout the hotel, particularly in high-traffic areas such as the lobby, restaurant or meeting rooms
Create social distance markers in your public areas to control check-in lines, etc.
Redesign your lobby, restaurant and meeting rooms to make sure seated guests have enough space between them
It may seem counterintuitive to us in hospitality, but for now, reducing face-to-face interaction between staff and guests is safer for all. Promote contactless and keyless check-in with a mobile app or a kiosk
Think about providing your staff with face masks, or install protective (sneeze guard) shields between areas of staff interaction, such as front desk and concierge
Display signs for both guests and staff with recommended public health guidelines, including social distancing, hand washing, coughing and sneezing and avoiding contact
Also, consider signage to let guests know what you are doing to ensure their health and safety.
With cleanliness such a key step on the road to recovery, hotels may even need to look at a new role to champion it: the Chief Cleanliness Officer (CCO).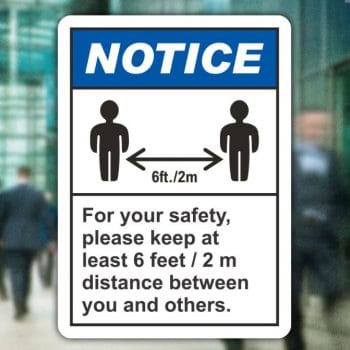 Shout it from the Rooftops
Finally, don't make all this effort without informing your guests. Let them know about all the initiatives you've put in place to care for their health and wellbeing. These messages should pop up in your marketing literature, on your website and all of your proposals for meeting and event business.
There's still a lot of uncertainty about how travel will look in the wake of the Covid-19 global pandemic. But one thing you can be sure of is that cleanliness should currently be the top priority for your hotel business.