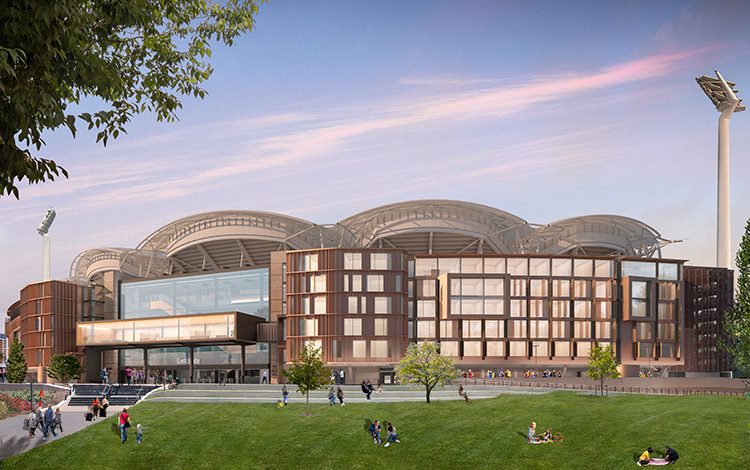 News In Brief
Anyone for cricket? Oval Hotel set to open before ICC World T20
A unique Adelaide accommodation property is in progress as Oval Hotel ramps up to open in September.
The Oval hotel is going ahead with plans to open in time for the ICC World T20. The hotel is situated at the historic Adelaide Oval and will be the first of its kind in Australia.
The property is built on two elevated pods that follow the external curves of the eastern façade of the stadium so as not to encroach on the parklands or the plaza. Furthermore, guestrooms have spectacular views, including St Peter's Cathedral, Adelaide Parklands and city skyline.
"The hotel will wrap gently around the eastern façade of Adelaide Oval and feature two wings that will integrate into the existing design on either side of the East Gate. They will be linked by an elevated foyer and lounge pod with views into the east atrium and out to the parklands and city skyline".     
This week Event Hospitality & Entertainment Limited (EVENT) announced that their services had been engaged by the distinctive hotel, stating: "The Oval Hotel will feature its own unique branding whilst being part of the EVENT hotel network, supported as an affiliate partner, with access to EVENT's established distribution network, sales and marketing platforms and inclusion in the extensive Priority Guest Rewards loyalty program."
Norman Arundel, who is the Hospitality & Entertainment Director of Hotels and Resorts said: "Oval Hotel is set to be a wonderful asset located at Adelaide Oval and enhance the broader South Australian tourism industry. We are proud to continue to support South Australia's tourism and travel sector, especially as we all keep an eye to the future and overcoming the impact COVID-19.
"We are thrilled with the opportunity to work with Oval Hotel offering our expertise alongside our extensive and established networks. We look forward to working together with the team on the go-to market strategy and becoming an integral part of the success of the Oval Hotel when it opens."
Bodelle Francis, the general manager of Oval Hotel said: "We recognise the importance of calling on shared local and national expertise to deliver on our vision, for what is set to be an iconic Australian property.
"As we work to establish Oval Hotel as one of Australia's premier boutique hotels, we are confident that our engagement with EVENT will deliver us a strong market reach and will align us with a network of other leading independent hotel brands."