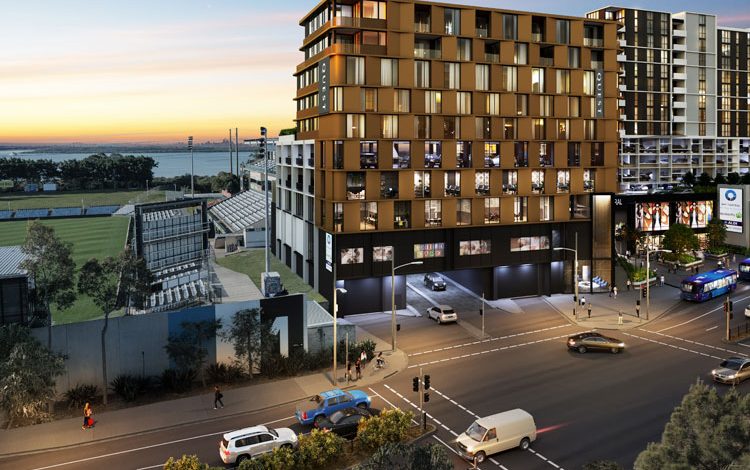 Developments
News In Brief
Shark fans finally have a place to go…
An exciting announcement for rugby league fans came from Australian hotel operator Quest. Fans will soon be able to book accommodation just metres from the famous Shark Park, with Quest signing on to manage a new 71-room apartment hotel, Quest Woolooware Bay.
The property located in the exciting $1-billlion Woolooware Bay Town Centre development in Sydney's Sutherland Shire is set to attract interstate business travellers and international sporting teams.
Over three levels, the Quest Woolooware Bay property will include conference facilities, a gymnasium and an external garden terrace with views overlooking the home of the Cronulla Sharks NRL team, officially known as PointsBet Stadium.
James Shields, General Manager of Growth and Capital strategy from Quest Apartment Hotels is delighted to bring the award-winning 'feel of home' to the thriving new waterfront precinct.
He said: "Quest seeks to position itself in Australia's best locations for the extended stay business traveller, so the opportunity to bring our brand to the Woolooware Bay Town Centre is significant. Just footsteps from Shark Park, we're envisaging a large number of guests from the sporting industry, as well as fans.
"With such significant surrounding infrastructure and community, not to mention the amenity within the Town Centre itself, the requirement for high quality accommodation is clear, and this is what Quest Apartment Hotels does best.
Quest is committed to working with the best developers and suppliers to deliver a premium product for our guests, so we are delighted to be involved in this project, in this area, allowing us to deliver a premium product for guests.
Located to the east of PointsBet Stadium, Stage 4 of the Woolooware Bay Town Centre being developed by Aoyuan International will include 18,000sqm of retail space anchored by brands including Woolworths, Aldi and Dan Murphy's, a revitalised Cronulla Sharks League Club and a 1.2ha new foreshore park with shared pedestrian/cycle path, outdoor fitness zones and playground.
Sutherland Shire Mayor, Councillor Carmelo Pesce is confident the inclusion of an apartment hotel as part of the development will provide a major boost to the accommodation options available locally.
Councillor Pesce said: "Council has long been keen to support high quality development that delivers a boost to the accommodation options available for visitors to the Sutherland Shire. We all know that the Sutherland Shire is an incredible place to live and work, but this development will provide greater capacity for us to show that the Sutherland Shire is also a fantastic place to visit.
"The Woolooware Bay Town Centre is set to become a popular destination – not just for football and sports fans, but for all Shire residents – so the addition of short-stay accommodation will enhance our ability to attract and cater to visitors to the area.
"This is an absolutely fantastic location that will create a new place for shopping and entertainment and is expected to generate a significant boost to local employment."
Quest Woolooware Bay is located less than a 30-minute drive from Sydney Airport and just a 25- minute drive to the Royal National Park, known for its picturesque coastal outlook, secluded beaches and walking trails. It will address a lack of short-term accommodation in the Sutherland area.
Designed by architects, Turner, the building will feature a subtly curved contemporary façade. Its interiors will be offset by textures, tones and materials all selected to enhance the archetypal 'home away from home' Quest experience.
"Large floor plans, spacious separate living and efficient modular design allows us to deliver in-room cooking, dining, laundry and entertainment for guests and create a true sense of home, whether it's for a short or long stay," said Mr Shields.
It is expected the Sharks will host around 12 games per year at PointsBet Stadium, with Club CEO Dino Mezzatesta confident the Town Centre and now Quest Hotel will become an attraction for traveling NRL fans.
"Having Quest Hotels and Apartments, an extremely reputable brand in the accommodation industry, as a part of the Woolooware Bay Town Centre will be a tremendous asset for not only the Sutherland Shire in general, but also for the Sharks. It will provide the perfect accommodation option for visiting NRL teams and their fans," said Mr Mezzatesta.
The announcement of Quest Woolooware Bay comes after Quest unveiled plans for a property at Queensland Investment Corporation's (QIC) Watergardens in Melbourne's north-western suburbs earlier in 2020.
"We look to establish properties in amenity-rich locations where corporate travellers need and want to be, so aligning with shopping centres is a logical strategy and one we will continue to deploy," said Mr Shields.