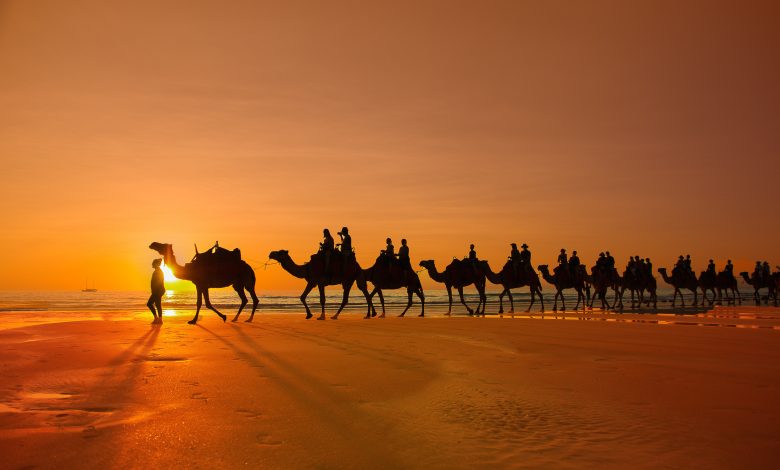 News
School holiday tourism boost – Aussies hit the road in droves
With long-haul holidays off limits for some time to come Australians are embracing the opportunity to explore their own backyards, according to new data from Amadeus.
New statistics from the global travel company show that the September holidays provided a huge boost for domestic tourism. Northern Territory had by far the most visitors, but Queensland and South Australia were also winners attracting holiday makers in the build up to and during the September school break.
The data from Amadeus Demand360® solution reveals that travel demand improved significantly for September school holidays compared to June school holiday period. Northern Territory, Queensland and South Australia had higher occupancy levels three weeks prior to the September (Term 2) school holidays than they saw three weeks prior to the June (Term 3) school holidays. The figures also show that Northern Territory was by far the most popular destination, seeing a 139 percent increase in occupancy and the September school holiday occupancy one week prior to the holiday (as of 14 of September) in the Northern Territory already exceeded actual June holiday occupancy (21 June – 25 July) at 20 percent and 11.6 percent respectively.
In Queensland, the state saw a 125 percent increase in booked occupancy in the three weeks prior to September school holidays compared to the winter period. New South Wales occupancy is also up 83 percent three weeks prior (from 2.8 percent in early June to 5.3 percent in late August).
Maria Taylor, Head of Hospitality APAC at Amadeus said "Historically, following a major global crisis, airlines are the leading indicator for recovery. In the age of COVID-19, historical trends no longer apply as hotel occupancy and revenue change week by week. We are now seeing a phased recovery pattern, where domestic travel is coming back first, driven by different countries and states' restrictions.
"This data is a welcome sign for travel and hotel operators, as it shows that Australians are ready to travel domestically again over the school holiday periods, with a new focus on closer-to-home options. The rise of local and last minute getaways makes it imperative for hotel properties to have access to comprehensive, forward-looking data to gain visibility into specific states and plan for recovery."
A significant change occurring in the hospitality industry since COVID-19 is to the booking window. Typically, Demand360® data shows the booking window anywhere between 0-28 days, with resorts and other destinations farther out. During the June school holidays, across all states the majority of bookings were within 0-7 days of travel, with a similar pattern expected for the September period.
Each state and territory is seeing a similar increase in occupancy trends from week to week. However, overall performance varies by state and impacted by local travel regulations. During the June holidays, Victoria saw a significant occupancy increase (from 4.8 percent in early June to 32.3 percent for the actual holiday period). However, as Victoria went into Stage 4 lockdown in July, occupancy has been impacted and remained relatively flat for September holidays (from 1.6 percent in late August to 1.9 percent in mid-September).
The data reveals a more positive story for South Australia and Western Australia, with relaxed COVID-19 restrictions and travel permitted throughout most of the states. South Australia saw an occupancy increase of 211 percent one week prior to the September holidays (from 1.8 percent in late June to 5.6 percent in mid-September) and Western Australia is up 48 percent (from 11.3 percent in late June to 16.7 percent in mid-September).
Taylor explains: "Australian states and territories are all under different levels of restrictions and lockdowns which means travellers are waiting until the very last minute to make hotel reservations.
"Travellers are more nervous and are taking the time to call the property directly or visit their website to find out about cleanliness, amenities and what to expect on site. Hoteliers will need to tailor their recovery approach to domestic traveller needs, shorter booking windows and new booking channels."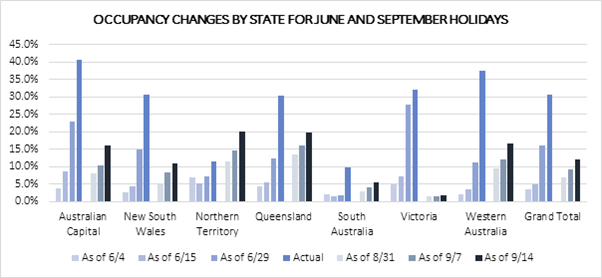 The figures released by global travel technology company Amadeus through its Demand360® solution, compares Australian holiday booking data between the June holiday period (21 June – 25 July) and September holiday period (13 September – 17 October). Demand360 provides forward-looking occupancy data from 30,000 global hotel data providers.
About Amadeus
Travel powers progress. Amadeus powers travel. Amadeus' solutions connect travellers to the journeys they want through travel agents, search engines, tour operators, airlines, airports, hotels, cars and railways. We have developed our technology in partnership with the travel industry for over 30 years. We combine a deep understanding of how people travel with the ability to design and deliver the most complex, trusted, critical systems our customers need. We help connect over 1.6 billion people a year to local travel providers in over 190 countries.
We are one company, with 19,000 employees across 70 offices. We have a global mindset and a local presence wherever our customers need us. Our purpose is to shape the future of travel. We are passionate in our pursuit of better technology that makes better journeys. Amadeus is an IBEX 35 company, listed on the Spanish Stock Exchange under AMS.MC. The company is also part of the EuroStoxx50 and has been recognised by the Dow Jones Sustainability Index for the last eight years.