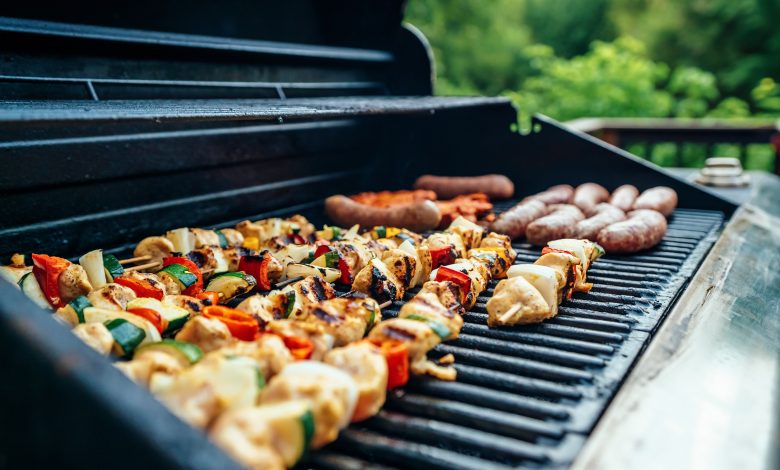 Succulent steaks, sizzling sausages, and fried onions. That sweet smell of smoke wafting above food and flames.
It is the same sort of aroma that has been making mouths water since man first added heat to his dinner at the dawn of time – and thousands of years later the barbecue remains a staple of outdoor life.
Hotels and resorts offer all sorts of luxury enticements, such as heated pools, day spas, and state of the art high-tech gymnasiums, but the humble hotplate might just be their hottest ticket of all.
Loni Hammond, from Kellys Beach Resort at Bargara in Queensland, said the barbecue had always been a major attraction at her property.
"Cooking outdoors is an activity to bring people together," she said, "and we have always found our barbecue facilities to be very popular.
Families love to cook and talk alongside each other out in the open air, and we often have groups of families using the barbecue area to maximise their time with each other.
"Having barbecue facilities and the space to allow people to cook and eat outdoors together also helps to differentiate us from other accommodation choices which don't offer barbecues.''
Whether it's by the rolling surf, in the crisp, cool chill of the high country or under the everlasting stars of the outback, the barbecue brings families and friends together like few other activities.
As pale meat darkens to brown and sometimes even black, men and women with the tongs poke and prod, turning their delicacies into their meal-time masterpieces, as oil, onions and garlic fry.
The smells bind people together like glue.
Australia's First Nations Peoples cooked on open fires for thousands of years. Captain James Cook and Joseph Banks recorded meeting Māori cooking on fires during the voyage of the Endeavour in 1769.
The fondness among Australians and Kiwis for meals cooked outdoors recalls a deep connection between nature and our past.
 The campfire was long the meeting place for Indigenous Peoples and later for stockmen and shepherds travelling, camping and working their way through the great outdoors where there was a ready supply of tasty meats.
 Modern hotels and resorts take the barbecue many steps further with advanced yet still relatively inexpensive cooking equipment, comfortable outdoor seating and umbrellas and sunshades.
The term 'barbecue' comes from 'barbacoa', a word from the tribes of central America for the wooden frames they used for drying and smoking fish and meat.
The term was taken back to Europe by the Spanish and Dr Samuel Johnson defined 'barbecue' in his famous English dictionary as "a term used in the West-Indies for dressing a hog whole; which, being split to the backbone, is laid flat upon a large gridiron, raised about two foot above a charcoal fire, with which it is surrounded".
By the 1770s, Joseph Banks was barbecuing bullocks for villagers at his Lincolnshire estate and the idea of cooking on a `barbecue' was first thought to have been used in Australia in 1843 with Melbourne's early newspaper the Port Phillip Gazette mentioning the barbecuing of whole hogs.
 By 1859, the South Australian Register newspaper was reporting on "an old-fashioned Kentucky Barbecue'', though the term remained largely used for festivals in America, chiefly in the south. While giant public feasts involving whole roasted bullocks were common throughout Australia, the term didn't become popular until well after the Waverley Bowls Club in Sydney held its `Leg o' Mutton Barbecue' in 1903.
 By 1920, Sydney papers advertised the public barbecue of a whole bullock in Martin Place to promote Peace Bonds and by 1939 The Sydney Morning Herald could report: "Especially in recent years, the barbecue custom has been growing in favour in Australia perhaps because we're an open-air-loving people who enjoy eating a meal in the bush, a garden, or on a beach, even more than sitting at a table with table napkins on our knees and six different kinds of cutlery before us.'"
Built-in brick barbecues became luxury features in up-scale homes and by 1953 the idea of home barbecues began to blaze so brightly that The Australian Women's Weekly published a guide to building them in the backyard.
By the mid-60s, the portable gas barbecue arrived and public `barbecues' became features of parks around the country as cooking snags, chops and steaks had long replaced the idea of roasting a whole beast.
And then Paul Hogan, the larrikin who conquered Hollywood, advised the world to put another shrimp on the barbie.
At last the humble Australian barbecue became a much-loved global star.
Industry insights
We reckon nobody knows more about BBQs than the people supplying them! Accom News editor Mandy Clarke caught up with some key BBQ suppliers to the accommodation industry to find out how our readers can maximise benefits from their outdoor areas…
What should managers look for when creating a BBQ space for guests?
According to Nextrend's James Lindqvist, "The most important thing to consider is the guest experience. Ensure the space not only looks great but is functional and comfortable. A flashy BBQ area with lots of metal surfaces in a hot environment, exposed to the sun, may look great but could be uncomfortable to use."
"It should be as close as possible and practical to the main recreation area of the accom, near gathering areas like the swimming pool and games area," suggests Chris Onslow from Greenplate. "It should be protected from wind and should also provide adequate shade. Seating and preparation tables should also be provided and the space should be well lit if used at night. It may be wise to close the BBQ area after a certain time in the evening to avoid late disturbances."
What to look for when purchasing commercial BBQ equipment?
Paul Conradie from Christie BBQs says managers should "establish how frequently the barbecue is likely to be used and consult a reputable manufacturer for the best solution. Domestic and even some commercial alternatives are not designed for the demands of high-volume, communal cooking in busy tourist areas."
He explains: "The most energy efficient barbecues are gas powered as they provide instant heat and are capable of cooking large quantities of food quickly and evenly. However, they require more maintenance in the form of regular scheduled maintenance and gas bottle changeover where necessary. Ideally, electric barbecues would be as powerful and responsive as traditional gas versions, which is difficult. Underpowered barbecues will consume more electricity as they struggle to quickly heat up large volumes of cold food. Food will stew, rather than grill, and users will avoid the facility. All stainless-steel construction offers the best corrosion resistance, and all components should be of good quality and readily available as replacement parts."
After sales support is also important according to Mr Conradie: "Purchase barbecues that are manufactured locally for Australian conditions as they will be best placed to provide you with fast, responsive support in the event of malfunction. Guests will be disappointed by facilities that remain out of commission for long periods while parts and technical advice is sought for repairs." He also recommends a hood, as "cooking food with a hood down traps radiant heat, reducing power consumption and allows you to cook faster and enhance the flavour of the cooked food".
"For safety, ensure the outer surface of the hood will remain cool to safely touch while the BBQ is in use," he says.  
Mr Lindqvist also suggests sourcing local materials: "If you are in a coastal environment, ensure aluminium products are marine grade. Like the old saying goes, you get what you pay for and Australian weather is harsh so if you do not want to constantly replace equipment, then look at the material it is made from and avoid cheap knock offs. If your polypropylene chairs will be exposed to constant sun, check the warranty on fade. Many cheaper chairs say they are UV stabilised, but they are not warranted for fading. Consider alternatives to wicker that will not rust or unravel; quality polypropylene products are made to last outdoors for years. And remember that timber or wood generally require more maintenance; they can decay faster if not well produced or maintained. While they can look great in an alfresco area and as structural elements, they may not be not ideal for BBQ area furniture."
Mr Onslow believes "the BBQ hotplate should be all stainless steel and mono-pressed – meaning no welded or squared corners for dirt and grime to collect in, so easier cleaning. The system should have adjustable temperature and should be able to heat up to at least 300°C to ensure adequate heat and crispy cooking. Electric BBQ systems are ideal for accom purposes as they are safe, have no naked flame, and do not require any change of gas cylinders, etc. Be sure to select an energy efficient system to keep running costs down and check for the best possible warranty on the product."
What about providing shade?
According to Mr Onslow, "shade sails and shade cloth work well as do more permanent structures but, if possible, do not rely on trees for shading because leaves and bird dropping are not BBQ-friendly."
"Hard shade structures (as opposed to shade sails) offer the best long-term solution," according to Mr Conradie. He says: "Sails and canvas may be permeable and let in rain, will accumulate airborne fat and oil particles that are difficult to clean, and have a much shorter life expectancy."
Mr Lindqvist says he has seen "a remarkable increase in requests for umbrellas of late. Whether this is for individual table settings or multi-head systems to use throughout an alfresco space. I guess with the current situation they provide versatility."
What ideas can you share about furnishing in an outdoor BBQ space?
 "Seating should be provided close to the BBQ system but not so close as to allow children to climb onto it," advises Mr Onslow. "Seating should be fixed down for this reason. Providing prep areas and eating facilities helps to prevent people from congregating around and 'hogging' the BBQ space. Seating elements could be hardwood, plastic, aluminium or steel and tables can be marble, concrete or stainless steel – materials should be resistant to staining and corrosion and must be easy to keep clean and hygienic."
Alternately, Mr Lindqvist says: "Versatility is key. Due to COVID restrictions the number of people allowed to be accommodated within a space can vary so if your space has fixed furniture, it will be harder to modify for different levels of patronage.  Utilising café-style furniture allows you to increase and decrease seating as needed. More storage is required but I believe the benefits outweigh. It is also important to ensure furniture is made for your environment. For instance, lighter colours can better withstand fading from sun exposure. Avoid using metal chairs and table bases outdoors too, unless they are ceramic coated or galvanised.
Mr Conradie also suggests that "shared BBQ facilities are trending towards outdoor kitchens rather than simple picnic settings. Be aware of Disability Discrimination Act compliance and ageing guests who may want to sit down while cooking."
Will the pandemic influence future trends for BBQ areas?
According to Mr Conradie, "They are frequently used by intergenerational families and should provide the necessary amenities to prepare food, eat, and wash up. Personal safety and environmental concerns are leaning away from open-flame barbecues that are a potential fire hazard. Multiculturalism also means that traditional meat-oriented facilities are less popular and facilities that allow for versatile cooking of vegetables, fish, and even stir-fry dishes should be provided. Although it is early days, there is some indication that individual barbecues should be installed further apart, to allow for adequate social distancing. There is increased focus on hygiene, which includes food safety."
Mr Onslow believes: "It is likely that electric BBQs will continue to be the preferred option for the accom industry for ease of install and safety reasons. Advances in electrical efficiency and heating technologies coupled with constant improvements in stainless steel hot plate materials will facilitate this trend for the foreseeable future. The use of stainless steel in outdoor cooking will almost certainly accelerate post-COVID as it is non-porous and much easier to maintain to strict hygiene standards."
Mr Lindqvist adds: "Increased levels of hygiene will be around with us for some time and high touch points will need to be easy-to-clean and maintain. Furniture with smooth surfaces and minimal crevices will be used more and alfresco café style furniture may make things easier to clean and adjust the level of seating available within a space while COVID restrictions change."