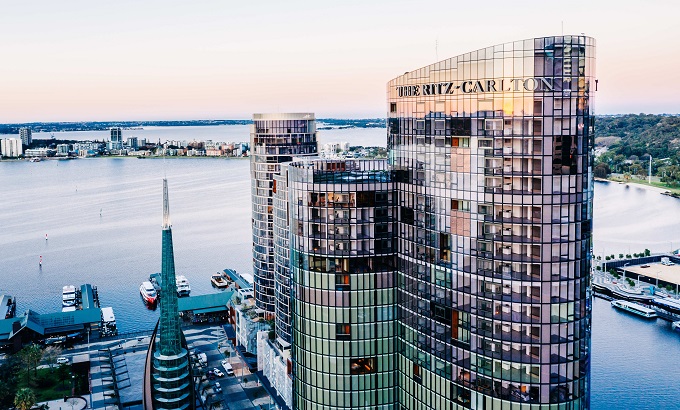 Events
News In Brief
Industry celebrates winners of Hospitality Awards for Excellence in an unprecedented year.
Last week over 900 guests celebrated the winners and finalists of the 2020 AHA-Aon Hospitality Awards for Excellence, hosted at the White Claw Gala Ball at Crown Perth.
The gala ball was the largest gathering of hospitality professionals in Australia for 2020, with a record number of nominations demonstrating the strength of WA's hospitality industry, despite navigating the most challenging year on record.
AHA(WA) CEO Bradley Woods said: "We saw an unprecedented level of interest in the Awards for Excellence this year and the quality of the nominations was outstanding. WA's hotels, pubs, bars, restaurants and taverns have shown incredible resolve, despite dealing with the turbulence created by COVID-19, including a mandatory shutdown, border closures and a range of trading restrictions."
The highly acclaimed Ritz-Carlton, Perth cemented its standing as a stellar lifestyle destination by taking away two prestigious awards on the night. The hotel was also nominated as a finalist across 16 categories and won the top award for two categories including the Conference and Functions Award, and Venue Manager Award which was awarded to Assistant Food and Beverage Manager Stephen Hollow.
Dario Orsini General Manager of The Ritz-Carlton, Perth said; "We are honoured to be recognised by the AHA WA for these award categories. We are very proud of our conference and function facilities and Stephen for his passion and dedication in creating memorable guest experiences."
AHA WA awards are quite the accolade for The Ritz-Carlton, Perth because the hotel only officially opened on 15th of November 2019. The luxury hotel is in the heart of the city, and elevates the meetings and events offering in Perth.
Other award winners included WA's Best Regional Hospitality Venue won by Boston Brewing Co. Denmark, Perth's Best Hospitality Venue won by joint winners The Old Synagogue and The Royal Hotel, Group Venue Operator Award, awarded to Kailis Hospitality Group and Sneakers & Jeans and Bar Team Award, won by Lot20.
The Hospitality Industry Lifetime Achievement Award was presented to longstanding industry figure, Mr Bruce Strickland.
Winners of 2020 AHA-AON Hospitality Awards for Excellence:
Community Service Award
Settlers Tavern, Margaret River
Training Initiative Award (Joint winners)
Pan Pacific, Perth
Varsity Group
Retail Bottleshop Award
The Gate Bar & Bistro
Aon Responsible Service of Alcohol Award
Crown Perth
Draught Beer Quality Award
The Shoe Bar & Café, Perth
The Lion Beer Australia Bar Presentation and Service Award
Whitfords Brewing Co (Hall of Fame)
Small Bar Award
Varnish On King, Perth
Cocktail Bar Award
Tiki As FK, Northbridge
Late Night Venue Award
Nevermind Smallclub, Northbridge
Tourism Initiative Award
Blanche Bar, Karratha
Conference and Functions Award
The Ritz-Carlton, Perth
Outdoor Area Award (Joint winners)
Swings & Roundabouts, Yallingup
The Marina Mindarie
Boutique Brewery Award
Beerfarm
Redeveloped Venue Award
The Kingsley Tavern
New Venue Award   
The Old Synagogue, Fremantle
Social Media Activity Award
Sneakers & Jeans Group
Dining Awards
Contemporary Bar Menu Award
The Beach House, Eden Beach
Casual Pub Dining Award – Metropolitan
C.Y.O'Connor Village Pub, Piara Waters
Casual Pub Dining Award – Regional
The Peninsula Bar & Restaurant, Mandurah
Highly Commended: Black Brewing Co, Wilyabrup
Family Dining Award
Kailis Fish Market Café, Fremantle
Boston Brewing Co, Denmark
Restaurant Award (Joint winners)
Fleur – The Royal Hotel, Perth
Il Lido Italian Canteen, Cottesloe (Hall of Fame)
Wine List Award
Il Lido Italian Canteen, Cottesloe
Highly Commended: The Heritage Wine Bar, Perth
Entertainment Awards
TAB Hotel/PubTAB Venue Award
Rambla Bar & Bistro, Wickham
Sporting Entertainment Venue Award (Joint winners)
Sports Bar – Crown Perth, Burswood (Hall of Fame)
Varsity Bar Joondalup (Hall of Fame)
Live Entertainment Venue Award
Badlands Bar, Perth
Highly Commended: Whalebone Brewing Company, Exmouth
Themed Venue Award
Palace Arcade
Employee Awards      
Rising Star Award
Elysha Ayers, The Marina Mindarie
Highly Commended: Ciaran D'Monte –Doyle, The Westin Perth
Cookery Services Employee Award
Jade Jones, The Flour Factory
Highly Commended: Deborah Coslett, Crown Perth – Merrywell
Head Chef Award (Joint winners)
Matthew Sartori, Wild Flower – State Buildings         
Matthew Carulei, The Heritage Wine Bar
Highly Commended: Xerxes Bodhanwala, Pan Pacific, Perth
Highly Commended: Arron Coates, The Kwinana Local
Food and Beverage Services Employee Award
Rebecca Licastro, Rambla Bar & Bistro
Front Office and Administration Employee Award (Joint winners)
Hong Thu Phan-Nguyen, Crown Perth Offices
Sharon Schaafsma, Settlers Tavern
PubTAB Operator Award
Tracey Tylor, Beeches Tavern
Cocktail Bartender Award
Bjorn Karason, Tiki As FK
Highly Commended: Craig Slater, Fiorita Wine Bar & Restaurant
Excellence in Service Award (Joint winners)
Nick Trolio, The Gate Bar & Bistro
Philomena Ellis, Duxton Hotel, Perth
Highly Commended: Wayne Hammond, Fiorita Wine Bar & Restuarant Karratha
Venue Manager Award (Joint winners)
Troy Landers, Balmoral Hotel
Stephen Hollow, The Ritz-Carlton, Perth
Highly Commended: Tony Favazzo, Perth Racing, Ascot
Highly Commended: Jason Juraszek, Universal Bar, Perth
Bar Team Award
Lot20
Highly Commended: Caballitos, Perth
Overall Awards
Group Venue Operator Award (Joint winners)
Kailis Hospitality Group
Sneakers & Jeans
WA's Best Regional Hospitality Venue
Boston Brewing co. Denmark
Perth's Best Hospitality Venue (Joint winners)
The Old Synagogue
The Royal Hotel
Hospitality Industry Lifetime Achievement Award
Bruce Strickland