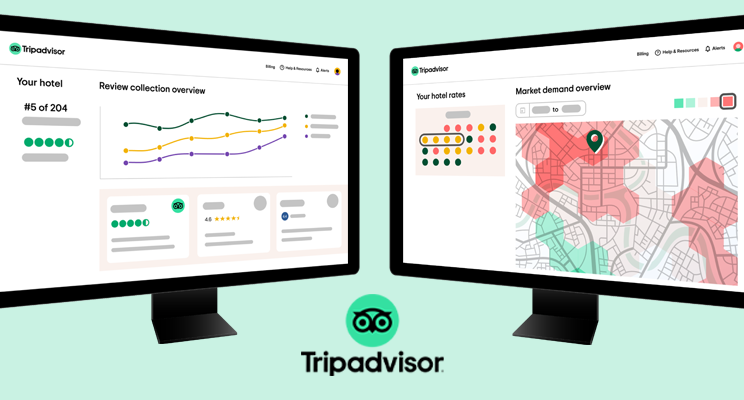 Marketing
News In Brief
Tripadvisor targets accom with two new subscription services
Tripadvisor has launched two new technology solutions - Spotlight and Reputation Pro, which it claims will help hospitality businesses rebuild traveller confidence, attract new customers and make smart, data-driven decisions to increase profitability during pandemic recovery.
The launch follows the popularity of free tools released earlier in the year, such as Travel Safe, Contactless Menus and the global rollout of Menu Connect. 
Martin Verdon-Roe, general manager of hospitality solutions at Tripadvisor, said: "Since the start of the pandemic, we've increased our focus on making the business of hospitality easier for hoteliers. Now more than ever, they need actionable insights and easy-to-use tools that help build their brand and maximize their profitability, all while saving them time.
"We have been told that Spotlight, developed in partnership with OTA Insight, "seeks to solve the issues hoteliers are facing right now, of not being able to accurately forecast future demand (and therefore set rates competitively) on account of the shifting trends in traveller demand caused by the pandemic, which has effectively made the historical, seasonal models on which many hotels rely irrelevant. To solve this, Spotlight combines OTA Insight's industry-leading technology and market data (competitor/OTA pricing) with Tripadvisor's forward-looking data based on what and when travellers are searching for rooms in that destination – so now hotels can see when demand is likely to be low or high and quickly adjust their rates accordingly, staying one step ahead of the competition".
Reputation Pro is a "new premium reputation management solution that automatically collects reviews on a hotel's behalf. No other reputation management tool on the market offers hoteliers the ability to collect customer reviews via a trusted consumer travel brand like Tripadvisor — and that can make all the difference when convincing your customers to leave detailed, constructive reviews (which are vital at this time as a means of reassuring potential guests not only that a hotel offers great service but that it is keeping guests safe too)".
Reputation Pro also allows hotels to manage the reviews they receive across multiple platforms – including Google, Facebook and Tripadvisor – all in one place, so they don't need to juggle between accounts. And it provides real-time review notifications and review sentiment analysis so hotels can easily identify what specific aspects of the customer experience is driving their review scores.
Sean Fitzpatrick, CEO at OTA Insight said: "Our partnership with Tripadvisor will provide hoteliers with access to unique traveller demand insights to navigate challenging market conditions and find new revenue opportunities."
Features of Rate Spotlight include:
Compare nightly rates to the competition on one dashboard across room types and length of stay
Adjust rates based on the most accurate, real-time intelligence
Drill into nightly rates by market and channel to identify parity issues, and monitor whether distribution partners are undercutting them on price
Market Spotlight features include:
Anticipate future demand by utilizing the massive scale of Tripadvisor, combined with other important travel data such as flights, alternative accommodation and others,
Maximize RevPAR by taking precise action based on expected demand for future stay dates
Reputation Pro is designed to:
Lean on the Tripadvisor brand to accelerate their collection of high quality reviews via email, text message and mobile app
Receive real-time review notifications so they never miss a new review
Respond to reviews across multiple platforms – including Tripadvisor, Google and Facebook – all from one dashboard
Access Tripadvisor's industry-leading review insights, including sentiment analysis, to identify specific aspects of the guest experience that are driving positive or negative feedback and make adjustments to the customer offering that improve the hotel's brand reputation