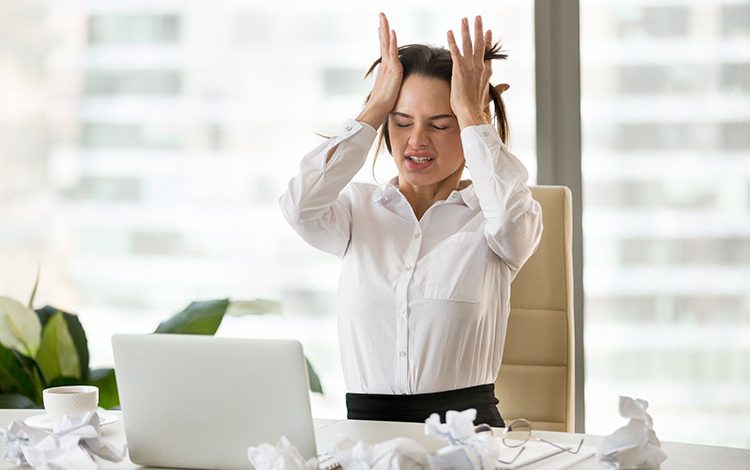 Marketing
Never be stuck for a social media post idea again
Hotel marketing is becoming more of an open-ended role as the number of responsibilities and channels increase, with on-property staff required to conquer it all.
It's not surprising that inspiration can wain without a structured schedule in place to prompt engaging social posts and travel suggestions, without having to fall back on stale tactical messages that have failed to cut through the noise.
If you want to start showing up on social media, here are some factors to consider and some content ideas that may have you looking at your hotel through a different lens, straight from the pages of my free Social Media Content Calendar tool.
Plan your content
Carving out a day to plan your content for the fortnight or month ahead is going to be time well invested, as this calendar can then be automated through an online tool which schedules your post. This way, the day's priorities will not compete with your social media posting.
A social media plan also gives you the freedom to respond to ad-hoc opportunities, whether it be sharing a guest post immediately or echoing a local announcement that your guests will want to know about.
A blend of planned, scheduled and ad-hoc content will provide a solid base of diverse content, and the more you can plan ahead of time the better your traction and quality will be.
The plan can be a simple document that outlines – Date, Captions, Image, Links, Status and Comments. Using a social content calendar will prompt you with ideas on what to post so your planning days are more productive and tell a more comprehensive story about your property and it's unique selling points.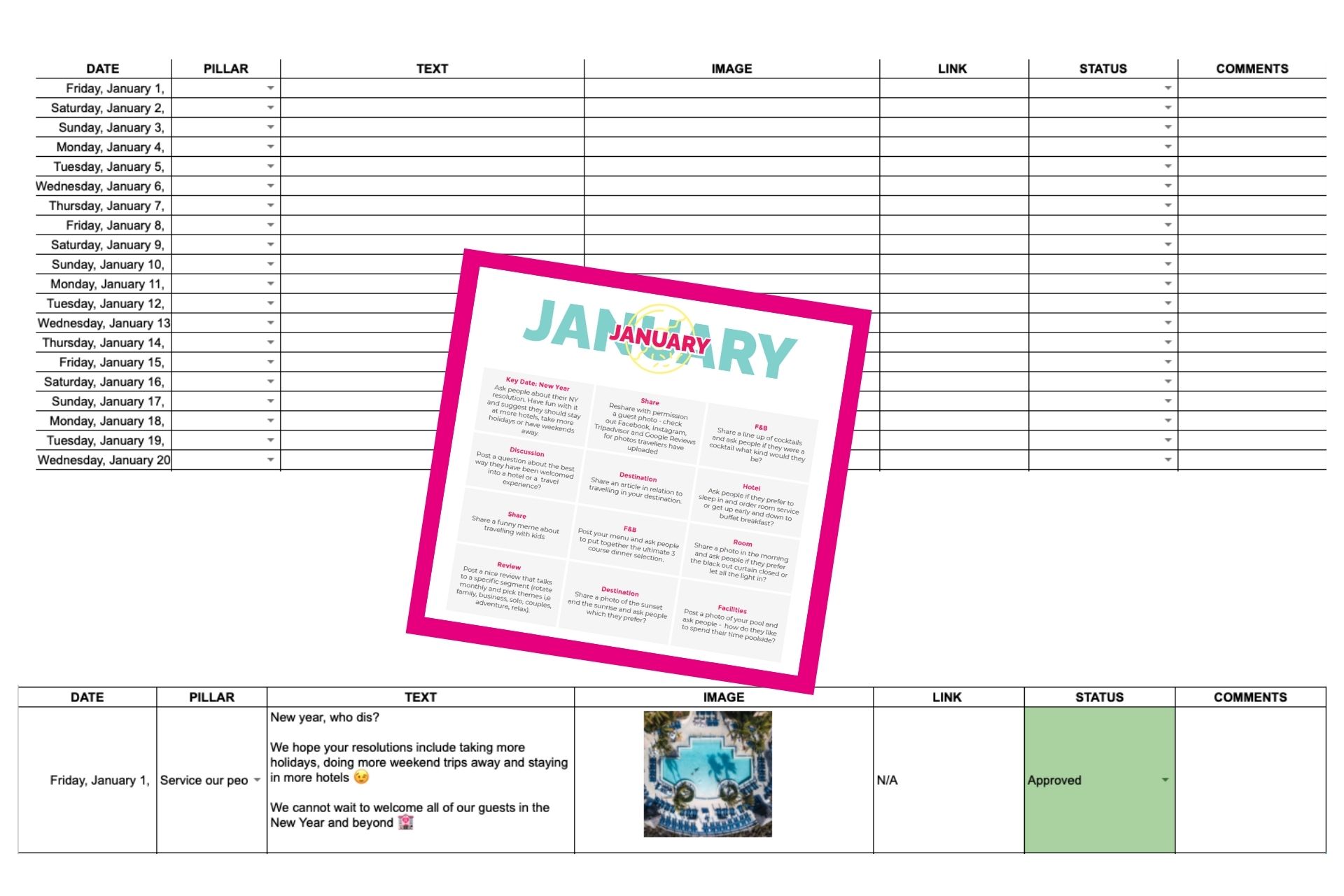 When to post on social media
Now that you know what you are posting, you need to find out the right time to post. This is a common question asked and a difficult one to answer definitively as users interact with different content at different times. You might find that your audience is perceptive to your message on their morning commute, or your conversions might spike in the evening.
You can find this data by looking at your insights which are available for both Facebook and Instagram, and they signal the day of the week and time in which your audience is active online. If there is little data to work with, you can try posting at different times of the day for a month to see what lands, and schedule your posts around that time.
These insights are accessible to all business accounts, regardless of whether you have paid activity or not.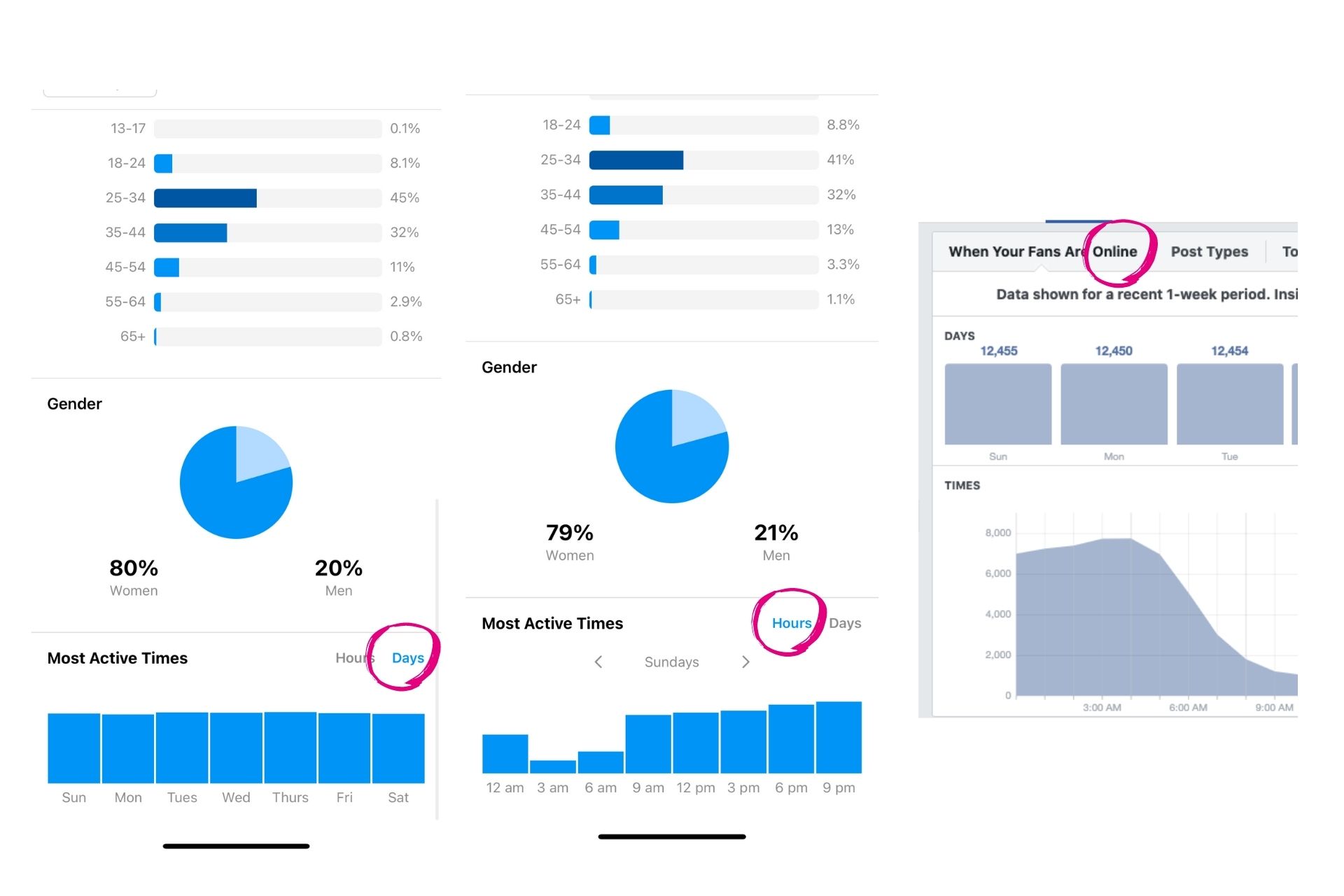 5 content ideas to get you started
Finding time in the week to design social media content is one thing, but knowing what to post can pose an even bigger challenge, especially when you have competing priorities. By using an industry specific Social Media Content Calendar, you can post based on creative prompts and save yourself from posting 'filler' content.
More often than not the best engagement comes from the posts that are simple but well-executed.
Here are 5 content ideas to get you started, and they can each make up a permanent place in your content rotation as you will always have fresh material occurring each day and ready to be re-purposed.
Customer reviews
Sometimes no one can say it quite as eloquently as a happy guest, and these positive reviews can be captured on a quote card designed through tools like Canva. If the review highlights some of the unique traits of the hotel such as reviews and nearby attractions, this can really bolster awareness for your audience.
Guests can also share pictures from their stay on TripAdvisor, so check here often as a source for user-generated content.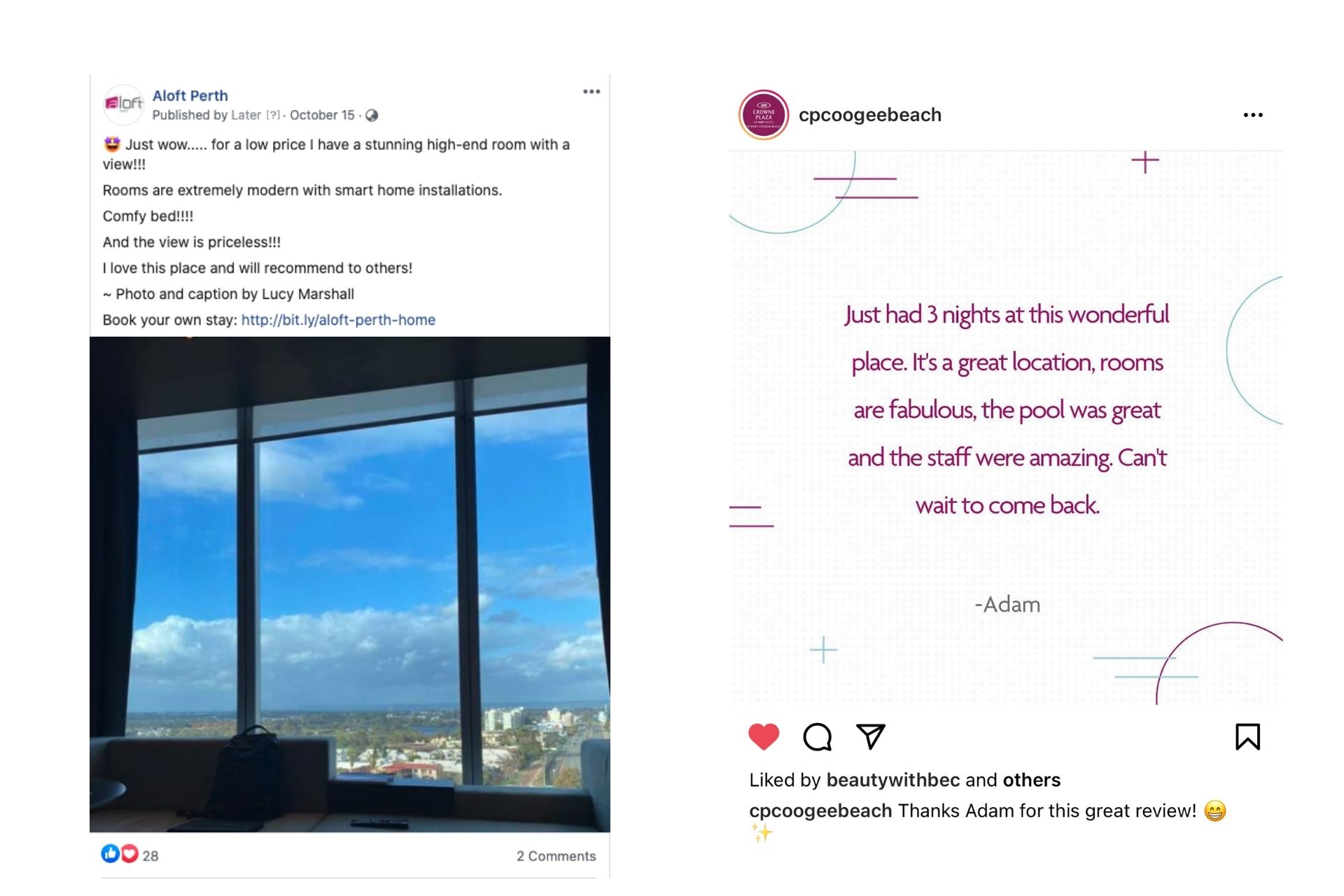 Destination Content
Hotel marketers will post destination content often, but the images chosen are often brand photos or from hotel shoots and might not capture the destination of the area itself.
Tourist spots, like bars, restaurants and galleries, will bring a new proposition to your content and can essentially lean on the popularity of the area.
Search your destination through Instagram (for example, #goldcoast) and check out what destination content is resonating with travellers and locals. Be sure to tag the original photographer if you choose to reshare.
Awareness Days
Make Your Bed Day and the fast-growing Donut Day… there are awareness days for just about anything these days.
Piggy-backing on these days can allow you to put your own twist on these celebrations, and a great excuse to collaborate with other departments in the hotel. International Pillow Fight Day could make for a great Instagram Reel. Show-off the culinary flair of your kitchen staff and design a dedicated dish to post on social for world chocolate day.
Check this Awareness Day Calendar and start planning > https://www.awarenessdays.com/awareness-days-calendar
Or you could Download the Social Media Content Calendar and find all the awareness days for the year in one place.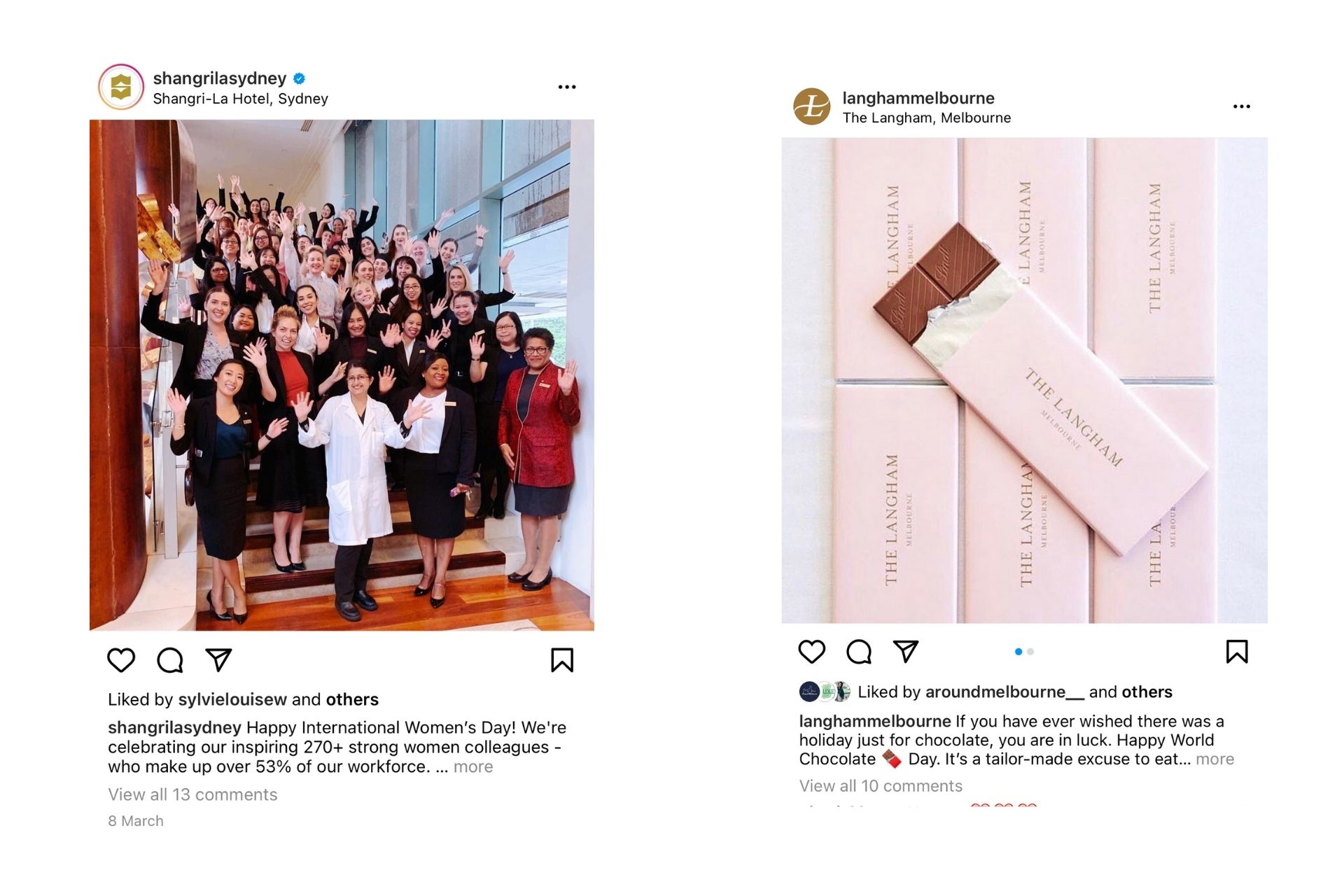 Ask a question
This might seem easy enough, but many shy away from direct engagement with their audience, despite the feedback and engagement that can be generated from this tactic.
People love to talk about themselves, and these quick questions invite a response from every type of user.
Not sure what you should be asking? Start out with these.
"Do you lay pool-side reading a book or stay in the room watching movies?" (Share with pool photo).
"Are you team sweet or team savoury?" (Share with breakfast photo).
"What is your favourite thing about staying in a hotel?" (Share with a room shot).
"How would you describe (destination X) in one word" (Share with a destination shot).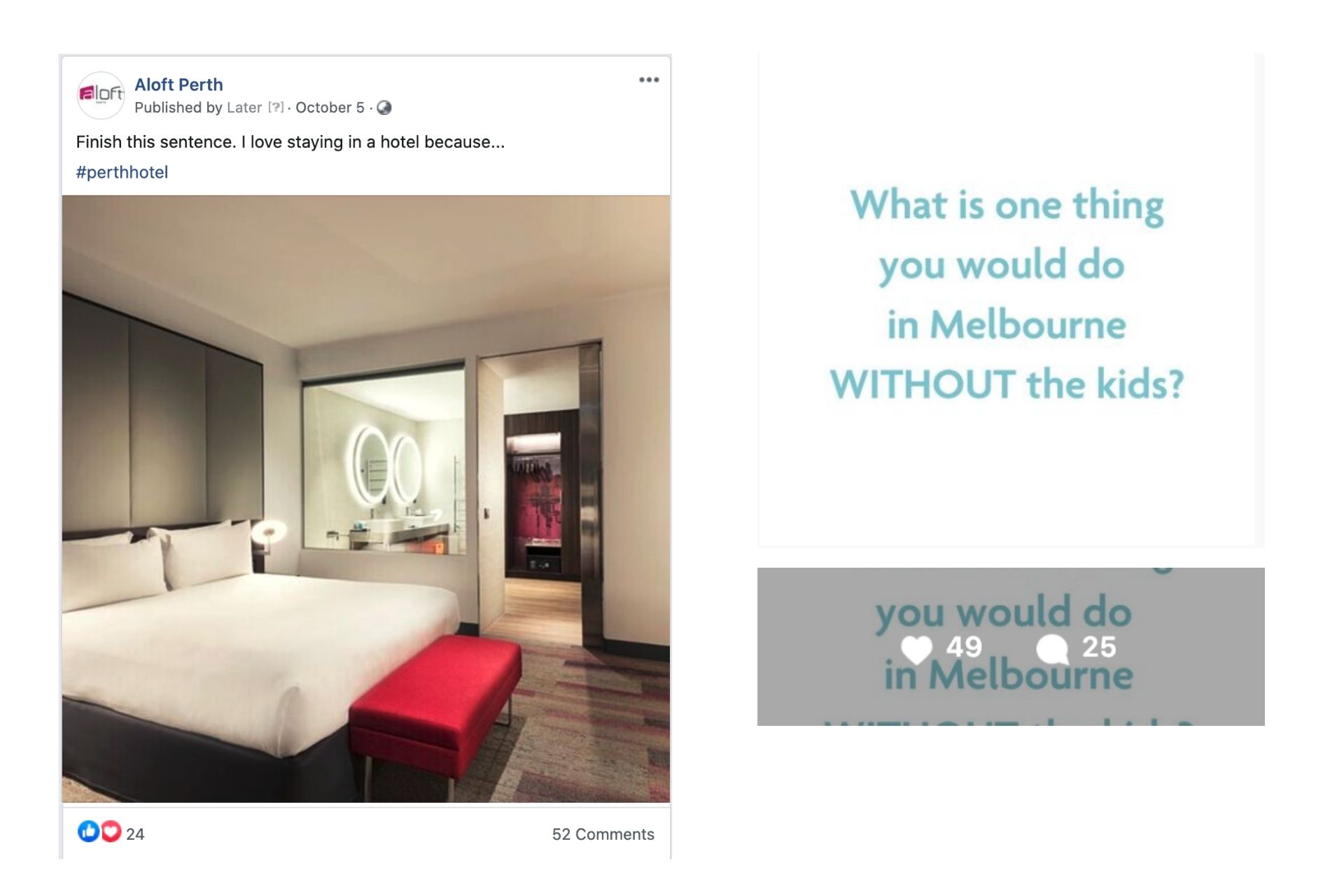 Behind the scenes
This is where your colleagues become part of the storytelling. Ask your General Manager 3 interesting questions about the area, pop culture or a career highlight.
You can even time these posts with sporting events showcasing the biggest fan in the hotel, or cultural events and how your diverse team plans on celebrating.
Try to get a group staff photo for Christmas or New Years and thank all of your online followers.
It's important to remember that your social strategy should be 80% value and only 20% promotional, it's called 'social' media for a reason.