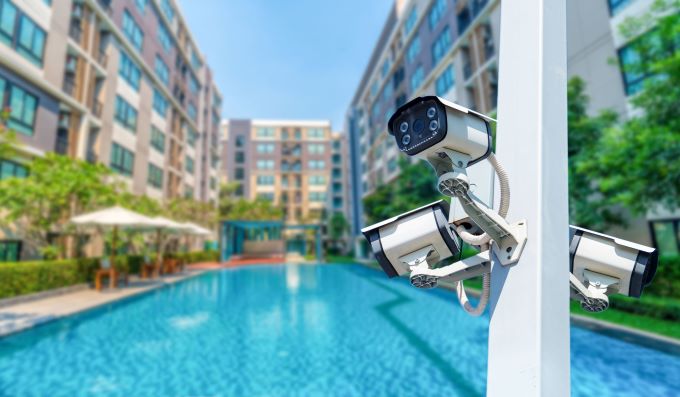 Safety & Security
Putting hotel security in focus
When thieves broke into the grounds of a plush Noosaville resort in Queensland earlier this year, manager Sue Barden took steps immediately to ensure it never happened again.
"Right away, we installed more CCTV security cameras and signage warning that public areas were under surveillance," she said.
Check out our full latest print issue!
"It was only a minor robbery, but we don't want any more. Some young people climbed over a gate and took some bikes from a public area. But we made sure straight away that it wouldn't happen again.
"As it was the whole incident was captured on the cameras we did have, and it was like watching an episode of Funniest Home Videos. The young intruders started throwing thongs over the gate to test its height and the thongs were falling back onto their heads.
"The bikes were recovered very quickly after we gave the footage to the police.
"Every part of the grounds here is now covered by cameras and we think that together with the warning signage we have the best possible defence against unwelcome visitors coming onto the property."
Sue has managed the Verano Resort at Noosaville for two years with husband Geoff, after seven years running the Seaforth At Trinity Holiday Accommodation property outside Cairns.
She said the nature of hotel security equipment had changed dramatically over recent years.
"When we first started at Trinity Beach guests didn't even like the idea of the pool area having cameras around, but hotels need to make their properties as secure as possible and we are living in different times.
"Hotel security has come a long way in recent years. Cameras are much more sophisticated than ever."
 Security at hotels and resorts involves such things as securing perimeters, controlling access to restricted areas, and allowing guests to safely check-in after hours. Managers are using increasingly sophisticated access controls including CCTV cameras, boom gates, intercoms and wi-fi locks.
The sophistication of the latest cameras makes them much more user friendly and they can be set up remotely to record with a quality that was unheard of only a few years ago.
Michael Johnson, the CEO of Tourism Accommodation Australia, said CCTV footage was also useful in dealing with disturbances arising during the COVID-19 crisis, with Victoria's Hotel Quarantine Inquiry hearing that in June security guards at Melbourne's Crown Metropol were pelted with fruit and a chair and that another guest ran from her room and attacked a nurse before police intervened.
"In the current COVID-19 environment security cameras have even helped to screen guests for illness," Johnson said.
"I was in a hotel recently and when you walked through the front doors what looked like a CCTV camera was effectively a piece of technology that took your temperature as you entered the hotel, yet another way to keep guests secure."
Johnson said licensing requirements in much of Australia now required hotels and resorts to have CCTV cameras operating where alcohol was served.
"We've seen hotels throughout Australia upgrade their CCTV cameras and they are required to keep footage for at least 28 days," Johnson said.
"That is a major boost to hotel safety.
"The price of the CCTV systems has come down dramatically, so it is pretty affordable for most hotels and resorts to have good camera systems right around their property."
He said the boom in security technology extended to hotel locks, which were often now high-tech pieces of equipment.
"Only a few years ago, a hotel key was a metal thing that you put into a metal lock and turned," he said.
"Now in most hotels when you tap on a door lock with your access key the front desk immediately knows that you have entered the room because the keys are interfaced back to property management systems.
"Security people know when people are in rooms – or not in rooms – and it's great for cleaners who are servicing guestrooms as well so that guests are not disturbed. The room access technology has meant great improvements in both security and service."
He added that the presence of CCTV at most hotels was a major deterrent to crime but also proved invaluable for police if guests were involved in "unlawful activities".
"Occasionally it will happen that there could be someone dealing drugs in a hotel and that footage is vital to proving it and ensuring arrests,'' he said.
Industry expertise from suppliers in the know
Scott Fraser, Managing Director of SALTO Systems Australia gave our Accom News editor, Mandy Clarke the rundown regarding the latest access control tech available for hotels, motels, resorts, and holiday parks. He explained: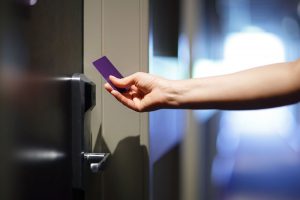 Mobile key is not new, but its adoption is on the rise and implementing this technology improves management around the movement of guests. For instance, many accommodation providers do not have a 24-hour reception desk, so it is important for them enable guests to check-in themselves and access their rooms directly. We are also seeing more interest in this post-COVID as its contactless and hygienic, unlike cards and physical keys being passed back and forth. In the higher-end properties, a lot of operators incorporate mobile keys in their own apps to facilitate a better guest experience through other services and rewards.
Integrations with Guest Room Management Systems (GRMS) are also increasing, whether through card or mobile key. The locking system can trigger events as a guest enters a room, such as turning on the TV, ambient lighting, or music to welcome them. It can also remember the settings the guest used when they left for when they return – all while conserving energy.
We are also seeing a desire to move to fully online access control cloud-based solutions, especially for serviced apartments or shared living accommodation. This allows accommodation providers to easily integrate their access control with other cloud-based management platforms for bookings of shared amenities, services, and communications. Even bigger chains using PMS are now considering cloud infrastructure.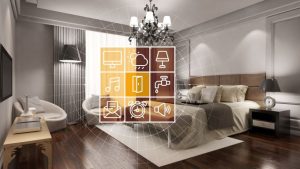 Mixed-use buildings are increasing. These buildings may have areas devoted to commercial space, retail, apartments, and a hotel and a single card solution access control can integrate with the enterprise building or security systems that manage CCTV, alarms and intercoms. However, we do not see many intercoms in hotel environments, rather short-stay accommodation such as serviced apartments. You can have systems that integrate with intercoms, so if someone calls your intercom, you can see a video feed of the visitor on the app and grant them access.
When purchasing safe and secure out of hours check in systems, managers should ask whether it can integrate with your access control and locking system, generate cards at a kiosk, or send out a mobile key for self-check-in and room access.
In the future, we expect more features and functionality to be delivered through the cloud, as well as a real focus on establishing trust by assuring guests of clean and hygienic environments. Through the lens of access control, this might mean reducing face-to-face interactions and congestion of certain areas such as reception   where we see great applications of the mobile key, as well as contactless and antimicrobial access control.