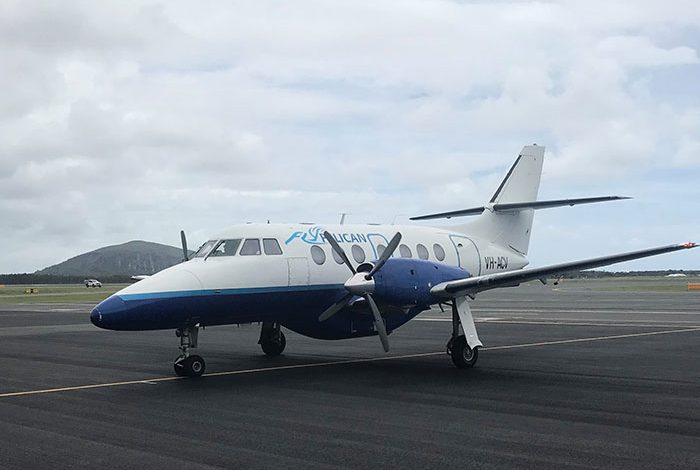 News
Sunshine Coast taps into regional tourism boom with new flights from Newcastle
Last week, Sunshine Coast Airport welcomed Fly Pelican, a new carrier bringing residents direct from Newcastle and the Hunter Valley region to the Sunshine Coast for the first time ever. This three-times-a-week seasonal service will operate until the end of March.
The service operated by a 19 seat Jetstream turbo prop, has been timed to make the most of the summer months. It was secured with support of the Queensland Government's $15 million Aviation Recovery Fund.
Sunshine Coast Airport CEO Andrew Brodie said he was excited to welcome Newcastle based airline, Fly Pelican to the coast.
He said: "The direct service opens up a significant new visitor market for local Sunshine Coast tourism operators, in what has been a very challenging environment over the last 10 months.
"We've been really pleased to work with the Queensland Government, Visit Sunshine Coast, Tourism Noosa and our airline partners to build new destinations and new opportunities for our region."
Fly Pelican CEO Marty Hawley said the airline was delighted to connect two world-class visitor destinations over the summer months.
He said: "It is really exciting to launch this new service, linking the Sunshine Coast to Newcastle for the first time ever. We encourage locals at both ends to explore a beautiful part of Australia, support the service and help make it a long-term proposition."
Visit Sunshine Coast Industry & Membership Development Manager Andrew Fairbairn welcomed the commencement of the new route, which reflected a growing visitor market.
"One of the most significant trends of 2020 was the growth in regional NSW travel to the Sunshine Coast, and the new direct services from Newcastle will help accelerate this trend.
"There are over one million people in the Hunter Valley/Central Coast region, and the Sunshine Coast makes an ideal destination for short-breaks, family holidays and lovers of the great outdoors."
Tourism Noosa CEO Melanie Anderson said more connections to new destinations created further awareness and visitation for Noosa and its tourism.
She said: "Newcastle and Noosa have a synergy with beautiful beaches, a great dining scene and lots to explore on our doorstep, so I have no doubt the route will be a success and we look forward to welcoming new guests and reconnecting with repeat visitors."