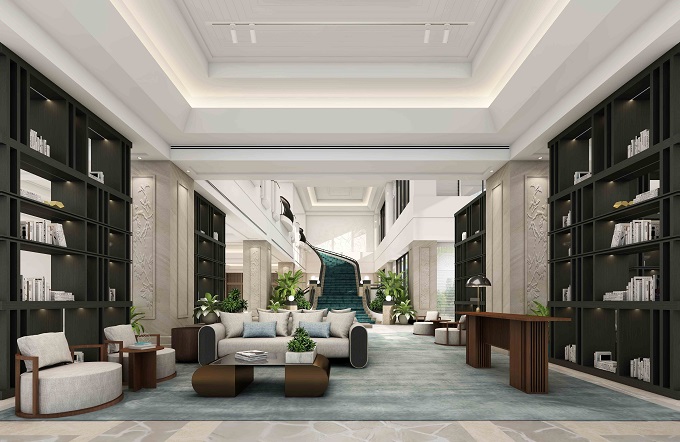 Case Studies
Case Study
News In Brief
Marriott Gold Coast Resort & Spa re-opens refreshed, enriched
Case study: renovation and rebrand of luxurious JW Marriott Gold Coast Resort & Spa
Just before Christmas, luxurious JW Marriott Gold Coast Resort & Spa made its Australian debut when it opened its doors to welcome guests following a $35 million renovation and rebrand of Queensland's iconic Surfers Paradise Marriott Resort & Spa.
The introduction of the JW Marriott brand to the Gold Coast brought a new level of refined and mindful luxury to one of Queensland's most popular tourism destinations.
With its Gold Coast location and proximity to gorgeous golden beaches, stunning hinterland and famous swathe of nearby family attractions, this resort aimed to satisfy "discerning guests, who seek a sophisticated sanctuary that lets them kick back, relax and rediscover a sense of balance in body and mind".
Sean Hunt, area vice president, Australia, New Zealand and Pacific, Marriott International said: "We are excited to continue the growth of our luxury footprint and expand our brand portfolio in Australia with the opening of JW Marriott Gold Coast Resort & Spa.
"Despite the challenges from ongoing international air travel restrictions, we have nevertheless seen strong demand within the luxury hospitality segment this year. We are greatly encouraged by this and look forward to welcoming back local and international guests to experience the outstanding luxury and service of our newest property here in the beautiful Gold Coast."
The property's stunning refurbishment began in June 2020, a collaboration between JW Marriott Gold Coast Resort & Spa and Australian design studio DBI, the architects and interior designers behind the existing Surfers Paradise Marriott Resort & Spa.
According to feedback from visitor comments and reviews, Marriott guests have had an overwhelmingly positive response to the refurbishment project since revisiting the property. Many return guests who spent so much time at the resort with their families over the years, especially locals, have been enjoying the fresh new look and have embraced the new experiences available at the property, like the different Family by JW programs.
With this project, DBI has successfully created a serene retreat and nourishing environment that reflects the JW Marriott brand essence, promoting guest mindfulness and connection and reflecting the Gold Coast's relaxed urban beachside living. Its 223 guestrooms and suites are open, light filled, spacious, and enhanced by thoughtful compositions of soft natural color palettes and materials.
Ravinder Dhesi, the general manager of JW Marriott Gold Coast Resort & Spa, told us: "The experience philosophy behind each JW Marriott property is a focus on feeling whole; helping guests to feel present in mind, nourished in body and revitalised in spirit. The JW Marriott Gold Coast Resort & Spa certainly delivers on this, through its thoughtful design, signature spaces and highly-personalised approach, all fused with the Gold Coast's distinctive warm hospitality."
The hotel experience allows guests to relax, unwind and experience every pleasurable moment of their stay with unique features such as the brand's signature 'Secret Spots', private nooks and secluded spaces for quiet pauses and reflection. Guests can also participate in a series of five to 10-minute relaxation rituals and activities daily, such as guided meditation sessions, that will leave them feeling nourished and revitalised in body and soul.
Under the direction of head of culinary Paul Smart, who joined the team following two decades working for well-established and respected restaurants across the globe, the property introduces six new food and beverage venues. This means a diverse range of cuisines are on offer from locally sourced produce to sophisticated bar menus.
The signature restaurant Misono is inspired by the famous Harajuku laneways and offers an 'avenue' of Japanese dining experiences including an intimate Izakaya sushi bar, tearoom, and whisky bar with an outdoor terrace.
The resort's all-day dining restaurant, Citrique, places fresh local produce and seafood at the heart of its menu and features a show kitchen where guests can enjoy live cooking presentations. Forming part of Citrique, JW Market is the hotel's café and provedore, serving freshly ground coffee and healthy grab-and-go bites.
Located in the lobby, Chapter & Verse is a tranquil lounge by day and a sophisticated bar in the evenings, with indoor and outdoor seating for guests to enjoy handcrafted cocktails overlooking views of the spot lit lagoons and pool areas at night.
The resort shows a commitment to naturally inspired dining through its JW Garden which offers fresh, local ingredients for authentic farm-to-table dining experiences, hands-on cooking classes and specialty drinks.
A resort highlight is the tropical aquatic area that includes both a saltwater lagoon and a freshwater pool. The lagoon pool is encircled by white sandy beaches and tropical gardens featuring a cascading waterfall, reminiscent of the Gold Coast landscape.
Here, guests love to experience a day on the water with a side of relaxation and they can also check in to one of the private cabanas that line the lagoon edge.
Paul revealed: "I'm thrilled to be working on such an exciting project and opening, which will not only debut the JW Marriott brand in the market but also bring a new level of luxury and dining experience to the Gold Coast. Sourcing and working with local producers from across the Sunshine State to create natural and nourishing yet sophisticated menu options has been a highlight.
"I'm extremely passionate about sourcing sustainably and locally so this role was an obvious fit for me, and I look forward to sharing what we're extremely proud to have created with our future guests."
For guests seeking an indulgent experience, 'Spa by JW' offers thoughtfully customised treatments to provide a holistic approach to wellbeing, while Family by JW programs ensure the resort's youngest guests are bonding and engaged in fun and creative experiences during their stay.
Furthermore, because the hotel is located so close to the beach it offers a quintessential coastal venue for memorable events, and it is perfect for weddings. The pillarless JW ballroom features vehicle access, geared for large-scale exhibitions and product launches, whilst the junior ballroom, flooded with natural light and pool views, provides a stylish space for creative meetings and events.