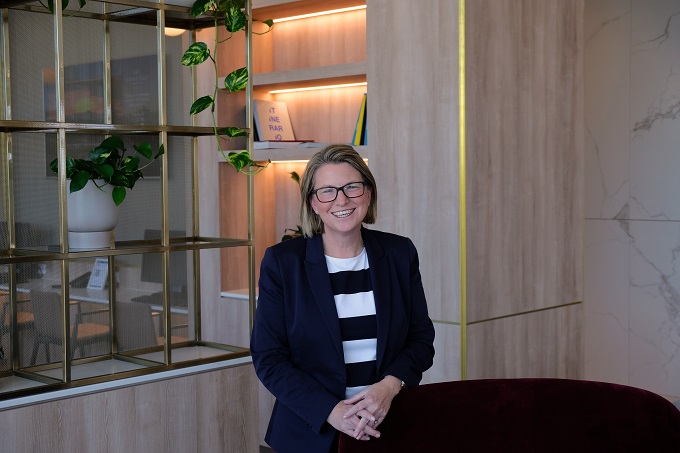 News
Women hitting heights in hotel industry
We celebrate women in the industry to kick off International women's month...
INTERNATIONAL WOMEN'S DAY on March 8 celebrates the social, economic, cultural and political achievements of the female gender. AccomNews spoke to two women who are leading the way in the Australian hotel industry.
Crowne Plaza Adelaide general manager Sarah Goldfinch oversees a 329-room upscale hotel inside Adelaide's tallest building overlooking the City of Churches.
Ms Goldfinch was introduced to the hospitality industry from a young age, helping her grandmother and mum in their café after school.
"I went to Blue Mountains Hotel Management school to learn more about the industry and worked in housekeeping, banquets and restaurants, paying my way through college," she said.
"As soon as I graduated I headed for Europe where I followed a rooms career in front office in London's Sheraton Park Tower Hotel in Knightsbridge."
Ms Goldfinch returned home to Sydney for the Olympic Games in 2000 as a FO duty manager at Sheraton on the Park, where she had an interest in reservations and revenue management. This interest turned into an opportunity to move to Sheraton Auckland, NZ, as Reservations Manager.
Her first hotel opening was as revenue manager of Four Points by Sheraton Port Macquarie, which soon grew into a dual role of front office manager and revenue management.
"I continued to move as opportunities arose, joining Mirvac as executive assistant manager at the Como Melbourne, then to hotel manager of Quay Grand, Circular Quay Sydney, and then back to Como Melbourne as general manager," she said.
"I was fortunate to be part of The Art Series groups inception opening (The Cullen) and (The Olsen) hotels in South Yarra. Development slowed with Art Series, which was a catalyst for change, propelling me to join Accor as general manager of Novotel Barossa Valley Resort. In the Barossa I immersed myself in food and beverage within the industry and community which then opened doors for me to be part of the Oval Hotel development and now my current position as opening general manager of Crowne Plaza Adelaide which I hope to be my permanent home."
Despite COVID, new hotels are springing up all over Australia and Ms Goldfinch says "the continued investment in hotels is a testament to the optimism in travel and tourism".
"COVID-19 has caused all businesses to find new ways of working; the accommodation industry is no different," she said. "New hotel builds are significantly changing in design from vast atrium lobbies to sky lobbies in business lounge settings. Hotels are embracing touchless technology faster than ever and adopting on-line check-in and keyless entry. It is my prediction hotels will again be the home of our city's top restaurants and bars."
Ms Goldfinch said "savvy holiday makers" were seeking flexibility in their accommodation offering and hotels such as the Crowne Plaza Adelaide had adapted to suit, allowing guests to "Tailor their Time", checking in and checking out of their hotel room anytime they wished within a 24-hour period.
Ms Goldfinch says that  "with a great understanding of the benefits of diversity and inclusion within the business community in general, I feel the accommodation industry offers women the pathways, support and encouragement to achieve their potential.
"While COVID-19 has significantly impacted tourism," she said, "the accommodation sector is still seen as a growth industry. IHG (InterContinental Hotels Group) alone are still on track to open numerous hotels this year across multiple brands.''
At the Radisson Blu in Sydney, executive housekeeper Maureen Jolowicz celebrated 20 years in the role last July.
She has selected every single member of the housekeeping team and has been able to build a strong culture of excellence over that time.
She has specialised in housekeeping since she trained in the UK before moving to Australia in 1982 and her job has taken her around the world and.
She opened the Southern Cross in Sydney, which is now the Vibe, then the Park Hyatt, then Park Lane which is now the Sheraton Grand Sydney.
She went to Buenos Aires in Argentina to help open the Park Hyatt there. She has also worked in Shanghai and Fiji opening Radisson properties.
She says her role is all about leading her team to achieve the common goals which are set by head office.
"We have had as many as 60 staff in housekeeping and we all have the goal to have excellence in what we do," she said.
"To succeed in this job you have to have passion. I still love housekeeping all these years on. In the hospitality industry if you are successful it is because you love it."
Overseas there is a rapid expansion of hospitality brands owned and operated by women.
Among the global leaders are Elisabetta Fabri, president and CEO of Starhotels, a privately-owned hotel chain based in Florence, Italy, with 29 luxury hotels (23 in Italy).
Sheila C. Johnson, founder and CEO of Salamander Hotels oversees a portfolio of unique, luxury boutique hotels and PGA Tour golf resorts in America, while Priya Paul runs the Apeejay Surrendra Park Hotels group, a collection of eight five-star Indian hotels located in Bangalore, Chennai, Hyderabad, Kolkata, Navi Mumbai, New Delhi, Visakhapatnam and Goa.