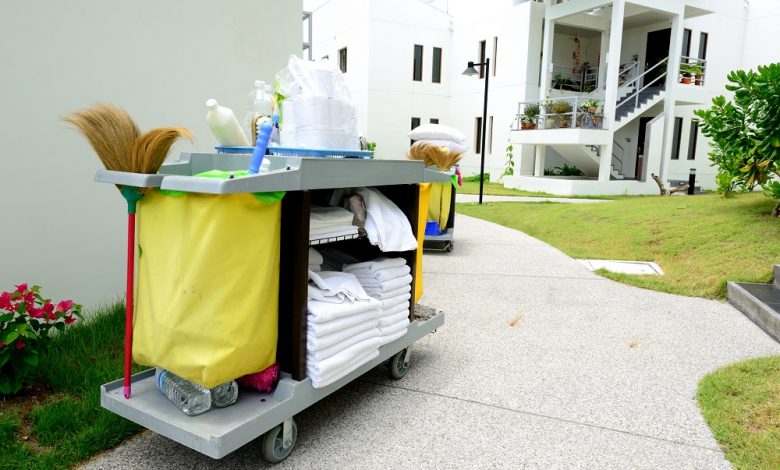 News
News In Brief
Housekeeping trolleys tools of the trade
A well organised trolley is an essential tool for hotel housekeepers: After all their core principle is to bring a room back to spotless
Housekeeping trolleys are on a roll, keeping the accommodation industry moving in good times and bad and reflecting the ever-changing technology of the industry.
Every guest at any property wants to have a clean room and according to Jane Day, the executive housekeeper at the luxurious Palazzo Versace on the Gold Coast, bringing a room back to being spotless after it's been used is a core principle for anyone involved in hotel housekeeping.
Clean guest rooms are essential to success in accommodation.
And since there are limited hours to work on each room before the next guest arrives, an efficient housekeeping trolley is a model of good time management and preparedness.
Housekeeping managers provide their staff with a cart checklist so they can stock their carts at the beginning of each shift, with the necessary items laid out in the best positions for efficiency. Any time a housekeeper has to walk back to their supply closet to retrieve items costs precious time.
Trolleys generally have three adjustable shelves and a receptacle to carry a vacuum cleaner.
They are stocked from the bottom up, beginning with linens and towels, then paper products, and ending with amenities and cleaning supplies on the top deck.
It's essential that the trolley is kept clean and organised because many guests will see it being used and it is a reflection of the property and its standards.
Clean towels and sheets are usually the heaviest items for housekeeping and so they are commonly placed on the bottom shelves of the trolley along with pillowcases, bathmats, washcloths and robes.
Paper products such as tissues and toilet paper generally go on the upper shelves.
The top of the trolley is reserved for cleaning supplies such as sprays and sanitizers, cleaning cloths and sponges, gloves, toilet brushes, toilet bowl cleaners, window and mirror cleaners, dusting cloths and rubbish bin liners.
The top of the trolley is also the place where replacement amenities are kept.  Depending on the property these might include such items as coffee pods, tea bags, sugar, milk, fresh flowers, chocolates, pens and complimentary water and invariably such personal care items as shampoo, conditioner, soaps and body lotion.
Most trolleys swill also have bag holders on each end, one for soiled laundry and one for garbage.
Rochak Karki, the Executive Housekeeper at Sydney's InterContinental Hotel, says housekeepers are at the front line for guest satisfaction and that COVID-19 has seen housekeepers adding extra tools to the arsenal of cleanliness.
New cleaning technology is quickly embraced.
One of the frontline weapons in the fight for hotel hygiene is the electrostatic spray gun, a large handheld device that shoots a spray of disinfectant onto almost everything that a hotel customer might touch.
Mr Karki says his team uses electrostatic sprayers in their 509 guest rooms to do deep cleaning, "providing an extra sense of safety for our guests."
He says the electrostatic sprayers are now essential for hotel cleaning and his staff also use them for deep cleaning five to six times a day in public areas, including lift buttons, chairs in cafes and the front desk.
Nanotechnology has also sparked interest at many hotels. Nanoparticles can create a constantly clean film on objects.
They can keep mirrors shiny and shower screens grime free. They can ensure sinks and toilets remain clean for much longer and cut routine cleaning times.
The microscopic particles also eliminate the need for expensive cleaning agents as tough stains are just a memory.