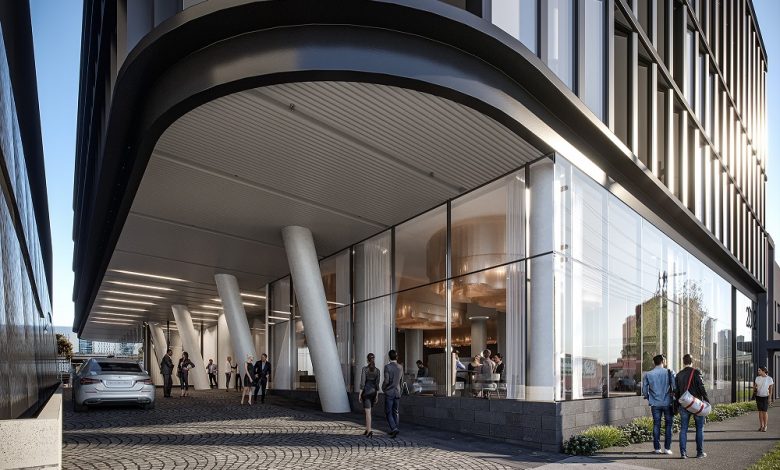 News
Hybrid accommodation enriches Melbourne's hospitality scene
Exciting new development set to welcome guests and consumers to Southbank.
Oakwood Premier Melbourne is a $150 million, 40-story property that veers from the 'norm' due to its hybrid design that is pinned to capture wide consumer demand. This outstanding new accommodation offers modern features, elite customer service and skyline views overlooking the Yarra River.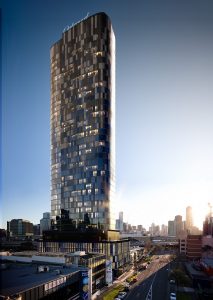 Andrew Donadel is the general manager of Oakwood Premier Melbourne, the centrally located property presenting 392 luxurious rooms and apartments with a rooftop bar and 360-degree views of the city. He explained this property has been in development since 2017 and says it's not just a hotel, it as more of a "lifestyle".
With many years' experience in hospitality and hotel management, Mr Donadel revealed he relocated just over one year ago from Singapore to Melbourne, to oversee the opening of this new property. I ask why?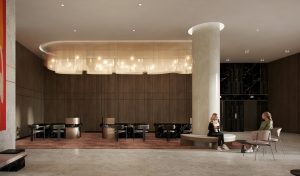 He told me: "Because I believe in this exciting hybrid development, and I am confident it is perfectly placed to attract consumers during these challenging times. I know it will be tough to open during COVID, but I am also hopeful of a successful launch. We are in the final stretch of this four-year-long development and the whole team is excited to welcome guests this December and share all of the incredible facilities on offer."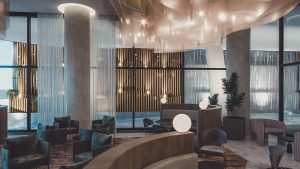 What does he like most about the property?
"The whole build is very impressive, but I admit I'm completely blown away by the outstanding gym facilities and the modern fitness area. I also appreciate the beautiful open spaces."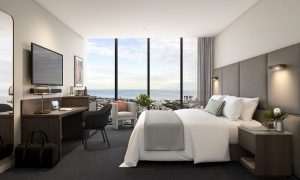 Indeed, the property has been very thoughtfully designed, with modern open spaces perfect for a COVID era.
Mr Donadel agreed: "Yes, with everything that has happened over the past year, we've gone above and beyond to create a safe sanctuary, one where guests can enjoy a stress-free stay. We offer a contactless experience, an outstanding level of service, utmost hygiene standards and a building that offers a variety of lifestyle choices.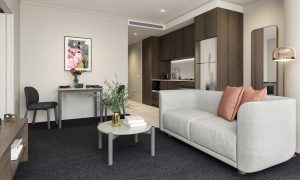 Forget about this being a 'normal' hotel accommodation offering. Instead, he explained, "we provide a neighbourhood in one building with shops, restaurants, bars, a game (not gaming) centre and plenty of open space".
Oakwood Premier Melbourne will cater to guests of all needs, with 132 rooms ideally suited to short stay guests, and 260 spacious apartments all perfect for mid to long-term guests. Executives and business travellers will also be pleased with the innovative tech and communications offered in guest rooms, alongside a newly launched room service feature.
At Oakwood Premier Melbourne there is indeed 'something for everyone' but it is also visually stunning, with art installations and waterfall features, all paying homage to key Melbourne landmarks. The property exudes luxury and has been developed to pamper guests and visitors from the moment they arrive.
Ultimately, Oakwood Premier Melbourne completely transforms what consumers traditionally know to be included in standard serviced apartment accommodation stays.
This is nothing short of an impressive achievement.