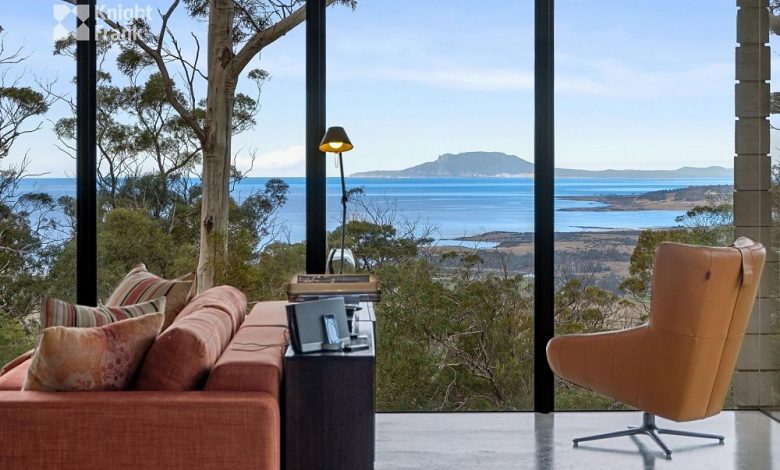 The charming hamlet of Swansea in the heart of Tasmania's east coast was one of the first towns in Australia to be established after Hobart and Sydney.
Two centuries later it retains the peaceful charm of a romantic age while its nearby Rocky Hills Retreat offers romance and the sweet kiss of investment success.
Regional Tasmania has come of age as both a booming tourist destination and a lucrative real estate investment, and the Rocky Hills Retreat is booked out almost all year round at $650 a night.
On sale for $1.8m, the retreat comprises a large apartment of 117 square metres and a converted, relocated church which is now used as an arts studio on the property. The studio is nestled in the bush just 300 metres from the retreat.
Hobart-based John Blacklow from Knight Frank said the property was ideal as a quiet haven for honeymooners or for people who just wanted to get away from everything and have a relaxing holiday in a beautiful part of the world, yet still have all modern conveniences on hand.
"It's fully booked for most of the year," Mr Blacklow said. "Even in this COVID climate, it is running at 80 per occupancy and obviously has a wonderful reputation.
"The income is about $147,000 a year and it could provide a passive net income of $90,000 if you wanted someone to run it for you."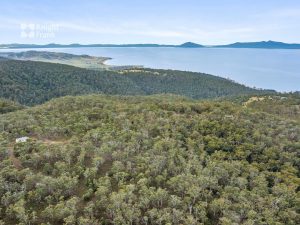 Swansea is a serene coastal hamlet of 1000 people that is enough of a distance from both Launceston and Hobart that travellers are inclined to spend at least an overnight stay when visiting there.
The Rocky Hills Retreat has won awards for its architectural design as well as many tourism awards.
Mr Blacklow said the property was at the centre of a highly popular coastal tourist region.
Access is from the Tasman Highway along a winding two-kilometre gravelled road which sits atop more than 120 hectares of wondrous bushland.
The Tasman Highway is known as the 'Great Eastern Drive', and it links the popular resort towns on Tasmania's east coast.
The retreat offers first class facilities and amenities with panoramic views over Great Oyster Bay and beyond to the Freycinet Peninsula.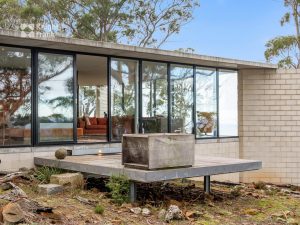 Mr Blacklow said the retreat offered not just complete privacy and seclusion for its guests but both a proven commercial income and development possibilities for a new owner.
Tasmania is gearing up for a post-COVID gold rush in the tourism sector.
Even during COVID, the Rocky Hills Retreat has done astonishing business, but Tasmania's State Government has released a second round of accommodation vouchers and a great many of them are being used regionally.
The welcome mats are already out for the expected rush of interstate visitors when travel restrictions are lifted across Australia.
Swansea has a rich colonial history, unique attractions and old-world charm.
Tasmania is a glorious place of stunning vistas but few places in the state enjoy such beautiful scenery as the Swansea region, which is always laid back, even when it fills with holidaymakers over the summer months.
Just out of town, is the quirky convict-built Spiky Bridge, constructed with field stones without mortar or cement.
Local cafes and restaurants serve famous oysters and nearby vineyards and farm gates offer sublime cool-climate wines and delicious local produce.
Keen anglers are encouraged to take a cruise and catch their own fresh seafood for dinner.
Find the business listing details HERE.
Find more accommodation for sale HERE.
Find the latest industry news HERE