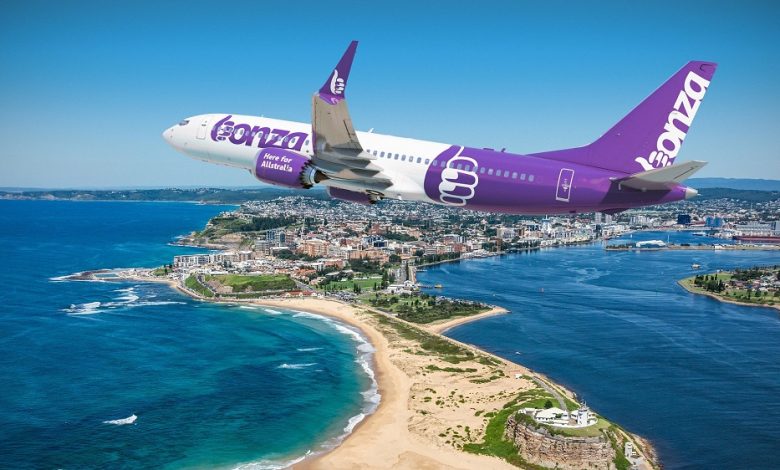 Sunshine Coast tourism is soaring on the news that a new low cost carrier, Bonza, will be based there, bringing in 37 planeloads of visitors every week to the region's pristine beaches and glorious hinterland.
The new airline, headed by former Virgin Blue executive Tim Jordan, will operate 37 flights into the Sunshine Coast each week on 12 routes that directly connect the region with destinations in Queensland, Victoria and NSW. Nine of the routes to the Sunshine Coast are new.
The airline is planning to commence operations with five Boeing 737 MAX in mid-2022, using under-utilised routes that Jordan believes will be immensely popular with Australians, especially those in regional areas.
Tourism Noosa CEO Melanie Anderson told Resort News that Bonza's arrival would be "transformational" for her area.
"One of the most amazing things," Ms Anderson said, "is that people will now be able to come to the Sunshine Coast direct from many regional areas, rather than having to travel to a big city to make that flight.
"That will be transformational because these routes have never been really established within Australia."
Sunshine Coast Airport has been named the home base for the airline, with Melbourne's Avalon Airport the secondary base.
The 12 Sunshine Coast routes will be:
Albury – 2 flights per week
Avalon – 3 flights per week
Cairns – 5 flights a week
Coffs Harbour – 2 flights a week
Mackay – 3 flights per week
Melbourne – 4 flights per week
Mildura – 2 flights per week
Newcastle – 4 flights per week
Port Macquarie – 2 flights per week
Rockhampton – 3 flights per week
Townsville – 4 flights per week
Whitsunday Coast – 3 flights per week
Bonza CEO Tim Jordan said the new airline would be Australia's only independent low-cost carrier, and the outlining of its routes was the largest launch announcement in Australian aviation history. Bonza, he said, would open entirely new markets for destinations across three states.
He said 25 routes would take Australian travellers to 16 destinations: Albury, Avalon, Bundaberg, Cairns, Coffs Harbour, Gladstone, Mackay, Melbourne, Mildura, Newcastle, Port Macquarie, Rockhampton, Sunshine Coast, Toowoomba Wellcamp, Townsville and the Whitsunday Coast. Bonza plans to operate up to eight aircraft in its first year of operation.
"Since announcing Bonza to the world late last year, we've always said we wouldn't just fly between Australia's three largest cities and instead give people in the regions more choice," Mr Jordan said.
"From our two bases on the Sunshine Coast and Melbourne, we will give Aussies more options at ultra-low fares to explore their own backyard.
"With destinations ranging from Albury to the Whitsundays, travellers will now be able to fly, instead of impossibly long road trips as well as fly direct without a stopover in a major city. Aussies can look forward to enjoying more time at their destination and spending less of their hard-earned cash getting there in the first place."
Mr Jordan said 96 percent of the destinations would be serviced by a low-cost carrier for the first time, and that 80 percent of the routes were completely new.
He encouraged everyone to download the new "Fly Bonza" app to see when flights were going on sale, what discounts were available, destination news, travel tips, and for the chance to win flights.
Once all functions were added to the app, it would be where customers could plan, book and manage their flights, and it would provide check-in facilities and digital boarding passes.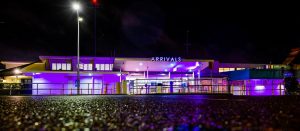 To mark Bonza's launch at the Sunshine Coast Airport last month, Bonza also unveiled its brand new 737 MAX aircraft with its purple livery. The purple theme was continued on the Sunshine Coast with the Big Pineapple going purple to mark the historic aviation news.
Melanie Anderson told Resort News that following the lifting of COVID-19 interstate borders, Bonza's arrival opened a whole new opportunity for Tourism Noosa to target people keener than ever to travel within Australia.
"It provides the opportunity for a lot of people to come to Noosa now who might not have thought about it otherwise because it was too hard – having to first fly to Brisbane and then drive north," she said.
"Unlike a lot of other destinations that have done it tough during COVID, our Easter bookings are about 20 per cent higher than they had been in the preceding three years.
"The fact we will now have 37 flights coming in each week from 12 new routes, and with Bonza basing their aircraft on the Sunshine Coast, it is obviously a wonderful thing for tourism in Noosa. Bonza realises the huge growth opportunities here.
"With all the trouble going around in Europe at the moment it may curtail international travel even more, so these Bonza flights to the Sunshine Coast just give us another layer of opportunity.
"Generally speaking, about 55-60 percent of people landing at the Sunshine Coast Airport come to Noosa, so it is definitely an amazing opportunity for us. In July we are also expecting to welcome back Air New Zealand so that will really help our market for the winter."
Bonza's presence on the Sunshine Coast is expected to generate around $86 million in visitor expenditure in the region in the first 12 months of flights being operational, and Sunshine Coast Airport CEO Andrew Brodie said the airline's arrival would open "a range of opportunities for employment, business development, tourism growth and in reconnecting with family, friends and colleagues."
"We have big plans for our airport and over the coming years we will double the size of our terminal, the Aerospace precinct will expand from 9 to 30 hectares and our Southern Gateway commercial development will start to take shape," Mr Brodie said.
He said by 2027, the Sunshine Coast Airport would support 4000 direct and indirect jobs.
Visit Sunshine Coast CEO, Matt Stoeckel said he couldn't praise Sunshine Coast Airport enough for bringing Bonza to the region.
"The Sunshine Coast has always attracted strong market support from regional areas and the launch of Bonza will help grow our market share further," Mr Stoeckel said.
"The Sunshine Coast has been developing beyond its obvious tourism strength over the past decade, with a new CBD coming out of the ground
housing many national companies.
"We are a multi-faceted destination these days and expanding direct air routes will make basing businesses on the Sunshine Coast even more viable."
Australian Resident Accommodation Manager's Association (ARAMA) CEO, Trevor Rawnsley, the CEO of the, said his members were "very excited about the potential that Bonza brings to the Sunshine Coast."
"Locals will be able to travel more freely, and more people will be able to access the beautiful Sunshine Coast," he said.
"It's a big deal.
"There hasn't been a major airline based at the Sunshine Coast before and it really is a significant step forward for the area. A lot of money has been invested in the Sunshine Coast Airport and the potential for new visitors is enormous."
Neil Watson and his wife Amanda took over the Noosa Village River Resort on Gympie Terrace last year, and said they've had a "hectic" time with bookings ever since.
They are enthusiastic about being even busier after Bonza's arrival.
Mr Watson said guests arriving from new markets on routes that hadn't been used, opened up great potential for tourist numbers.
"The more the merrier," he said. "Noosa is a great place to visit, and with Bonza there is now the potential for a lot more people to discover that – people who might have found it difficult to get here before."
Brett Thompson, who oversees 132 residential apartments and 12 commercial premises at the Landmark Resort & Spa in Mooloolaba, said he was "optimistic" for the potential Bonza could bring to the coast.
"I'm an old hand in this business and I've seen a lot of budget airlines all the way up along the east coast over the years," Mr Thompson said.
"They've arrived with a lot of fanfare and then folded.
"But if Bonza can get it right, they will be great for Sunshine Coast tourism.
"With 37 direct flights weekly into the Sunshine Coast that's a lot of tourists. And for someone like me who has a daughter in Townsville, the ability to now fly there direct – and to so many other regional centres as well – makes the Sunshine Coast an even more desirable destination.
"We were getting direct flights from New Zealand until COVID and now Bonza making their headquarters on the coast can only be positive for the tourism industry."
Whitsunday Regional Council Mayor, Andrew Willcox said he was thrilled that his area would have three exciting new routes to its airport.
Bonza will make seven new flights each week to the Whitsundays from the Sunshine Coast, Newcastle and Toowoomba Wellcamp.
New airline entrants into the Australian market have always struggled, but respected aviation analyst Geoffrey Thomas says the company's proven business model will change the way Australians travel. He said Bonza had the potential to triple the number of visitors to the Sunshine Coast from certain areas.
Mr Thomas told the ABC that Bonza was employing a model that had proved successful for the budget airline Allegiant in the United States and that Ryanair and Jet 2 had employed in Europe.
"That model basically revolves around connecting cities and towns and tourist destinations, that are currently not connected," Mr Thomas said.
"Evidence globally shows that when you do connect to towns or locations that have not previously been connected directly, then you triple the traffic on that particular sector."