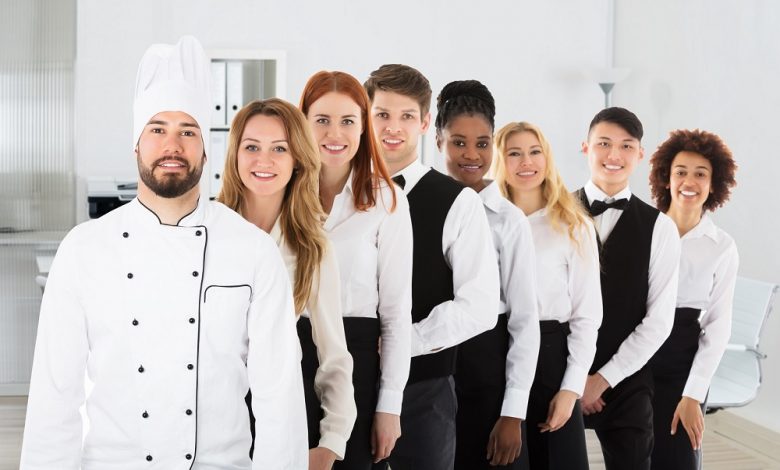 Management
News
News In Brief
Cool hospitality venues kit out their staff
A hospitality team's attire can showcase a brand identity and resonate strongly with guests
The many benefits of wearing hospitality uniforms have been significantly elevated since the onset of the pandemic. Experiences from the last two years reinforce that teams who wear smart uniforms not only appear more professional but also project more of a commitment to high hygiene standards.
A hospitality team's attire can showcase a brand identity and resonate strongly with guests and differentiate it from competition. Therefore, choosing a uniform requires some thought and careful consideration, you will also need to decide if it will be unisex or not, or you may want to source an ethically made and sustainable clothing line.
Would you go for a clean design and simple lines, or something more elaborate, even quirky? Alternatively, why not dabble in the high fashion world, just like the servers, bar staff and baristas working in a Saville Row establishment, in London.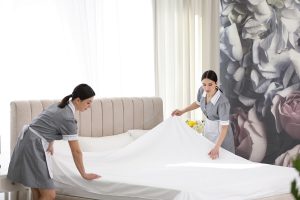 According to a recent article from the Luxury London online publication, entitled "From FROW to FOH: How luxury fashion designers are taking over London's hospitality scene", written by Zoe Gunn, there is a quiet uniform revolution going on in some of "London's coolest hospitality venues".
They are kitting out their hospitality people in the capital's chicest designers and in turn "giving their well-heeled patrons a run for their money in the style stakes."
While all hospitality operators generally do want their uniforms to tell the 'story' of their brand, most will never go to the extremes of wanting their staff to look like high fashion models.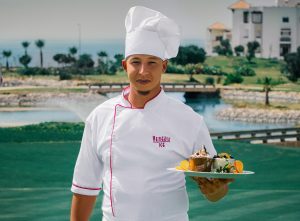 Those London venues may like the 'theatrics' of their team wearing a 'costume' (and it is an excellent story) but most operators just want their team to look professional, smart, and approachable. Of equal importance, ask how your staff actually feel about wearing their uniform, are they happy, comfortable and above all confident?
To 'tick all the boxes' for a really great uniform, it is vital to be clever about choosing the right material, colour and style to perfectly suit the needs of your business, the role of each team member and the variety of different tasks.
Apart from everything else hospitality uniforms are 'workwear' and must stand up to the rigours of physical work in an often fast-paced and demanding environment. Aprons are the most obvious and commonly used uniform item.
While they can still express a brand story, they are also very simple, practical, protective, clean, and they can be designed with large pouch pockets to fit notepads, iPads and payment devices.
Hospitality uniforms are niche market within the overall clothing market, so it is very important to seek out special attention from those who are both highly skilled and experienced in the field.
Welborne Corporate Image is an Australian owned and operated business, that's been designing, manufacturing, and distributing quality workwear for over 50 years. Its team identified a shift in 2022, seeing brands incorporate more solid plain colours.
And they point out: "This trend also saw the market move towards more specialised newly developed fabrics, as the interest in organic, recycled and environmentally friendly materials continues to grow."
On the benefits of introducing a hospitality uniform, Welborne Corporate Image advises they "can increase brand awareness and help to build trust" within your industry.
"When your staff wear a corporate uniform, they always present in a professional manner and are more easily identified by customers. A uniform gives the opportunity for subliminal brand exposure, making your branding more recognisable to the public and strengthening overall brand awareness.
"It also brings your team together and creates a sense of belonging and pride within the company."
AccomNews asked, has COVID changed the demand for uniform in the hospitality sector?
"We have found that during the pandemic many companies have opted to change or implement a uniform policy. We believe this is partly due to the heightened awareness of hygiene and the need to strengthen brand awareness."
For those businesses thinking about introducing uniforms, the team at Welborne Corporate Image told us: "The most important considerations when choosing a new uniform is the job at hand. The tasks an employee needs to undertake within their daily job determines the uniform recommendations. For most roles we recommend easy care fabrics, which are low maintenance and comfortable to wear.
"The colour choice for your uniform should be determined by your corporate image, there are a few exceptions to this rule for example if your workers are required to wear high-vis.
"When it comes to custom made uniforms the possibilities are endless! The options available depend on the number of uniforms being ordered and uniform budget but remember custom made uniforms require a longer lead time, with greater minimums."