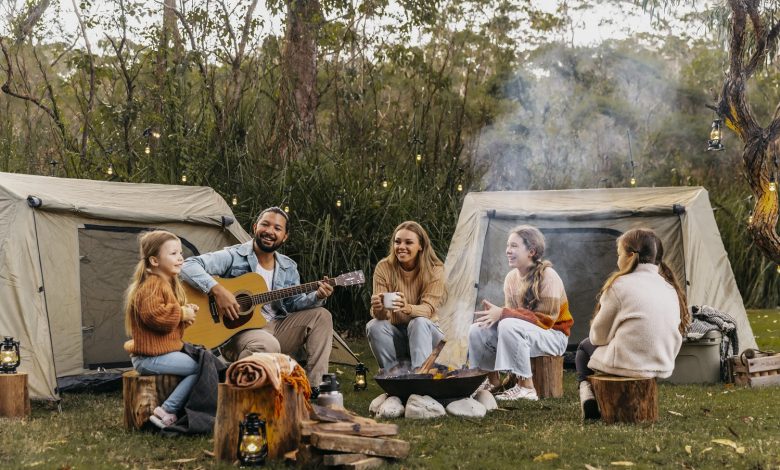 News
News In Brief
Tourism
Caravan and Camping holidays to kickstart NSW tourism
The Caravan & Camping Industry Association (CCIA) NSW partners with Destination NSW for new campaign
The number one choice of holiday accommodation in NSW plans to lead the charge to re-ignite a passion for travel across the state when the caravan and camping industry kicks off its new advertising campaign: 'Feel More, Live More'.
The Caravan & Camping Industry Association (CCIA) NSW has partnered with Destination NSW in a joint multi-week television, social and digital media advertising campaign dedicated to caravan and camping holidays. 
CCIA CEO, Lyndel Gray said "These beautiful ads build on the emotion and strength of Destination NSW's multi-million dollar advertising campaign with a focus on the freedom and adventure of caravan and camping holidays and will connect consumers to www.caravancampingnsw.com where they can research, plan and book their next holiday. 
"There are more than 3.5 million caravan and camping trips taken in NSW each year and the majority of those trips are made by people travelling within the state so targeting these visitors is both highly relevant and important to the tourism industry. 
"Caravan and camping holidays account for over 13 million visitor nights in NSW each year generating over $2.1bn in expenditure, much of this in regional communities across the state.
"With a strong demand for holidays that get you up close to nature and exploring the state, there is no better way to experience our own backyard than on a caravan or camping road trip holiday."
Minister for Enterprise, Investment and Trade, Minister for Tourism and Sport, and Minister for Western Sydney, Stuart Ayres said the caravan and camping industry played a vital role in the visitor economy.
He said: "The 'Feel More, Live More' campaign highlights why caravan and camping holidays are so beloved in NSW.
"Camping and caravanning are a great way to appreciate the beauty and wonder of NSW. We know visitors now want more than a checklist of things to see. They want experiences that inspire, amaze, and revitalise them and staying at one of our state's fantastic holiday parks is the perfect way to feel new.  
"From the beach to the bush and everywhere in between, NSW is spoilt for choice, and I know visitors from far and wide are guaranteed to have a memorable experience. I also encourage NSW residents to get out and explore their own backyard and help turbocharge the visitor economy in regional areas." 
Ms Gray said the CCIA had been partnering with DNSW for over 10 years, delivering marketing campaigns that inspire visitors to enjoy the caravan and camping experience and this new campaign is a demonstration of the importance and success of these activities. 
"With pent-up demand and greater community confidence in travel, this is the right time for our industry to showcase what it has to offer and highlight one of the most endearing and original forms of Australian holiday getaways."
"We are delighted that eight of our major member park groups have also joined with us on this campaign, and there are links from www.caravancampingnsw.com to each, making it easier to find out what's on offer and plan and book"
"Our major campaign partners are Reflections Holiday Parks, NRMA Parks & Resorts, Discovery Holiday Parks, Hampshire Holidays, Ingenia Holiday Parks, Tasman Holidays Parks, Holiday Haven, and Big4 Holiday Parks.
The Feel More, Live More campaign starts on Sunday 12 June with television ads profiling some of the great escapes across NSW which are accessible for a caravan and camping getaway. The TV campaign will be complemented by social and digital media ad placements across NSW targeting families, youth and the over 50's market.  
View the 30" TVC here
Reflections Holiday Parks CEO, Nick Baker said the 'Feel More. Live More.' Campaign aligns with the nature-based, outdoor adventures guests experience at Reflections parks.
"Caravan and camping provide the perfect getaway for families to enjoy quality time together, and Reflections has 37 holiday parks in some of the state's most spectacular locations, which welcome around two-million guests every year," Mr Baker said.
"Our guests also have a huge impact on regional economies, with $100 million in economic value generated by our parks last year alone.  By FY2030, we expect to be contributing more than $214 million annually to regional NSW townships.
"We are committed to elevating our park experiences and helping NSW communities grow and prosper. Our guests travel beyond our parks to explore nature, get to know the local communities and support local businesses, products and services."
Reflections Holiday Parks GM of Marketing & Sales, Peter Chapman said it was an absolute pleasure to work with CCIA NSW on this exciting campaign supporting camping and caravanning throughout NSW.
"I am an outdoor junkie and having the opportunity to collaborate with CCIA NSW on promoting nature-based, domestic tourism is a brilliant fit for myself personally and for Reflections Holiday Parks who is a major industry partner of this campaign," Mr Chapman said.
"Reflections offers coastal to country camping experiences with all of the natural wonders NSW provides in abundance. Guests at our coastal parks are currently getting the full whale watching experience, while our country parks are providing spectacular dams two to three times the size of Sydney Harbour, cosy campfires, and unique encounters with the native wildlife.
"Our Lake Keepit Park near Tamworth has a white kangaroo called Wally, who likes to come out and play. Only one in 50-100,000 kangaroos are albino so it is an absolute privilege for our staff, guests and visitors to the reserve to be able to see him there."