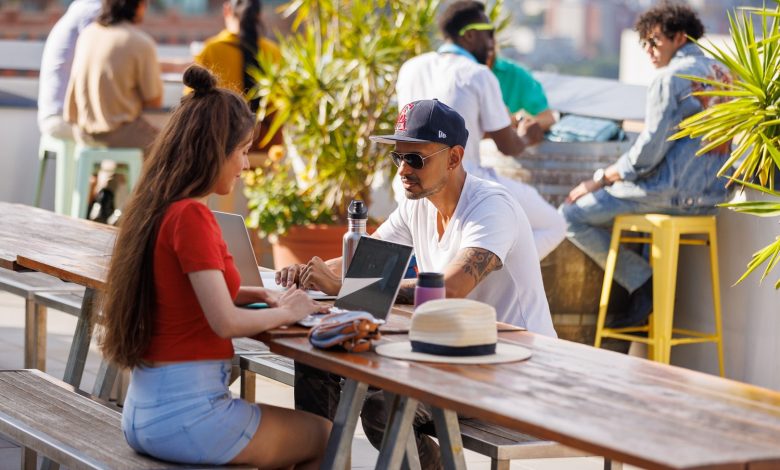 News
News In Brief
Refurbishment
YHA Australia rebrands & refurbishes Accoms for a new era
The new look accommodation business promises to appeal to more travellers & become accessible to a more diverse audience
For the last two years, YHA Australia took some time out to explore the future of its sector and how to evolve its accommodation offerings to better meet the changing needs of travellers in a post-pandemic world.
In a move to better accommodate different styles of travel and reconnect travellers with destinations and with each other, YHA has now revealed its refreshed brand.
The refreshed YHA look, by Sydney-based design agency Houston Group, introduces a contemporary new logo (with a nod to the hut and tree of logos past), a vibrant colour palette and a focus on storytelling through brand imagery.

In addition to the new look and as part of the organisation's evolution, YHA properties will be reimagined through a series of staggered refurbishments.
YHA will also embark on forward-thinking collaborations with projects like Tech Central in the heart of Sydney – Australia's most innovative technology corridor, showcasing a best-in-class, sustainable co-working model.
Additionally, this year YHA will introduce Y-Hive co-working spaces and a diverse range of new food and beverage options throughout their properties.
Paul McGrath, YHA CEO says: "For over 80 years, YHA has provided travellers with affordable, welcoming and sustainable places to stay while exploring Australia. YHA has acted as a launchpad for a community of curious and socially conscious travellers on their journeys of exploration.
"Our new 'always exploring' tagline remains true to the YHA brand essence of creating a more open and accommodating world. It's also how we do business – by continuing to explore new ways to cater to our guests."
YHA promises to continue to grow and regenerative tourism experiences in its offering to help offset the travel footprint of its guests and to ensure its spaces provide travellers with the freedom to explore Australia for the next 80 plus years. 
About YHA:
YHA Australia is a for-purpose, membership-based organisation, providing curious travellers with low cost, quality short-stay accommodation for over 80 years.
YHA's mission is to create communities in diverse spaces and connect travellers with authentic local experiences in a sustainable way, with a purpose to create a more open and accommodating world.
YHA Australia own, operate and partner with a diverse range of properties across Australia offering private and co-living accommodation with facilities like on-site pools, kitchens and open-air rooftops.
They create unique, sustainable spaces with just the right amount of modern comfort in safe, welcoming environments – giving their guests the freedom to explore.
From thriving city destinations to off-the-beaten-path locations, there is something for everyone – whether you live in Australia or are just visiting.
Currently, YHA have a network of 49 properties across the country and are part of the global organisation Hostelling International (HI) – a network of over 3,000 unique places to stay in more than 70 countries.