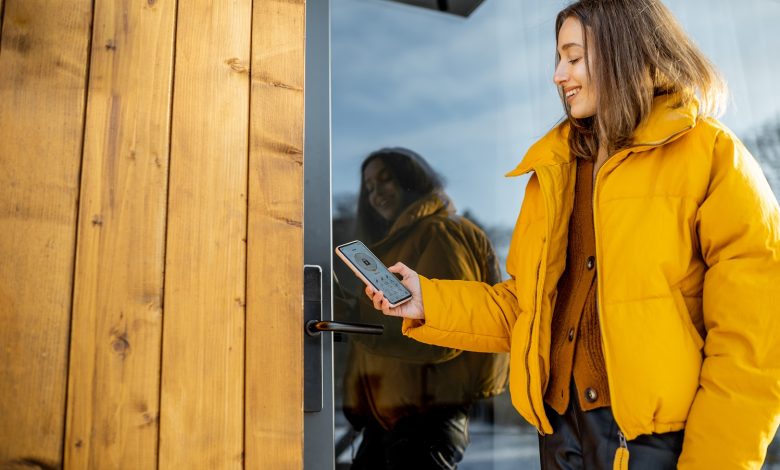 The shift from mechanical to electronic technology over the last few decades has caused a considerable change in the way we think about door locks.
The new technology has made life easier for accommodation providers and hotel employees and added an additional level of security for guests.
Our latest AccomNews print issue is available now. Read it HERE
However, with technology continuing to evolve, what are the benefits of smart locks over traditional locking systems?
In this feature, AccomNews explores some of the latest advancements in technology and what accommodation operators and managers need to consider.
Integration: Which devices and software can a smart lock connect with?
The beauty of a smart lock is its ability to connect and work with other devices and software. smart locks for a domestic setting can integrate with your Alexa or Google Home suite to provide a holistic experience. However, in a hospitality setting, it is imperative that the technology is accessible for all guests.
Some smart locks can be programmed to be compatible with a hotel's own app, while others use Bluetooth technology.
Alternatively, some smart locks use a keypad and allow the guests to choose their own pin for access. For guests who may be less tech-savvy, this option may prove to be the most accessible.
Smart hub: The role of the smart lock in an integrated smart hub ecosystem.
The smarter devices you add to your accommodation, the more you're going to need a smart hub. A smart hub acts as a centralised spot from which you can control all your various devices, be it lights, locks, thermostats, and more.
For instance, when you lock your smart lock, a smart hub can tell your lights to turn off, and your thermostat to go into eco mode. This technology can mean savings in electricity for the accommodation provider, and an additional 'wow' factor for guests.
Some hotels are even using smart hubs to allow guests to book their own massage appointment at the hotel spa, or order room service. This technology gives guests greater control over their stay and minimises the workload for accommodation staff.
Convenience: What are the benefits?
When considering the benefits of smart locks, convenience is the clear winner. For staff, smart locks are a simpler solution than traditional key safes and operators don't run the risk of guests losing physical keys.
Additionally, smart locks allow hotel operators to provide guests with 24/7 keyless access to their room – reducing the need for staff to work night shifts.
For guests, all the above also applies, in addition to an enhanced feeling of security.
For guests on long-haul flights or who are getting in after a big night, knowing they will be able to securely make their own way to their room is a clear bonus.
Security: How secure are smart locks compared to traditional locks?
For all travellers but especially women guests who are travelling alone, guestroom security is a huge issue. Can a stranger access my guestroom? It's a terrifying fear, exacerbated by recent media headlines of intruders gaining access to rooms with a stolen key, fob, or card.
But imagine the relief and feeling of safety and security that comes with being able to control access to your own room or suite by selecting a secret code for the duration of your stay.
However, in case of emergency, accommodation managers and operators can still access the room via a six-digit master code or a key override feature.
Change is never easy, and after growing up with traditional locks you may ask yourself if smart locks are secure enough.
The answer is yes, smart locks are just as secure as traditional locks and in fact, feature additional layers of security and intel.
While in many ways, smart locks behave like a traditional lock, they also track who has locked or unlocked the door. For accommodation providers, this intel could prove important if a guest has anything go missing during their stay.
Lost keys were once a security nightmare and required a new lock to be installed for guest safety.
Now, smart lock technology means that lost keys are a thing of the past.
What comes next for smart door lock technology?
The sky really is the limit with smart door lock technology and smart locks truly are becoming 'smarter' all the time.
According to the latest "Smart Home Access Control: Forecast, Industry and Products" report released by the market research agency Strategy Analytics, it is expected that by 2023, the global sales of smart locks will reach 26 million, pushing the market size to 2.4 billion US dollars.
For accommodation providers, smart locks are a solution to the increasing desire for a seamless and contactless check-in process. With smart locks, hotel employees can send electronic keys to guests along with booking confirmation for the duration of their stay.
For accommodation providers and guests alike, the automation of this process is a win/win for both parties.

Sarah is a freelance journalist with experience across print, digital and audio. After working for Multimedia Publishing as a contributing writer, she has recently joined the team in a part-time capacity for School News AU and AccomNews.