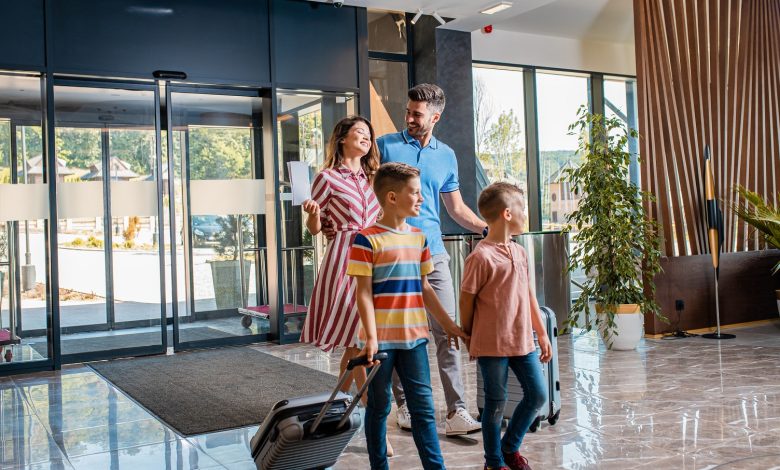 News
News In Brief
Safety & Security
Technology
Happy guests: The convenience of seamless check-ins
Exploring the benefits of self-service check-ins, how they optimise operations while providing guests with a superior experience?
In hospitality, technology is always reshaping the guest experience and a significant advancement has been the introduction of self-service check-ins.
These innovative solutions, including kiosks, keyless check-in systems, pre-arrival online check-in, and key safes, have revolutionised the traditional check-in process.
Our latest AccomNews print issue is available now. Read it HERE
AccomNews explores the benefits of self-service check-ins, how they optimise operations while providing guests with a superior experience, and consults leaders in this technology space.
The benefits of self-service
First and foremost, speed and efficiency are greatly improved. Guests can breeze through the check-in process, reducing wait times and avoiding long queues at the front desk.
This streamlined approach saves precious time for both guests and staff, agreed Steven Barnwell Sales Manager Vintech Systems, it creates efficiencies through automation, affecting all areas of the operation, from the property's reputation to the bottom line of the profit and loss statement.
He said: "Through procedural efficiencies, team members can use the saved time to focus on exceeding guest expectations, resulting in increased guest satisfaction and a more manageable workload behind the scenes.
"It elevates the guests' stay.
"A now pivotal part of the guest experience is the importance of creating convenience. Self-service solutions offer near-unlimited freedom to check in and out via guests' own devices and to personalise their stay to their heart's content. This allows operators to capture accurate and highly relevant details to exceed their expectations for their next stay," he said.
"Guests are often time-poor and would rather spend their time focused on the reason for their stay, not waiting in line to check in or out of the property or waiting on their request for room service or a more comfortable pillow." 
According to Michael Benikos CEO, Assa Abloy Global Solutions Australia, the main advantages of self-service technologies are increased guest satisfaction and speed of check-in and check-out, as well as significant labour savings for hotels.
He said: "Many hotels are using such technologies to supplement their labour force but also allow for enhanced service by moving staff into the lobby as ambassadors, helping guests with their bags and suggesting options for their stay, reducing queuing at check-in and out times when the hotel is busy.
"A lot of business travellers prefer to simply process their check-in and out without talking or interacting with a person. The hotel sector is now offering the same automated experienced travellers have come to expect in the airline sector, giving guests choice and convenience to handle their booking the way they choose."
Cost savings
With self-service check-ins, hotels can optimise their staffing needs and reallocate resources.
On this, Mr Barnwell said: "Self-service solutions offer stability for operators when it comes to managing operating expenses and wage costs. Instead of variable wage costs, often caused by team members needing to stay longer hours to help with arrivals or departures, technology offers fixed subscription-based monthly costs, regardless of the volume of guests. Hidden operational costs like paper, printer ink, recruitment, and training costs are also eliminated."
Convenience
Guests appreciate the ability to check-in independently, at their own pace and convenience.
Self-service check-ins also contribute to enhanced communication between guests and staff enabling instant messaging and notifications.
Improved service quality
With reduced administrative tasks, hotel staff can dedicate more time to delivering exceptional customer experiences, such as personalised recommendations, arranging special requests, or resolving guest concerns promptly.
A revenue booster
By eliminating the need for additional staff during peak hours and streamlining operations, hotels can accommodate more guests efficiently, resulting in increased occupancy rates and ultimately driving revenue growth.
Kiosks
Self-service kiosks have gained popularity in lobbies due to their ability to reduce wait times and enhance guest satisfaction. These user-friendly terminals provide guests with the freedom to independently check-in, select room preferences, and access essential information.
Moreover, kiosks offer multilingual options, eliminating language barriers.
On the rise of their popularity, Mr Benikos told us: "The kiosks of today are totally different to the kiosks of old."
He said: "They are elegant, tablet-based devices that integrate seamlessly with the front desk lobby, enhance the reception and lobby areas, and provide full integration with backend systems allowing a fast, quick, and easy check-in process for almost all guests.
"Deployed easily, they provide guests with reliable, quick, and fast processing of their bookings.
"We are also seeing a mega trend of automation being adopted since COVID, across all guest-facing industries and the long-term trends of labour shortages and high labour costs are also driving the use of this technology. It can reduce overheads for hotel operators."
Keyless check-in
Offers a seamless and contactless experience for guests. Digital technologies, such as smartphone apps or encrypted codes, provide secure and streamlined access to hotel rooms. Guests can bypass the front desk entirely, using their smartphones as virtual keys, ensuring a hassle-free arrival and departure process.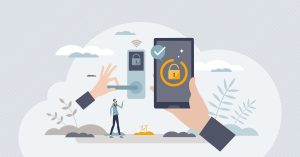 Pre-arrival online check-in
Website or app-based pre-arrival check-in solutions enable guests to complete the registration process before their arrival.
Mr Barnwell said: "Pre-arrival and online check-in offers guests the convenience to customise their stay and check in from anywhere. This saves time for the guest and gets the formalities out of the way before arrival, allowing staff to focus on guest service. 
"Operators can look forward to more accurate guest information, gather data-driven insights around guests' preferences, maximise revenue through pre-arrival upsells, upgrades and extras, and reduce operational stress on their team, ultimately reducing both wage costs and hidden operating expenses." 
Mr Benikos agreed: "Pre-arrival online check-in allows the guest to complete check-in formalities prior to arrival at the hotel, it not only speeds up the process for the guest but also allows hotels to provide upsell and personalisation options to the guest pre-arrival. This extends the touch point with both pre-and post-stay communication and increases loyalty sign-up opportunities."
Finally, he said: "For check-out, the guest can complete this without waiting at the front desk. This has the added benefit of informing housekeeping of the departure in the PMS."

Sarah is a freelance journalist with experience across print, digital and audio. After working for Multimedia Publishing as a contributing writer, she has recently joined the team in a part-time capacity for School News AU and AccomNews.