Luxury stay, efficient operation – how SALTO is making a difference in a premier Melbourne hotel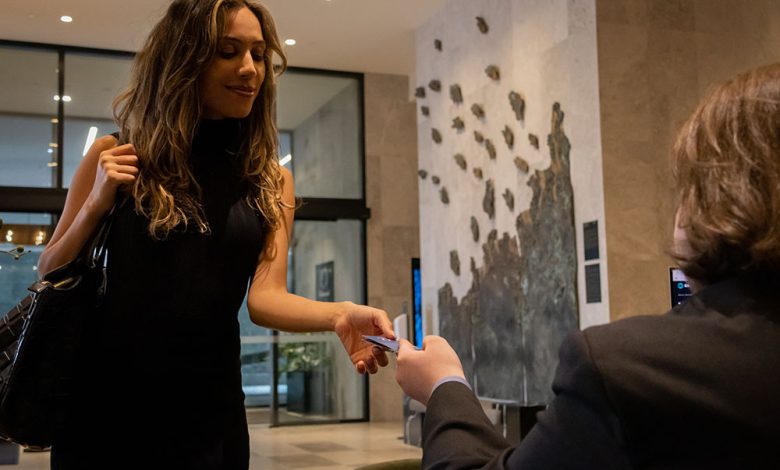 The Oakwood Premier in Melbourne is one of Melbourne's most luxurious apartment hotels, offering corporate travellers a sophisticated place to stay, work and entertain.
The Oakwood Premier was developed by the Yarra Hotel Group, and at 140 metres and 40 storeys,  it is one of the tallest single-purpose developments in Australia. The hotel marks operator Oakwood Asia Pacific's first foray into the sophisticated Melbourne market. It certainly lives up to Oakwood's luxury reputation, with impeccable attention to every detail and stunning views over the Yarra River, Albert Park and Port Phillip Bay externally.
Guests at the Oakwood Premier can choose between a luxury traditional hotel room, or a studio, one- or two-bedroom serviced apartment. The luxury of Oakwood Premier extends beyond its rooms and apartments – guests can make full use of a state-of-the-art co-working space, boardrooms, the sky bar with its 360 degree views, lounges, 40th floor fine dining restaurant, and Technogym. Mathias Waas, General Manager of the Oakwood Premier Melbourne says: 'Our aim at Oakwood Premier is to be the preferred destination for business travellers looking for luxury and service – and with this hotel, we're certainly living up to expectations.'
Hear directly from the Oakwood Premier [2-min] 
Guest experience is everything
With a hotel of this calibre, the guest experience has to be outstanding – including the way that guests access their room/apartment and the hotel facilities. The hotel has to strike the right balance between ensuring that their guests feel safe and secure, without making getting in and out a challenge. They also need to be able to streamline operational processes, so that staff can spend more of their time focussing on the guest's experience.
Choosing a smart access control system
When it came to designing and specifying the access system for the new hotel, Yarra Hotel Group turned to industry leader SALTO Systems. The SALTO system ultimately installed is a standalone, virtually networked, wired and wireless online smart access control platform. SALTO's smart access control system consists of electronic locks, which are opened with a programmable keycard, all controlled from a central point.
The hotel chose SALTO's elegant Ælement Fusion locks to complement the hotel's design ethos for their guest room doors. For back-of-house (BOH) access points, they selected the XS4 One. The Ælement Fusion locks are installed on guest room doors. In total, there are 730 doors and access points across the 42 floors of the building, including rooms and apartments, lifts, meeting rooms, gym, and kitchen and office back of house areas.
Efficiency, visibility and integration
Mathias Waas explains: "The SALTO system really enhances the guest experience. They arrive in our beautiful, well-designed lobby, to a warm welcome from our staff, and quickly and efficiently receive their personalised keycard.
That single card gives them access to the lift to their floor, their room or apartment, shared facilities like the gym and co-working space. When they use a bookable area, such as a boardroom, their card is programmed to give them access for the time they have booked."
Richard Hadley, the hotel's security manager, explains that SALTO helps run the back of house too: "Staff each have their own keycard for access to only the areas they need. We can group them by role – so, for example, kitchen staff, but not office staff, can access the kitchen, and housekeeping can access rooms and apartments."
Richard continues: "We manage everything from a central point – granting access for guests and staff, revoking access, creating zones within the building, and workgroups for staff. I can give contractors access to specific areas if work needs to be done, and revoke it instantly when the job is over.
We can remotely lock and unlock doors, without a staff member having to be physically there. I have even remotely accessed the system from home when needed, saving travel time and cost and making for a fast and efficient service for our guests and staff."
"There's also an audit function – it means that we can easily check when different areas were accessed, by staff or by guests. This is a big help in maintaining security, and can all be done from a single screen."
The SALTO system integrates with other hotel systems, so that, for example, when a guest books a meeting room, their keycard is automatically updated with the authorisation to access the room at the required time, or a card is instantly cancelled when a guest checks out.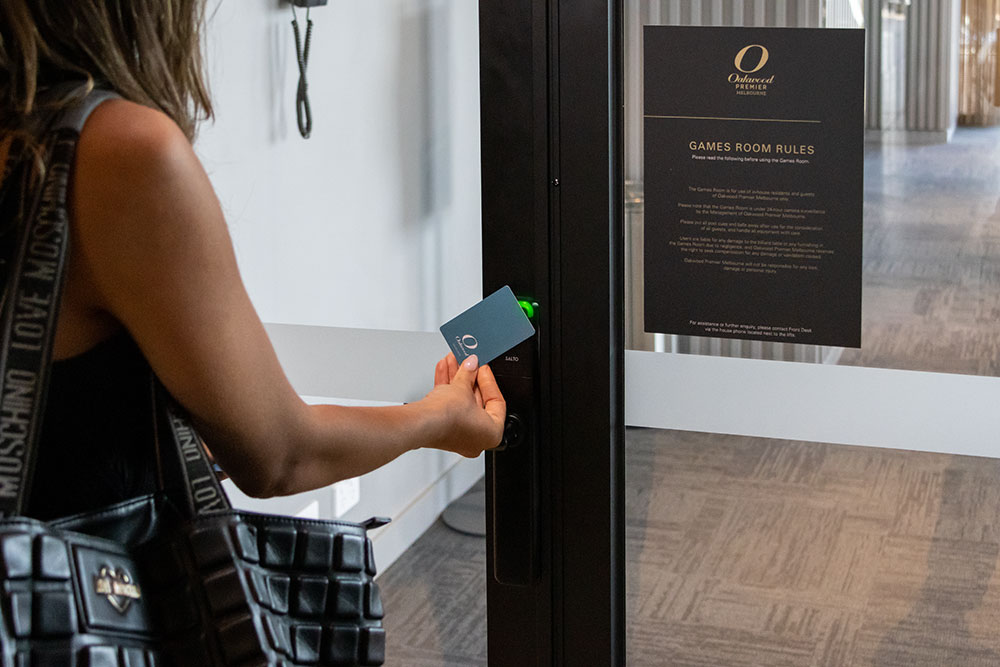 The perfect choice
The SALTO smart access control system helps Mathias and Richard to run an efficient operation, and saves staff from having to lock and unlock doors, leaving them free to focus on customer service. It helps to manage costs and saves time. Above all, guests love it. They regularly comment on how easy it is to move around the hotel, and to book and access the offices, meeting rooms and leisure facilities. All of which makes for a very luxurious hotel experience.
To explore how SALTO can help you deliver an outstanding guest experience and efficient hotel operations, book a chat with our Hospitality National Manager Tim Kneebone via Calendly, email or phone, on 0426 786 938.
Or come and see our world-beating smart access control system for yourself, with a tour of our Melbourne XSperience Centre.