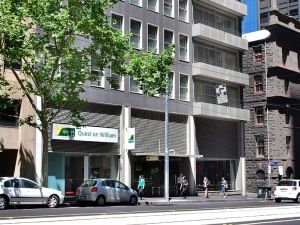 Looking better than ever, proving invested commitment to their property and unsettling their competitors, 4½-star hotel, serviced apartment provider Quest on William, is absolutely feeling the benefit of an $850, 000 refurbishment.
Developed by the Walker Corporation and built in 1997, general manager Aimee Royle described how "refurbishment was required after ten years in order to achieve a more contemporary presentation".
"And now," she added, "we feel the refurbishment has improved the overall look of the property and allowed us to continue accommodating our guests in a comfortable, modern setting."
Quest on William earned its 4½ AAA rating from within the centre of Melbourne. Located at 172 William St, between Bourke St and Little Bourke St, in the heart of the legal precinct, this warm, friendly property offers 75 spacious fully self contained one-, two- and three-bedroom apartments, all featuring separate bedroom and living/dining areas: fully equipped kitchens with full size ovens, dishwashers and microwaves; and laundries with washer dryers.
"Like most other independently operated franchises in the network, Quest on William's business is based on leasing apartments from private owners and operating them as serviced apartments, catering predominantly for short and long stay corporate guests."
More elaborately, Quest on William leases 75 of the 96 apartments in its 13-storey building, not forgetting the ground floor reception area. The owners of the apartments and Quest on William each have responsibilities under their lease for ongoing maintenance and upkeep as well as a cyclical program of refurbishment. The public and common use areas of the building are the responsibility of an owners' corporation.
"The building, constructed in the late 1960s, formerly housed offices but in the late 90s it was converted to apartments, eight to a floor. An extra two storeys were added to the existing eleven, the upper of which allowed for two-storey townhouses. Located near the corner of Bourke and William streets, the apartments are mid way between the city centre and Docklands to the west. The locality is known as Melbourne's legal or banking precinct and a number of apartments have a bird's eye view of the majestic Supreme Court dome."
Given the fact that it is up to apartment owners and the owners of Quest on William to look after the apartments and the owners' corporation sees to the public and common areas, close co-operation is essential to ensure aesthetic compatibility and uniform maintenance of upkeep standards.
Soon after taking over the business in early 2006, new owners, David and Joan Keane, approached Amanda Lynn of Amanda Lynn Interior Design. It was Amanda's task to develop an interior design for the building that would integrate the apartments and public areas. David explained the benefit, "Amanda gave us a plan that encompassed both areas and was capable of being implemented over time without there being obvious disjunctions."
This was essential for David and Joan because they needed to adhere to the hotel's prescribed method for renovation and Amanda's plan allowed them to do so.
"With the owners' corporation, the owners themselves and us each meeting part of the cost and each having different time frames, it was necessary to spread the project. This also made sense operationally since we needed to have little, if any, disruption to the business."
Initially, work concentrated on the public areas. On each floor, the traffic areas between the lifts and the apartments were repainted and the carpet replaced. Floor coverings in the foyer and reception areas were replaced with stone tiling to create a cleaner and more contemporary appearance. Less visible, but still important, areas such as the car park and stairs were rejuvenated with a new coat of paint and fresh carpeting.
Work on the actual apartments was timed to coincide with the five year lease renewal that was set to take place for most in early 2008. It would be at this time, that the owners would be required to paint and re-carpet their apartments. Furthermore, David detailed, "many of the owners live interstate and overseas, so we co-ordinate this type of thing on their behalf. It also helps us manage the difficult task of maximising occupancy through minimising disruption.
"At the same time, the refurnishing, which we had to fund, needed to be organised and its installation co-ordinated; we had a clear view of what was needed to fit with the design plan but felt we needed help with sourcing suppliers, ordering in bulk, arranging deliveries and all the associated tasks inherent in a project this size," David discussed. "We contracted Bill Paligorov of Focus Fitouts to arrange suppliers for dining tables and chairs; lounge room couches, sofas, tables and lamps; bedroom lamps, tables, bedthrows and bedheads; as well as new artwork and window treatments throughout."
This part of the project took the team involved around a year to complete and David insisted that Bill's experience and range of contacts was particularly instrumental to their success.
"We are very pleased with what we have achieved and have received terrific feedback from our guests. It has taken a lot of time and effort to bring to fruition while managing to keep the business going with very little interruption. However, it was never a matter of 'will we do it?' the reality is that this level of commitment and investment is required in order to stay competitive in what is a very competitive industry."
Are you interested in lifting your industry profile?
Email [email protected] or call (07) 5440 5322