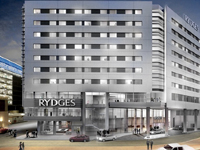 Destination NSW chief executive, Sandra Chipchase, has welcomed the commencement of construction of a new $68 million hotel at the international terminal at Sydney Airport.
The new 317-room four-star hotel, expected to be completed this year, will be developed by the Denwol Group and operated by Rydges Hotels.
Ms Chipchase said the new hotel, located adjacent to the multi-storey car park flanking Terminal 1, is a welcome investment in tourism infrastructure for Sydney.
"Providing high-quality accommodation is an essential part of being able to attract and retain visitors to NSW," Ms Chipchase said. "Amalgamated Holdings Ltd, owners of Rydges Hotels, is one of several major
hotel chains that have recently invested significantly in enhancing Sydney's accommodation stock.
"The accommodation industry contributes some $3.3 billion, or 11.6%, to the state's total tourism value and generates nearly $2.7 billion in international and domestic visitor expenditure."