News In Brief
Skytrans and Parker Travel Collection promotion partners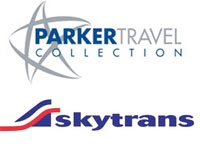 Cairns-based airline Skytrans has combined with tourism business development company Parker Travel Collection to promote the Gulf country and Cape York.
As well, the airline's new destination guide promotes Cairns, Brisbane, Toowoomba/Cunnamulla, Corner Country (Quilpie and Charleville), Channel Country (Birdsville, Bedourie, Boulia) and Mt Isa.
Skytrans managing director Simon Wild said, "Destinations allows us to give back to Queensland's heartland the old-fashioned way by telling stories that will fire your imagination and stimulate renewed interest in the Queensland Outback and Cape York experience," Mr Wild said.
Parker Travel Collection will work with Skytrans to market the campaign world wide, starting with an official launch to travel trade at next month's Australian Tourism Exchange in Perth.
Parker managing director Todd Parker said the guide was an authentic and compelling insight into Queensland's six country regions as well as the Skytrans two gateway hubs of Cairns and Brisbane.
Tourism into regional Australia is showing resilience despite a strong Aussie dollar, with new tourism forecasts upgrading visitor nights into regional areas throughout 2012.
According to new Tourism Forecasting Committee predictions, domestic visitor nights into regional Australia is expected to increase by up to 1.5% compared to last year, an upgrade from the previous forecast of an 0.2% drop. International visitor nights are also expected to grow by 1.8% throughout the year to 40 million nights compared to last year, a rise from the previous 0.1% declining forecast.