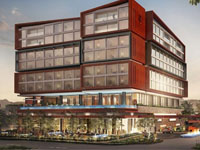 News In Brief
First Double Tree launched amid WA accommodation flurry
Hilton Worldwide and Ramtron Australia P/L signed a management agreement this week to open the first Double Tree by Hilton hotel in Karratha, Western Australia – the centre of Australia's largest resources region, the Pilbara.
The $65 million project will feature 144 guest rooms, 20 apartments, all-day restaurant and bar, fitness centre, outdoor pool, three function rooms and carparking facilities in the eight-storey building. It is expected the hotel will open in mid-2014.
Ramtron Australia P/L is a consortium led by Western Australian developer Rothchester Hotel and Resorts.
The DoubleTree by Hilton Karratha will be located in the commercial centre of the city, which is 15 kilometres from Karratha airport and 20 kilometres from the port of Dampier.
Hilton spokesman Robert Scullin said, "We are confident that this property, with the support of the ownership group, will quickly become the leading full-service hotel in the market."
Australian Hotels Association CEO Bradley Woods said this development was tremendously exciting for regional tourism and business travel to the Pilbara. Mr Woods said, "We welcome the Double Tree hotel brand to Western Australia, this investment by Hilton shows tremendous confidence in our state."
The announcement of the first Double Tree by Hilton in Australia comes amid a flurry of hospitality activity in Western Australia.
The InterContinental Burswood will become the Intercontinental Burswood today [27 June] while the Holiday Inn Perth Burswood will become Crown Promenade on 3 July.
The changes are part of a $750-million makeover aimed at transforming the Burswood Entertainment Complex into an entertainment complex called Crown Perth from September.
The InterContinental has refurbished guest rooms and suites and spent $20 million on a day spa.
Two dining areas will open in September – chef Guillaume Brahimi, of Sydney Opera House restaurant and Melbourne's Crown complex fame, will open Bistro Guillaume at Burswood while The Merrywell will open in the same month.
Perth's shortage of accommodation will be eased with the opening of three hotels before the end of the year. The 15-suite Terrace Hotel is due to open in the Perth CBD next month. The 236-room Fraser Suites Perth will open in October and the 56-room Quincy Boutique Hotel is due for completion in November.
A proposal to develop an eight-storey hotel at Geraldton Airport that would include more than 170-double bedrooms in its first stage, with an additional 60 rooms built during stage two, has recently been announced.