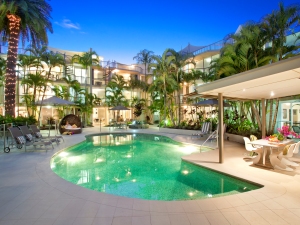 From running a cattle farm to managing one of Noosa's most luxurious holiday apartment complexes, the Mendham family don't do things half-heartedly.
Having taken over the management rights of Noosa Tropicana in November 2006, Nikki and Jamie Mendham along with their three children; Hamish (16), Monique (13) and Trent (10) have added a new dimension to 'resort life'.
"It's wonderful watching them interact with owners and guests," says Nikki.
"The kids also have a (work in progress) Kids Blog on our website, where they wanted to let other kids know what are fun things to do while they are on holidays in Noosa."
Originally operators of a black angus beef cattle property in New South Wales, Nikki and Jamie were looking at a number of businesses but kept coming back to management rights as it allows them to work from home and still be around for their kids after school, and have them watch, learn and be involved in certain aspects of the resort life and hospitality.
"We looked at 25 complexes before purchasing here; when we walked into the central pool area we just said 'this is the one' it was like a tropical oasis inside," said Nikki. "We saw fantastic potential in the complex – the bones were great it just needed some TLC and there were indications that there was an investigation into the possibility of renovating some exterior components of the resort."
The couple say they have been so fortunate to have such a forward thinking and progressive committee and apartment owners. So much so that in the time Nikki and Jamie have been at the complex, there has been a complete upgrade of the exterior of the resort with new tiles throughout the central area included pool area and stairwells, new barbecue pavilion, glass pool fence, repaint of the building, new driveway, beautiful new reception as well as rebranding with a new logo and signage.
"Again we had supportive apartment owners that had the initiative to refurbish their apartments. We are lucky to have Colville Enterprises, a husband and wife team who specialise in resort renovations and styling, they have worked in many of our apartments with the owners to carry out refurbishments from kitchens and bathrooms, furniture upgrades right through to the bedding," said Nikki.
But managing a property doesn't come without the odd obstacle and as Nikki and Jamie discovered renovating the complete exterior of a resort can have its setbacks. "The exterior renovation was quite a challenge as we didn't close throughout renovation," explains Nikki. "At one stage when the new reception was being built we had to operate the reception from our living room – which was very interesting at times especially with three children sharing the same space," she said.
"Even though the exterior renovations and apartment refurbishments where challenging at times, as managers we are extremely proud of the resort we maintain and present to our guests on behalf our apartment owners each day."
Last year the couple also completely rebuilt the resort's website that now allows every apartment to be viewed online. The website is designed to showcase not on only the resort but each individual apartment says Nikki.
"The feedback from the new website has been amazing as potential guests can view the apartments and where possible choose the apartment that suits their needs, so there no surprises – our guests know exactly what they've booked. This feature in website has been instrumental sealing the deal for our reservation enquiries," she said.
"We have also just included on our website a fantastic and fun, short video filmed and edited by a young upcoming couple from Evolve film productions that we have had amazing feedback from."
Noosa Tropicana has two and three bedroom apartments (half have private rooftop barbecue and dining areas). The apartments are really generous in size and encase the central pool area which gives a relaxed secluded feeling – leaving the cares of the world outside. All apartments are able to be locked down to one bedroom apartments to lift occupancy over certain times of the year.
The family friendly accommodation is set amongst lush tropical gardens encasing a lagoon style heated pool that is complete with poolside daybed, sun lounges and barbecues.
"It's in a fantastic location walking distance to both Gympie Terrace and Hasting St, a gorgeous park and playground across the road and behind it beautiful Munna Point on the Noosa River. The park with playground has been a bit hit not only with our kids but many of our guests with young children – it's been a great selling point for young families," said Nikki.