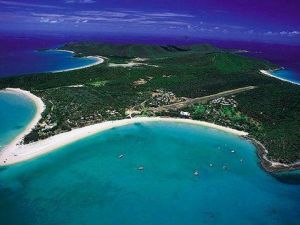 Virgin Australia is keen to fly to Great Keppel Island when the new resort is completed.
CEO John Borghetti, says Virgin airline would like to fly direct to the island. "I think that's what Australia needs, a lot more development, a lot more tourism potential such as that and certainly if it does go ahead we'll be very interested in finding a way of flying in there," he said.
"We've taken delivery of the ATR turbo prop aircraft that gives us a platform to grow and start new routes that previously were either not flown or were monopoly routes…"
The Great Keppel Island Revitalisation plan is now a big step closer to achieving its end goal of building a world class eco-tourism resort on the island just off Queensland's Capricorn Coast. Queensland's coordinator general, has just released the Environmental Impact Statement, of the proposed development, for public comment.
The proposed development is a $600 million low-rise, eco-tourism resort to be constructed over a 12 year period. The first stage includes a 250-suite hotel at Fisherman's Beach with restaurants and conference facilities, as well as a 250-berth marina at Putney Beach, with 150 apartments and a ferry terminal. Later stages will include 750 villas, 300 apartments and a golf course. Visitors will be able to fly to its private airstrip from Brisbane, Sydney and Cairns.
The first stage of the development is the establishment of a new 250 suite hotel on the old resort site, with accompanying restaurants and conference facilities. This resort proposal will ensure about 40% of the island (575ha), would be an environmental protection area to be rehabilitated and protected in perpetuity.
Tower Holdings' environmental impact statement was released for public comment nearly seven years after the company bought the Great Barrier Reef site off Yeppoon in central Queensland for $16 million.
Tower's original $2.6 billion plan that included three hotels and 1200 resort apartments was rejected by the state government in 2006. A scaled-back proposal was turned down by the federal government in 2009.