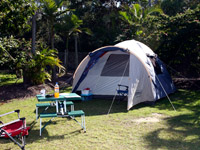 With the holiday season almost upon us and the legacy of the GFC still lingering, caravan and camping holidays are just as popular as ever with a new wave of products and a back-to-basics attitude fuelling their growth.
Camping holidays are peaking at an all time high with statistics from Australia's caravan and RV manufacturing industry showing continued growth for the third year in a row despite the myth that more Australian's are travelling overseas for their holidays because of the high dollar.
Figures from the Recreational Vehicle Manufacturers Association of Australia showed that 2010 production numbers of caravan and campers exceeded 21,000 for the first time in decades, while their total production rose to 22,083 caravans and RVs last year.
FreeSpirit, one of Australia's leading caravan park operators, says the camping and holiday park industry is being reshaped by a range of new products that are not only enticing more people into the market, but creating challenges for parks as well.
Senior operations manager Danella Rockley says the people holidaying with camper trailers and RVs are from diverse demographics, from young families seeking economical holiday options, to retirees wanting a real home away from home while travelling.
"Caravan Parks and Camping Grounds generate more than $1 billion a year and product innovation is key to the continued growth of the industry," Ms Rockley says. "For example modern camper trailers are now designed to fold out even further on each side, making them wider and longer for more space, while presenting challenges to park operators. Although it's great for campers, park owners must adapt and meet the changing needs of their customers such as building larger sites with dimensions to cater for new vehicles set to travel the country in the coming years."
Ms Rockley says it is now crucial that park owners take the re-emerged trend of camping holidays and the new designs and sizes of trailers into consideration.
"As part of our services, we provide master-planning consultancy to park owners and councils during the development stages of new tourist parks, and the redevelopment of existing parks," Ms Rockley says.
"We are currently working on the development of a holiday park in Canberra and have addressed the new site sizes in the plans we have produced."