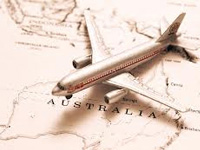 A host of new international flights should increase visitor arrivals to Australia.
Garuda Indonesia has announced a new daily service from Jakarta to Perth that will start on 28 June.
Etihad Airways has commenced its new schedule of daily flights between Abu Dhabi and Brisbane via Singapore.
Japan Airlines has been in talks with Brisbane Airport about resuming direct services from Tokyo's Narita Airport as early as November.
Tourism Council WA Evan Hall said the new Perth-Jakarta service was a result of months of negotiations backed by both the state government and Tourism WA.
"This Jakarta air service is about bringing Indonesian visitors to WA, rather than just WA tourists going to Bali" said Mr Hall. "Last year 32,000 Indonesians visited Western Australia and we expect visitor numbers and spend to increase with this new service."
James Hogan, oresident and Chief Executive Officer of Etihad Airways, said the new Abu Dhabi and Brisbane via Singapore daily service would add an extra 1048 seats a week to the Abu Dhabi-Singapore-Brisbane route.
"In Queensland we have just signed a new marketing agreement with Tourism and Events Queensland to encourage more visitors from the Middle East, UK and Europe to holiday in the Sunshine State," he said.
Resumption of a second direct route by Japan Airlines would be a boost to the local tourism industry. A spokeswoman for JAL said the airline had not made any decision about restarting the Brisbane-Tokyo route.
Brisbane Airport confirmed it was in discussions with JAL about a resumption of services, but said "no firm date had been mentioned for their return".
JAL stopped flying between Brisbane and Tokyo in 2010 as part of substantial cuts to its international network after it entered bankruptcy protection