News In Brief
Hotels reduce power-water consumption in sustainability drive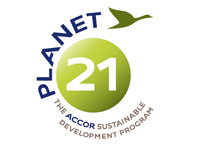 Since the launch of Planet 21, Accor's hotels in Australia have achieved a 5.1% saving in electricity and gas and a 20.5% reduction in water consumption.
These savings have been achieved thanks to the use of energy saving technology such as voltage power optimisation and building management system controls which monitor and adjust the CO² performance of the hotel. LED lighting, chiller upgrades and Jemflow water saving devices have also been installed to conserve energy.
The Accor Sydney Olympic Park hotels continue to be pioneers in sustainable development for the group. In 2012 the hotels achieved:
– 71.3% of waste has been diverted from landfill
– 42.7% reduction in fresh water usage for toilets and gardens
– Installation of voltage power optimisation with an expected carbon reduction of 320,218 KWh per annum, and 281,791 kg of CO² saved per annum for the environment. At today's prices this is a saving of $43,000 per annum.
– Pullman has achieved a National Australian Built Environmental Ratings Scheme rating of 4.5 NABERS, two full points above most five-star properties.
– Pullman has been recognised by the NSW government for its commitment to sustainability as recipients of Bronze Sustainability Advantage Awards.
In 2013, Accor's Sydney Olympic Park hotels will:
– Implement a biodegradable waste decomposer program with an anticipated decomposition outcome of 99.8% and reduction of CO² emissions
– Upgrade water saving shower heads to reduce water consumption from 12 litres per minute to 9 litres per minute
– Install additional solar panels to create carbon neutral meeting rooms
A year after launching its Planet 21 sustainable development program, Accor celebrates a major milestone, announcing that Plant for the Planet – the group's innovative towel reuse and reforestation project – has planted over 3 million trees worldwide. To celebrate this achievement, Accor hotels around the world are engaging in tree planting exercises to raise awareness and kick off an ambitious new phase of the project.
Through Accor's reforestation program, Plant for the Planet, the group is helping to preserve local ecosystems and support agroforestry projects around the world.
In partnership with Greening Australia, Accor's Australian hotels have contributed towards the reforestation of the banks along the Hawkesbury River outside Sydney, planting 11,300 trees spanning 10ha. Accor will plant a further 10,000 plants this spring with an ambitious target of planting 100,000 plants via direct seeding across 100ha by 2015.
Over 1400 hotels have joined the Plant for the Planet program since it was launched in 2009. These hotels use the following formula to encourage their guests to reuse their towels: "in this hotel, five reused towels = one tree planted". So far, thanks to the laundry savings generated by this program, Accor hotels have funded the planting of three million trees worldwide.
To celebrate this major milestone, Accor hotels are engaging in activities to raise awareness about the project and kick off a new ambitious phase for Plant for the Planet. Since the launch of Planet 21, 13 new tree plantations have been inaugurated around the world, in collaboration with small local producers, bringing the total number of plantations to 19. Seven additional plantations will be launched by the end of this year. In Asia-Pacific, there are plantation projects in India, Greater China, Thailand, Indonesia, South Korea and Australia.