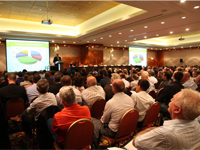 Registrations have opened for this year's much anticipated DestinationQ Forum, the Queensland government's peak industry event for tourism.
The ground-breaking forum begins at the Gold Coast Convention and Exhibition Centre on 27 August.
Minister for tourism Jann Stuckey said DestinationQ will ensure government and industry focus on maximising Queensland's tourism opportunities over the next 20 years. As part of the two-day program, attendees will also evaluate industry and government progress since the inaugural 2012 event.
"The Newman government and industry have worked hard under a landmark partnership agreement to act on the outcomes of the first DestinationQ in Cairns last year," Ms Stuckey said. "The Cairns forum called for action to boost ecotourism, reduce red tape and improve partnerships. I am pleased to say that improvements have been made in all these areas. As always, we are looking to the future to consider what a successful and competitive tourism industry will look like between now and 2033.
"This year's DestinationQ forum is a great opportunity for the industry to shape its future by considering trends that are influencing people's choices in tourism destinations.
"Around 300 tourism representatives from all regions, organisations, and industry sectors will be chosen to take part at DestinationQ 2013. I urge those who want to shape the future of this exciting and significant industry to register their interest now."
Ms Stuckey said the event would also be attended by the premier and several other government ministers whose portfolios relate to tourism.
Those interested in having their say on Queensland tourism's future or checking progress since DestinationQ 2012, can visit www.destq.com.au/20-year-plan (external site) where research into the future trends in tourism can also be found.
Registrations for DestinationQ 2013 are open for three weeks from today and close at 5pm 7 June. Contact [email protected]
Image: DestinationQ 2012 delegates in Cairns