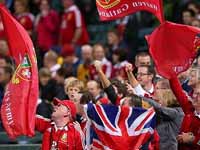 Some hotels are cashing in on the 30,000 fans expected for the Lions rugby tour, with some charging as much as double the normal rate.
In a welcome boost to the tourism industry in one of its quietest periods of the year, an extra 10,000 fans are expected to visit Australia, up from the 20,000 who visited when the Lions last toured in 2001.
With the tour having kicked off in Perth last week, tourism officials are planning for the increase despite the exchange rate between the pound and the dollar being far less favourable, having declined about 40 per cent in the intervening 12 years.
So-called price gouging by hotels, which was a feature of the 2001 Lions tour, appears not to be as extreme this time, possibly due to the extra fans filling up more rooms with only 100 official travel packages, most including flights, accommodation and match tickets, remaining to be sold in Britain.
Overall economic benefit to the Australian economy has been conservatively estimated at $150 million.