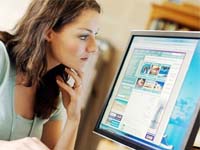 In the year to May 2013, Australians who looked online when deciding on a domestic holiday destination then spent an all-inclusive average of $179 per person per night — $35 more than those who used only other information sources such as travel agents, brochures, guide books or the advice of friends and relatives.
Some 25% of domestic holidaymakers now use the Internet (either alone or combined with traditional information sources) when considering where to go, up from just 4% in 2001.
Domestic travellers who did not source any information to assist in choosing their destination account for up to 43% of travellers but spend only $116 per night on average; however many of these people were visiting — and staying for free with — friends and relatives.
Jane Ianniello, international director of tourism, travel & leisure, Roy Morgan Research, says, "One in four domestic holiday-makers now uses the internet to help pick a destination— more than six times the rate in 2001. Although Internet researchers may have above-average incomes, the increased daily expenditure by this group still suggests that online destination research is about far more than deals and discounts: it also provides holiday researchers with comprehensive information on how and where to spend their tourist dollars.
"It is therefore critical for tourism operators and destination marketers to have a strong web presence that not only persuades people to visit, but encourages them to see and do (and spend) all they can once they arrive."
"Aside from the Internet, word-of-mouth and previous experience are also key drivers of destination choice: 22% of domestic holidaymakers said that they used the advice of friends or relatives when choosing their destination and 21% had been to the destination previously and decided to go back again."
Average cost per person per night of last domestic holiday