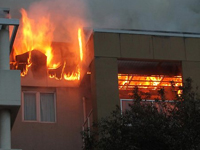 The devastating fire which ripped through Cathedral Place last month has highlighted the need for unit owners to be prepared in case of an emergency.
The body corporate managers of Cathedral Place, Archers Body Corporate Management, has revealed how they kept unit owners informed throughout the incident and give their top tips on how to deal with a strata emergency.
The company was one of the first on the scene after fire ripped through Brisbane's Cathedral Place on 9 June rendering the top floor of the building unliveable and lower floors badly water damaged.
Grant Mifsud, senior body corporate manager at Archers said, "We were on site as soon as it was safe to acquire the information needed to keep occupants up to date – we then ensured consistent and clear communications with unit owners in the days following."
He said Cathedral Place was completely up-to-date with all aspects of fire safety compliance and the rebuild costs would be covered by insurance. "The contract for rebuild received at an estimated cost of $8.8 million. Residents of H Block, which were the worst affected, will need to relocate for a minimum of six months while the rebuild takes place."
Mr Mifsud gave his top tips for unit owners for dealing with emergency situations:
• Contact your body corporate – they will be on site after the event and have a full understanding of the damage and what next steps need to be taken.
• Ensure your details are up-to-date with your body corporate – the Cathedral Place fire occurred on a long weekend when many owners were away. It's important that your body corporate can contact you at any time.
• Act quickly – contact your insurance company and repairers without delay to get repairs underway as soon as possible.
• If the building is evacuated, determine an effective means to remain in contact with owners and occupiers. In the case of Cathedral Place the caretaker's website was updated constantly.
• Communicate with owners and occupiers in the complex, clarify the extent of the damage and what actions are underway, provide updates regularly and encourage owners to seek guidance and advice from the body corporate.