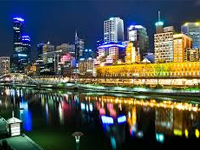 Melbourne's The Palace Theatre is set to be pulled down and replaced with a $180 million, 30-storey, five-star hotel and apartment complex.
The development, understood to be managed as a W hotel, is being proposed to the Victorian government by Xian Xu, owner of Melbourne's Jinshan Investments. It would have 205 hotel rooms plus 145 apartments.
Development manager Tim Price, from Sinclair Brook, said a W Hotel in Melbourne would be a tourism destination in itself, attracting big spenders who splash over $1000 in the city for every night they stay.
W Hotels operate more than 50 hotels in 24 countries.
Subject to approvals, construction on the W Melbournecould start as early as next year and be completed in late 2016. Jinshan Investments acquired The Palace last year after owner Jerry Pilarinos' company Kefi Nominees was forced into administration in February.