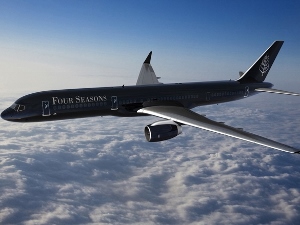 The next guest facility you offer after free wifi maybe the hotel's private jet.
Four Seasons has just unveiled the industry's first fully branded private jet. Beginning in February 2015, the Four Seasons Jet will transport 52 guests on bespoke journeys, offering discerning travellers a distinctly Four Seasons travel experience from the moment they book their trip. Four Seasons in-flight staff, including a dedicated on-board concierge, will coordinate with local Four Seasons concierges in each destination to ensure that the experience is nothing short of extraordinary.
The completely retrofitted Boeing 757 will feature interiors and exterior design customised by the company's team of design experts, setting the stage for a travel experience like no other.
"Taking our legendary service to the skies is a natural extension of what we've been doing in our hotels for more than 50 years," says Susan Helstab, executive vice president marketing, Four Seasons Hotels and Resorts. "The Four Seasons Jet showcases the unforgettable people and experiences that make Four Seasons unique. It speaks to our pioneering spirit and the aspirations of today's modern luxury traveller in an imaginative new way."