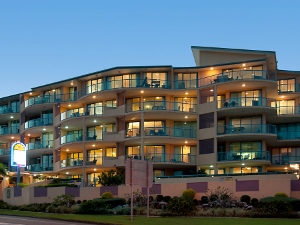 Profiles
Capturing the essence of Mooloolaba
Janece Peters and Errol Eastman of Alexandra on the Pacific are intent on bringing picturesque Port Douglas charm all the way to Mooloolaba…
Mooloolaba is fast becoming the place to be on the Sunshine Coast. So it is lucky that the managers of Alexandra on the Pacific have decided to instil their luxury Port Douglas values in the fast growing beachside town. This is good news as a town grows it can sometimes lose the natural essence and relaxed atmosphere that was the original draw; Alexandra on the Pacific is an example of a resort that truly captures the essence of Mooloolaba.
But what separates Alexandra on the Pacific from the multitude of resorts located in this bustling area?
Janece Peters, the on-site manager would have you believe that it is all down to the "seductive sunsets, intoxicating views, sparkling waters, and warm weather – waiting to welcome you. With some of the world's best beaches within walking distance and the picturesque hinterland only minutes away." But while location is certainly a beguiling draw, the true test of a resort is how well it is managed. A resort that prioritises cleanliness and offers well maintained apartments at exceptional value for money will bring guests back time and time again.
Since opening its doors to holiday makers in 1998, this has been a very popular resort and its incredible reputation has been built over time with many guests regularly returning. It sits in one of the best locations on the Sunshine Coast as it is right on the ocean front with water views from every aspect of the building as well as being within walking distance of the beach amongst a variety of restaurants and interesting shops.
What else can this resort offer? Spacious and well equipped apartments according to Janece.
She says, "All of our apartments have a fully equipped kitchens including a dishwasher and a laundry with washer and dryer – a large open plan living area leading onto wide balcony with outdoor setting and ocean views." As an older resort the apartments offer families some space to breath and relax, a feeling that cannot be recreated in many of the newer resorts.
Purchasing the management rights of Alexandra on the Pacific involved a substantial change of pace for Janece and her husband Errol who, prior to this had "been involved within the tourism industry in Port Douglas for around 25 years. Owning and operating a variety of very successful businesses which included a supermarket, executive gift store and a hotel with upmarket restaurant."
Is this the key to the success of Alexandra, though? The Port Douglas lifestyle in many ways reflects Mooloolaba: the luxury views, the relaxing pace and friendly faces. Janece "has always enjoyed interacting with people and thought that the change to a resort would suit her personality".
And suit her personality it has – Janece brought the Port Douglas style to Alexandra in spectacular fashion, making improvements in any way possible. In fact, since the takeover four and a half years ago, "Errol and I have had all of our owners refurbish their apartments with contemporary furnishings, including leather lounge, new dining suites, large flat screen TVs in both lounge and main bedrooms," as well as "new washing machines, dryers and microwave ovens".
These improvements were well received, especially on TripAdvisor that gave them a Certificate of Excellence in 2013. These sentiments are perpetuated by users of TripAdvisor, with Nibet from Melbourne insisting, "it's a great resort. Right across the road from the beautiful beaches of Mooloolaba and just the right distance from the many shops and restaurants." But the praise was not just directed at the resort itself, "lovely managers were very helpful with all queries".
Janece is of the opinion that the work itself is its own reward. Her love of working with people sets her above the rest. It is also her positive attitude that keeps the resort thriving, "we now have the advantage of being an older building-with large spacious apartments compared to newer buildings with smaller apartments, but the new furnishings present as modern and contemporary".
To other managers, her advice is straightforward: you must continually keep improving your apartments. She warns to "repair/replace anything that is broken immediately to ensure a high standard for guests", For Janece, it's all about maintaining the luxury you think your guests deserve.
Alexandra on the Pacific stands above the rest in a multitude of ways; the most important is how it strives to perpetuate the individual, laid back spirit of Mooloolaba, while maintaining the luxury service of a high quality resort. And the results speak for themselves with a high TripAdvisor rating, improved customer feedback, and more than satisfied managers. There is really no competition.