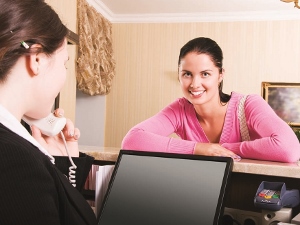 There is a plethora of property management software available to the accommodation industry but it is not all the same. This is an industry of variety so it is imperative that each property finds the software that is right for them.
Everyone wants to choose software that will make their business more efficient; whether you are a large sprawling holiday resort or a small boutique bed and breakfast, it is important that you have a software package applicable to your very specific needs. Every property can benefit from some sort of property management software package but how do you know which one is the right one for you?
When you first consider installing or updating a PMS, there are a few criteria to keep in mind. Is it state-of-the-art? Functional? Straight forward? Will it be disruptive to guests during its installation? What customer support is offered? And, most importantly, what does it do that other software packages do not? You will also need to look at pricing and practicality. If your software is targeted at 500 room hotels, you might be throwing away money if you are a much smaller, four room bed and breakfast.
It's important, then, to assess what type of property you are managing and whether or not you need a niche type package specific to your type of property. This could be dependent on numerous factors: the size of the property, the number of rooms, staff and the type of layout you're working with. Consider the kind of equipment you have, the suitability of your current hardware for the software packages available, whether they are suited only to a Mac or PC, and whether they are reliant upon a reliable fast Internet connection. Have you factored in the cost of hardware upgrades?
When considering PMS changes, analyse what functions of your property would run smoother if they were automated or programmed. PMS systems will, generally, provide some front office modules, including reservations, check-in, check out and payment.
While front office functionality requires user-friendliness, back office requirements call for a higher degree of sophistication. Offered by most PMS companies, back office modules will handle staff management such as housekeeping and maintenance. They will also handle the accounting function, including balancing and trust accounting, ensuring that your record keeping meets legislative requirements, maintaining an audit trail and helping to reduce the risk of discrepancies. Other modules may also handle online bookings. All of these components contribute to the efficiency of your property and should be high priority when choosing suitable software.
Automated applications increase accuracy and reduce processing time significantly, high priorities when running an intelligent and efficient modern business. The PMS suite of products you choose can potentially generate more online bookings and significantly increase your bottom line. Choosing the right software can be a considerable competitive advantage in this very competitive industry.
In a market of so many products, knowing how to find the best deal for your business is the key to striking gold. You have to ask yourself from the outset, how technologically advanced do you want your systems to be and what future potential you may need for increasing their capability over time. It is important to consider whether you want a server-based or cloud-based program. There are strengths and limitations to both. Being server-based will allow you to operate without any satellite signal or wi-fi. It will keep all of your front office and back office modules in-house. The only issue with it is the risk of loss, which can be mitigated with effective back-up procedures. If your hardware breaks down and you don't have effective back-ups, you could potentially lose important data.
A cloud-based system will keep all of your modules in remote computer servers for easy download whenever needed. It requires reliable fast Internet connection but will keep your files and modules safe from loss or destruction. But, remember, no Internet access means no access to your PMS and this can be very disruptive to your business. It is also a good idea to look into the system's compatibility on portable devices and phones, so you can manage your property on the go.
There are often a variety of included and optional modules available. Many systems will have multiple modules that can be interfaced with it depending on your requirements. While the aforementioned front office and back office modules are an industry standard, an accommodation manager should consider any other modules they might require. Do you need a maintenance module to handle the scheduling and charging of repairs and maintenance in rooms? Or a facility/asset management module for scheduling maintenance on major assets such as air conditioning and other plant and equipment?
You have to decide whether you need the PMS to have integrated or interfaced conferencing and events, point-of-sale, keys, phones, movies, etc so that you negate the need to manually post charges. Would you prefer a system that handles owner communications including newsletters, statements and an online owner's portal?
Do you want a module for marketing, using guest data manipulation to run targeted post or digital marketing campaigns?
There are options for a PMS to have modules as third party add-ons – provided by a separate company or complete end-to-end solutions with the various modules all forming part of the PMS. Some advanced and well-designed systems have the ability to be responsive to your needs irrespective of the size or nature of your accommodation business, satisfying all your business needs in one fully integrated suite of products.
A mark of the quality of a PMS is how straight forward and easy to learn the system is.
Whether you are new to the game or a seasoned user, when investing in a new PMS you'll need some form of training to get the hang of some of this technology. For this, PMS systems companies will include some degree of training as part of the installation and 'go-live' process. There may be additional and ongoing training opportunities available for you to get the most out of your new system. This could be a very basic training regime where you have the choice of either training on-site, remotely or having a trainer come to you who can train key staff. This ensures that each member of your staff can comfortably perform their duties in the system, assisting in the smooth running of your business.
Ongoing support is a factor of utmost importance when selecting a new PMS. When support is needed, some companies offer 24 hour assistance via fax, email and online support requests or via phone for emergency support. Look carefully at the support and pricing options and consider whether the needs of your property match the support capabilities of the provider.
There may be a number of different pricing options available for the various PMS packages such as a one-off purchase price plus a monthly support fee or an all-inclusive monthly fee incorporating the software licence and support. Generally the licence and the support will be based on the number of rooms your property has and the modules you have chosen. The fees will generally include system updates and minor improvements but may not include version upgrades or property specific customisation.
Consider these options carefully as a new PMS is a long-term investment and, ultimately, the software you choose should not just be a decision based on price, but whether that company can offer a product and service that will cater specifically to the needs of your property now and into the future.