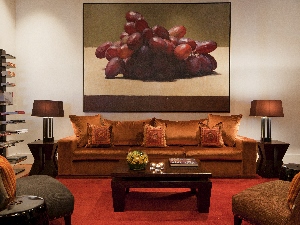 When guests want to experience Melbourne in style, they stay at the Hotel Lindrum. It is a lovely, unique 59 room boutique hotel that combines modern design, contemporary facilities and bespoke personalised service.
Hotel Lindrum is ideally located on Flinders St, close to Federation Square and the eclectic Melbourne laneways. In the heart of Australia's fashion and dining capital, it provides easy access to all that this world-famous city has to offer.
With a long and colourful history, Hotel Lindrum owes its name to the legendary Lindrum Billiard Centre that it once was home to. The building still features one of the original billiard tables, now lovingly restored to its former glory by Alcock, Walter and Thompson, the company that originally built the table.
The renowned Swaney Draper Architects brought the historic building to life through their philosophy of designing buildings that are 'honestly inventive in terms of their aesthetic and functional solutions'. This adored Melbourne landmark now sports a contemporary design, moving away from the formal commercialised approach typical of modern hotels. The feeling of domestic intimacy is something Hotel Lindrum evokes in a way that is both refreshing and architecturally innovative.
Hotel Lindrum has a reputation for being one of Melbourne's most loved hotels with its stylish quirky charm, spaciousness and rather spectacular rooms. Now as part of the MGallery Collection from Accor, the hotel has been transformed by a refurbishment that certainly lives up to fond memories of a bygone era.
Black and white images of a variety of Melbourne's architectural details and well-known buildings by photographer Marcus Struzina adorn the walls of the hotel. The lobby and understated bar also offer a respectful nod to the memory of Australian billiard champion, Walter Lindrum, where memorabilia from his championship era reside.
The splendid Felt restaurant, named after the green felt lining on top of the billiard table has built a reputation as one of the best Melbourne restaurants to dine in. The intimate Felt restaurant serves delightful, seasonal fare; seating up to 40 diners in a charming environment. The charm is created by a clever combination of modern day furnishings that compliment this remarkably historic Melbourne landmark.
MGallery forms the upscale hotel collection of the Accor group, the largest worldwide hotel operator, which boasts over 4200 hotels and 145000 employees in 90 countries. Each hotel within the MGallery Collection is inspired by one of the three typical atmospheres: "heritage" a building that show cases its history, "signature" highlighting a personality who contributed to the buildings creation, or "serenity", a building that is a relaxing natural or urban retreat. All hotels within the collection invite guests to experience Memorable Moments. Launched in September 2008, the MGallery Collection has rapidly expanded to cover five continents with 59 hotels in January 2013 and will expand to over 100 locations by late 2015.
The stylish transformation of Hotel Lindrum's 59 guest rooms by award winning interior design firm Bates Smart Architects was recently unveiled and has received much positive attention. These remarkable designers are responsible for the city's iconic Federation Square and chic Sydney eateries Rockpool Bar and Grill and Spice Temple. They have managed to refresh this boutique hotel's rooms into sophisticated and elegant yet welcoming retreats in the heart of vibrant Melbourne.
An airy colour palette of champignon, taupe and crisp white has been used to compliment the generous feeling of space in the rooms with touches of earthy tones to add warmth and excitement to the overall aesthetic. Stylish new features include the Philosophy desk lamp by Tigger Hall Design that sits atop discreet workstations and Kravet's Grass Cloth wallpaper adding an element of texture to the overall design.
Wearing their heritage proudly, all aspects of Hotel Lindrum's history have been incorporated into the current operation. With each guest room's soaring high ceilings and charming wooden floor boards harking back to the hotel's former life as Melbourne's famed Lindrum Billiard Centre. Both of these endearing original features have remained in the update while plush new soft furnishings have given the rooms a well-appointed and contemporary refresh.
Warm lighting and heavy wool rugs create a cosy home-away-from-home while the sweeping arch windows, a distinctive feature of the hotel's deluxe rooms, have been dressed with soft translucent drapery; the use of the light fabric allowing light to pour in while also providing guests with privacy.
With the Hotel Lindrum transformation the designers have created a concept that is not what you would normally expect from a hotel… There is an intimate homely feel with incredible attention to detail and features that provide guests with reassuring comfort and tranquility. From the moment you walk in through the heavy wooden door at the entrance you feel that you are in an oasis that takes you immediately away from the hustle and bustle of vibrant Melbourne.
Aware of the importance of a good night's sleep after a busy day spent exploring this rambunctious city, Hotel Lindrum has updated all rooms with the latest five-star Accor bed that is hand stitched locally in Victoria. In addition to the new custom-made mattresses, bespoke bed heads dressed in silk chenille add a sophisticated touch to the rooms. Very upscale amenities using certified organic Australian ingredients have also been introduced into the elegant bathrooms.
New Samsung smart LCD televisions and Philips dual docking station have been installed, giving guests access to the very latest in technology. Furthermore, every guest room at Hotel Lindrum includes complimentary wifi.
Michelle Bradshaw, general manager of Hotel Lindrum said, "We are really delighted with the new look guest rooms following the recent refurbishment. Bates Smart Architects have managed to perfectly capture the contemporary vibe of the hotel while still paying homage to the history of the unique building that it inhabits. The new look rooms are elegant and sophisticated. We look forward to welcoming new and loyal guests through the doors to experience the updated rooms first hand in coming months."