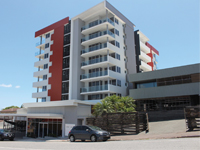 Profiles
Affordable luxury overlooking Gladstone Harbour
Gladstone is more than just the gateway to the Southern Great Barrier Reef and Capricorn Bunker group of islands, it is a city that surpasses all expectations.
Gladstone is one of Australia's major industrial centres, home to several industry giants. Adding to the surprise, Gladstone has fast become a popular and distinct Queensland destination for holiday makers and sea changers alike.
In fact the Queensland Drive Tourism Strategy, launched on 24 January 2013 aims to build stronger partnerships between government and industry to help Queensland become Australia's number one tourist destination. This has produced, "A strong drive tourism sector that presents opportunities for the whole of Queensland, particularly its regional centres." As such this strategy has helped underpin some key challenges for areas such as Gladstone to the benefit of the Queensland economy and Queensland communities.
Central Apartment Group is a subsidiary organisation of Prime Group Australasia and all the associated companies in the group strive to create 4½-star quality and service with an experience that meets the needs of discerning business and leisure travellers. This emergent and respected group has recently taken on the management rights of Curtis Central Apartments in Gladstone with the managers to be appointed directly.
Curtis Central Apartments is adding to the apartment hotels now already managed by the group in Gladstone. These three 4½-star hotels include Gladstone City Central, Gladstone Central Plaza (that opens shortly) and of course, Curtis Central Apartments.
In addition to their Gladstone hotels, the Central Apartment Group currently operates apartment hotels in Caloundra, Toowoomba, Cairns and Newcastle. The group's objective is to provide an exceptional quality of service at affordable prices that abide by their simple yet effective caveat, Relaxing in affordable luxury.
Central Apartment Group has a solid commitment to the guests, staying at each of their accommodations, for both business and leisure.
They recognise the value of ensuring satisfied customers thus guaranteeing repeat business that delivers high occupancy levels and high yield returns to investors.
"This commitment to developing investment opportunities in growth markets ensures long term high yield returns at an affordable price."
The newly acquired Curtis Central Apartments is their brand new modern 4½-star apartment hotel. It offers delightful and spacious two bedroom luxury self-contained suites. The apartments enjoy the sweeping harbour views and the large balconies make the most of the beautiful azure ocean breezes.
Beautiful and busy Gladstone harbour is the essence of the Southern Great Barrier Reef, where guests can very quickly and easily access the reef. The apartment hotel is also very accessible to the restaurant and café precinct, bars, boutique shops, Gladstone Maritime Museum, Entertainment and Convention Centre, Gladstone Aquatic Centre, marina, Heron Island pick up and drop off and the Regional Art Gallery.
Each Apartment offers two double bedrooms, one with an en suite and walk in robe, main bathroom, large entertainment balconies, laundry and open plan modern kitchen, dining and lounge. In keeping with all of the Central Group's apartments these are comfortable, fresh and modern, spaces where guests enjoy the beautiful furnishings (supplied by Central Furniture Group) and the extraordinary views. Of course, in keeping with the group's ethos of customer satisfaction they offer free wifi, free undercover parking, Foxtel and coffee machines are even provided in all apartments. These amenities are considered to be essential and are services that guests should always receive and certainly always appreciate.
Curtis Central Apartment Hotel as part of the Central Apartment Group certainly provides a high quality and affordable accommodation in this superior Gladstone location. The group will ensure that experienced on-site managers are employed to give that personalised service that will give their quests a quality accommodation experience.
Curtis Central Apartment Hotel should certainly live up to the Central Group focus on, Relaxing in affordable luxury and their dedicated aim: "strive to create 4½-star quality and service with an experience that meets the needs of discerning business and leisure travellers".