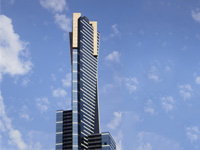 Melbourne's Eureka Tower's original co-developer Tab Fried and the building's owners corporation are being sued for $75,183 after it is alleged water leaked from the Fried's penthouse swimming pool on level 83 damaging property in the luxury penthouse underneath.
Documents lodged with the Victorian Civil and Administrative Tribunal claim ''the flow of water has caused damage to the property and has caused the applicant to suffer economic loss.'' The entire-floor penthouse apartment is currently on the market for more than $20 million by owner Colleen Jreissati.
The penthouse had not been lived in for 10 years at the time of the damage. When discovered, the problem was immediately rectified and the dispute is over the cost of damaged cabinetry.
The parties will face compulsory mediation in September.