Case Studies
A challenging and unique design project attracts praise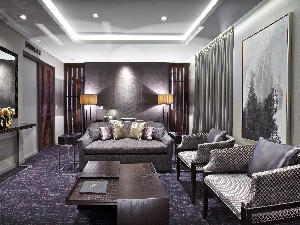 The Gambaro name has always been synonymous with the Brisbane seafood institution that has delighted customers for over 60 years.
Gambaro Restaurant is an iconic and multi-award winning signature seafood restaurant in Brisbane's Suncorp and Paddington precinct. As a fan of the restaurant, it came as a huge surprise to Marion Lam, design director of Marion Lam Design, when she was approached to submit a proposal to design a brand new luxury boutique hotel above the existing Gambaro Seafood Restaurant.
Marion was originally working at Hirsch Bedner Associates in Brisbane when she was approached to submit a proposal for the boutique hotel. However, after she left HBA in 2012, both her prior employer and the Gambaro family requested that she continue this project under her new company Marion Lam Design.
The majority of the hotel is actually new, built on top of the foundations of the original Gambaro restaurant and function centre. The architectural firm that did the master planning, HPC Urban are also town planners, so by the time Marion was engaged by the Gambaro's the building frame work had already been submitted for development approval. During the hotel's construction by Rohrig Construction, the function centre space was reduced by one floor and the original restaurant on the ground floor stayed, this had already undergone a renovation prior to HBA's appointment.
From a design point of view the complicated building framework was quite a challenge. Adding to this was the location; new construction restrictions needed to be adhered to within the Petrie Terrace/Paddingtion area. According to Marion, "Due to the existing floor plate, not all of the rooms could be standardised as you would normally have in a hotel tower."
Consequently, this 68 room hotel is quite unique!
Marion's prior experience had predominantly been in Asia. She had worked on a range of projects for major hotel franchises such as Starwood, Shangri-La, InterContinental, Hilton and with local Asian operators. At her initial meeting with the Gambaros they explained their brief, for her to design them a modern, sophisticated timeless boutique hotel.
Marion was familiar with projects designed in "the moment" or on "trend/fashion" but this time her main aim was to create a more timeless look with an emphasis on the client's overall brief.
To achieve the luxurious end result for this boutique hotel, Marion explained some of her key design decisions. She explained how first impressions are important. For example, "The corridors were designed to be warm and cozy. A darker carpet combination was intentionally chosen, not just for a practical housekeeping standpoint but to also create a mood; a luxurious and restful concept."
The guestrooms were designed to create a 'home away from home'. Marion noted, "We have seen the change in the way travellers perceive their accommodation stays. With people generally travelling more frequently. When it comes to business visitors especially they want the comfort and amenities that they enjoy at home and they can demand even more. Therefore many hotels have seen a change in the whole 'in room' experience." This means that guests expect luxury and comfort from furnishings. They want beautiful textiles, bed linen, a choice of pillows, comfortable beds, good showers and spaces that encourage them to feel at ease like open balconies and fresh air. The Gambaro has succeeded to provide their guests with all this and more.
Gambaro Hotel "embodies the complete luxury hotel experience, melding personal service, comfort, style and luxurious elegance, in an atmosphere of entertainment, enjoyment and relaxation". As it is purpose-built, it is a cleverly designed state of the art hotel building that features double glazing to eliminate noise and a unique floor plan providing guests the ultimate in space and privacy.
In order to create the sublime mood that has been achieved, Marion and her team designed a custom furniture package and she adds: "We were very fortunate to have met PPS Tailored Furniture Solutions through the process who were awarded the FF&E contract for the project."
PPS provided the majority of the room furnishings, including the millwork, artwork, guestroom furniture as well as lobby furniture with accent pieces provided from the Marion Lam 2014 Furniture Collection. Drapery throughout the hotel was manufactured by Cardell.
Paul and his team at PPS working closely together with MLD's custom designed package was successfully executed. Their key goals were to ensure that the pieces incorporated were functional, practical and achieved the desired look for the hotel. Marion commented that "it was very helpful that PPS provided the client with some selected model mock up furniture that they could touch, feel and experience prior to mass production".
Some of the most interesting design pieces include a large study desk with stunning mirror polished stainless steel base and stone top, a gracious timber veneer mini bar with intricate door details, custom night stands, charcoal glass side tables and luggage benches. In some rooms, custom items like a pull out single sofa bed were incorporated for guests to laze on and watch TV, while at the same time, are practical for housekeeping to set up within a moment's notice.
Another striking design feature Marion incorporated was the use of feature bath tubs visible from the bedroom. The design team wanted to do this to create a greater sense of space and to allow natural light to filter through from the balconies. Marion said: "We didn't want to install a privacy roller blind or even a drape as seen in many hotels, so I custom designed some sliding door screens (loosely inspired by Antique Asian screens) that provide guests with privacy for those who want it or openness for those who want visibility and light from the room."
For a designer, one of the main challenges is to develop concepts that fall within budget when constructed. For example, the rooms originally had been designed with wall paper and a full length timber veneered headboard with a detailed shelf and led lighting strips however this had to be changed to meet budget targets. To do this, the design team needed to be ingenious. They redesigned the wall with an oversized headboard to create a similar design impact when entering the room. The headboard also has a clever practical element contained within the design, for those guests who love to lie in bed, read a book, work from a laptop or even watch TV. When it comes to design Marion tried to strike an important balance between function and form.
The use and choice of materials always plays an essential role in how spaces are ultimately perceived and the selection of specific materials can complement or enhance the end design effect. This was never more important for the Gambaro Hotel with the use of materials for the bathroom vanity tops and it is an example of how crucial the decisions made can affect the end result. The material originally specified for installation by the client was marble but a reconstituted product was suggested instead of marble due to maintenance considerations and cost.
The material originally specified for installation by the client was marble but we felt we needed to source more robust alternatives such as reconstituted stone. Through Rohrig Construction, the design team were able to work with Mar Gra (Stone) who helped to source an alternative Quartzite option that would be as durable as reconstituted stone. The impact in the bathrooms has been incredibly successful and has made the bathroom shine – so to speak.
With the exception of the core rooms in Gambaro Hotel, the majority of rooms in the Gambaro Hotel have fantastic views of Paddington, the CBD, Suncorp Stadium and Red Hill. This makes each room remarkable from a guest's perspective because with each visit they have an opportunity to enjoy a different scene from the vibrant inner city neighbourhood. For the benefit of the core rooms, architects Erhard Ratgmayr & Gareth Hartnell of HBC Urban designed an atrium space. This feature ensures that every room has natural light, however, it provided one of the greatest design challenges of the project.
Marion was asked to furnish that space and due the fire code requirements, she had to think creatively about what could be installed. First and foremost, privacy needed to be fashioned so that guests could not see into each other's rooms from across the Atrium. Marion said, "The concept evolved as a means to create an artistic installation as well as to create something that guests would enjoy viewing from all aspects depending on which room or floor they are on." So large fish pendants were created, they are very interesting vignettes. Marion loves the evenings the most "when the fish are lit and you can see the light refraction coming off the crystal curtain wall." And from her client's perspective she said "the fish represent and pay homage to their humble beginnings that started with the original Gambaro fish and chip shop to the evolution to this modern and very successful bar, new restaurant and hotel space".
Marion Lam Design has received nothing but very positive feedback on the design of Gambaro Hotel. Based on this highly praised project, Marion claimed, "I hope that this will encourage other boutique hotels to have some fun in creating things that make a point of difference."
Paul Lane, the managing director of PPS was approached by John Gambaro to provide furnishings and equipment for his unique new boutique hotel. The project was for PPS to provide all the room furnishings, including the millwork, lighting, lobby furniture and artwork. Paul said, "We worked closely with Marion from Marion Lam Design who did the initial layouts plans and specifications."
The team at PPS interpreted these plans and were able to come up with the final product for installation. He added, "The selected manufacturers for this project specialise in manufacturing for five star international brands."
PPS can design and procure all levels of FF&E to suit budget and level of hotel.
Paul explained how the whole process worked; initially they studied and reviewed the plans and specifications, then they worked very closely with the manufacturers to select the best quality materials and components for the job. PPS also employs a team of full time designers who were able to fully contribute to the design decision making process. At this point vital evaluations were made to ensure that the final choices would be functional, practical and achieve the desired look for the hotel.
A quote for different segments of the hotel was prepared by PPS and presented to John Gambaro and signed off. Now orders were placed and shop drawings for manufacture produced and samples were sent for the hotel mock up room that was cleverly designed by PPS so that the client could see touch and sample the end result. This gave the team and the client a chance to review the choices and make changes if needed before the next step which was full production with PPS quality control.
There was a very tight schedule for opening of Gambaro hotel so the delivery installation including placement had to be carefully managed. The installation was remarkably completed within weeks. Paul said, "Our client was very impressed with the overall quality of our completed job. The quality finishers, colours and functionality really lifts the total presentation of the hotel."
The design of The Gambaro Hotel is special because it is contemporary whilst employing a rich mix of fabric, veneer, stainless steel and stone. The clever decision made in choice of colours, textures, art work and furnishings creates a mood of luxurious relaxation that has not been seen before in the generally laid back, beach-inspired feel of Brisbane hotels.
This unique boutique hotel recreates the opulence of a five star European hotel but without the stuffiness. It is modern and chic but also aims to feel like a home away from home. Perhaps in this case guests will not want to leave.