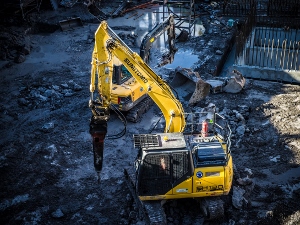 Quest Serviced Apartments is continuing its expansion in Sydney, with construction progressing faster than anticipated on the new Quest development at 38 Albert Avenue in Chatswood.
A site inspection was held last week to view the progress, attended by the mayor ofWilloughby Gail Giles-Gidney; acting general manager of Willoughby City Council, Greg Woodhams; and general manager of locations for Quest ServicedApartments, Andrew Weisz. Representatives from the developers, Wu International and the builders, Probuild were also in attendance.
The Quest property is expected to open in December 2015 and will feature 100 studio, one and two bedroom serviced apartments. On site will be a car park, gym and alfresco dining and barbecue area.
The City of Willoughby is located about 9 kilometres north of the Sydney GPO and is home to a number of prominent national and global companies, including Hyundai Australia, Adobe Systems, PepsiCo, BMA Group, Lend Lease, NAB and CommBank.
The area is most famous for the popular Westfield Chatswood and consequently the suburb is the second largest and most successful retail area outside of the Sydney CBD, with over 20 million shopper visits to the hub each year.
Andrew Weisz from Quest Serviced Apartments said the Chatswood development is well positioned to be greatly successful and is very much inline with Quest's growth strategy.
"Chatswood was designed by the Department of Planning and Infrastructure as a major centre, which currently provides approximately 63,211 jobs – a number which is set to grow exponentially over the next couple of decades. Key drivers of this growth include professional and financial services, the retail industry and healthcare," said Mr Weisz.
"Quest Chatswood will be an ideal accommodation option for both the corporate and leisure market, in addition to the relocation market, with such a great number of national and international companies based in the area," Mr Weisz continued.
There are also a number of significant projects currently underway in the City of Willoughby including Pacific Place, Chatswood Residential Towers and the Victoria Avenue Commercial Building.
"We are very excited to see such fantastic progress on the new Quest property in Chatswood and look forward to strengthening our position in Sydney as the supplier of choice for flexible and high quality corporate accommodation," concluded Mr Weisz.
Alex Wu, director of Wu International expressed his pleasure about the incorporation of Quest Serviced Apartments into the Albert Avenue development.
"The new Quest Serviced Apartments property will be ideal for this development; the new serviced apartments will perfectly compliment the luxury appointed residentialapartments and private hospital at the base of the complex," said Mr Wu.
In addition to world class shopping, Chatswood boasts a number of educational and healthcare facilities including the TAFE NSW Northern Sydney Institute, the University of Technology Sydney St Leonards Campus and the Royal North Shore Hospital.
The area also offers numerous recreational options including the Castle Cove Country Club, Chatswood Golf Club, Northbridge Golf Club and various parks and reserves.